News in the world of mirrors: Overview of our latest collection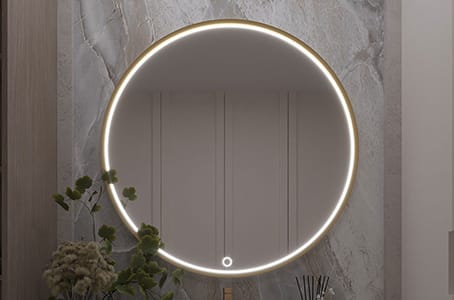 We are pleased to introduce our newest additions to the mirror collection, which will make your interior look exquisitely charming and functional. Get to know the Elistul, Elistul A, Gerbinie, Gerbinie A, Gerbinie L and Tressedi mirrors - each of them bringing a unique touch to your home.

Elistul - Illuminated Mirror with Elegant Frame
The Elistul mirror combines functionality with beautiful design. Available in two sizes, it's a perfect solution for any room. Illuminated by LEDs, it impresses with its modern design.
Elistul A - Combining Light and Style
Elistul A is a luxury mirror available in a classic white frame. With energy-efficient LED lighting and IP45 protection rating, it's a great choice for the bathroom.
Gerbinie - Elegance of the Golden Frame
The Gerbinie mirror impresses with its gold frame and perfect reflection. Available in two sizes, this is a luxurious feature to make your interior shine.
Gerbinie A - Luxury Mirror with LED Lighting
Gerbinie A combines elegance with modernity. Its gold frame and LED lighting create a unique look, and its IP45 protection rating makes it ideal for damp rooms.
Gerbinie L - Sophisticated Elegance
Gerbinie L is a round mirror with a gold frame and LED lighting. Created to add style and elegance to your interior.
Tressedi - Rectangular Mirror in Black Frame
The Tressedi mirror is the perfect combination of elegance and minimalist design. In a rectangular shape with a black frame, it will become the focal point of your room.

Each of these beautiful mirrors is crafted with care for details with durability and aesthetics in mind. Choose the one that best suits your interior and enjoy the beauty and functionality that our novelties bring. Decorate your interior with our new mirrors and create an atmosphere full of style and eleganc