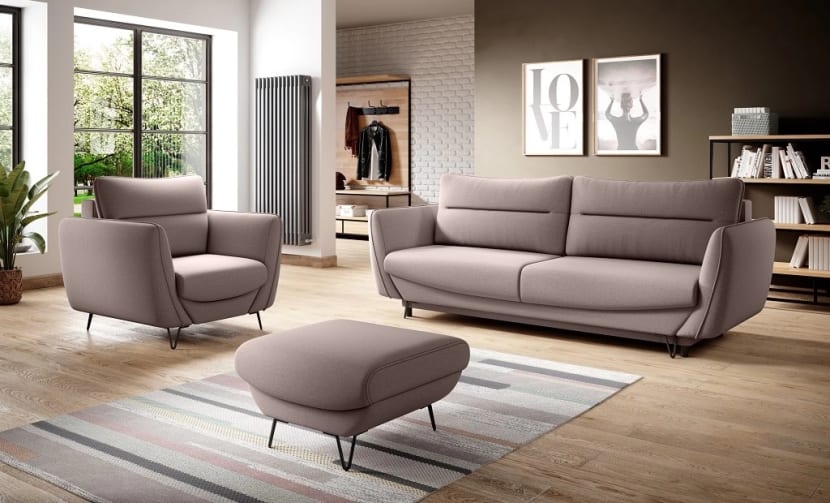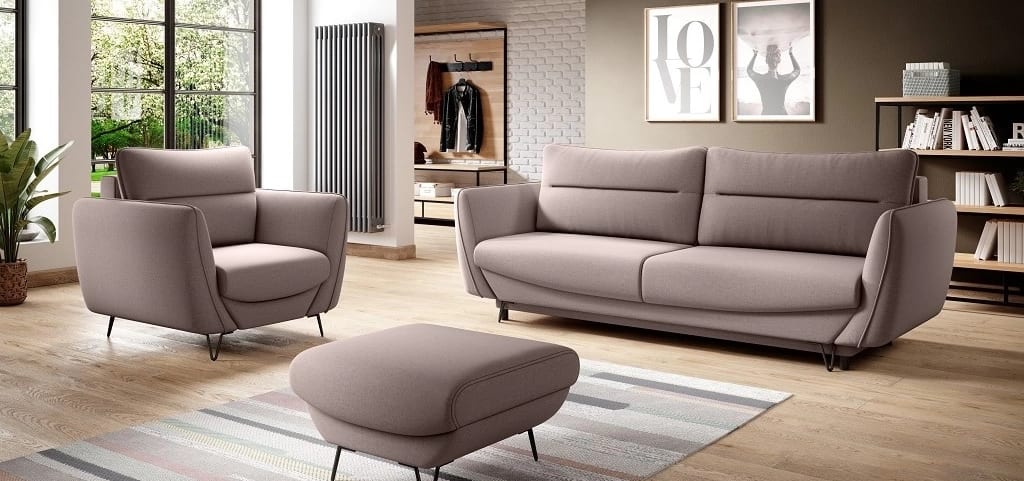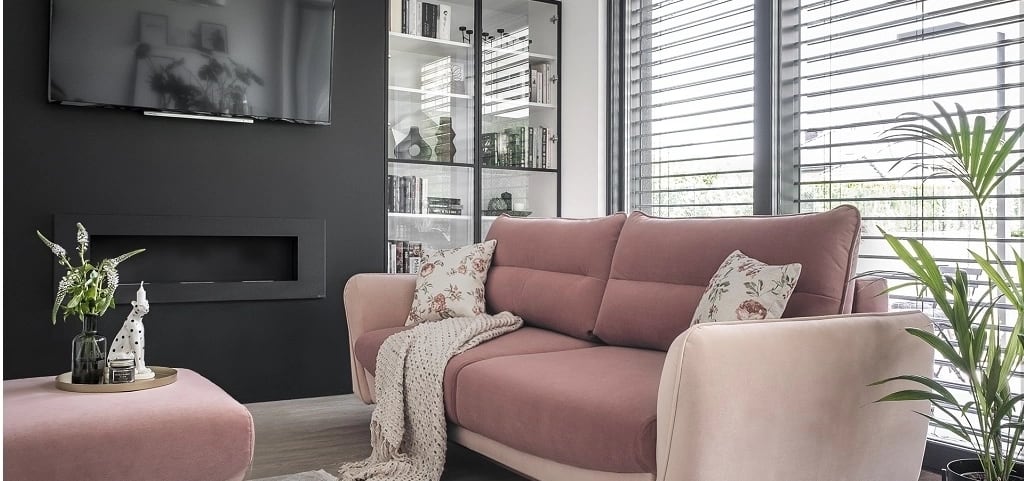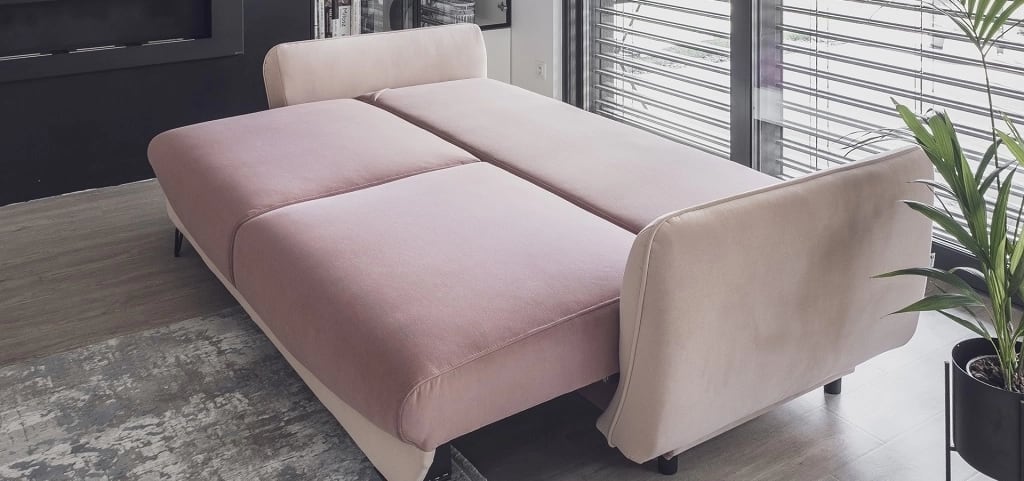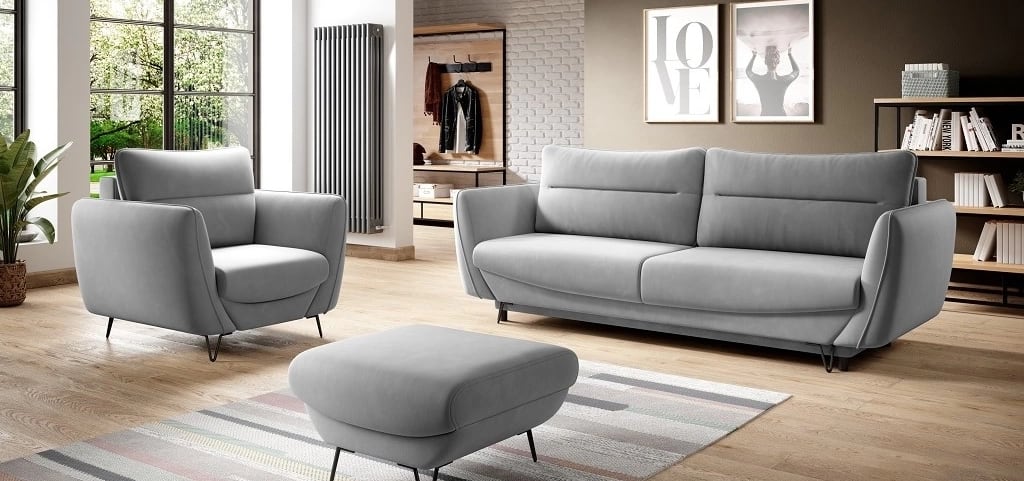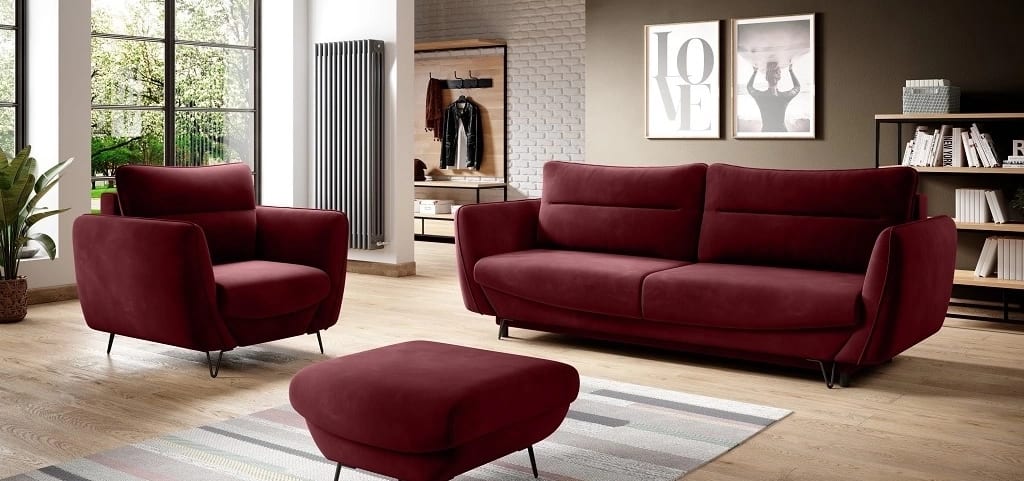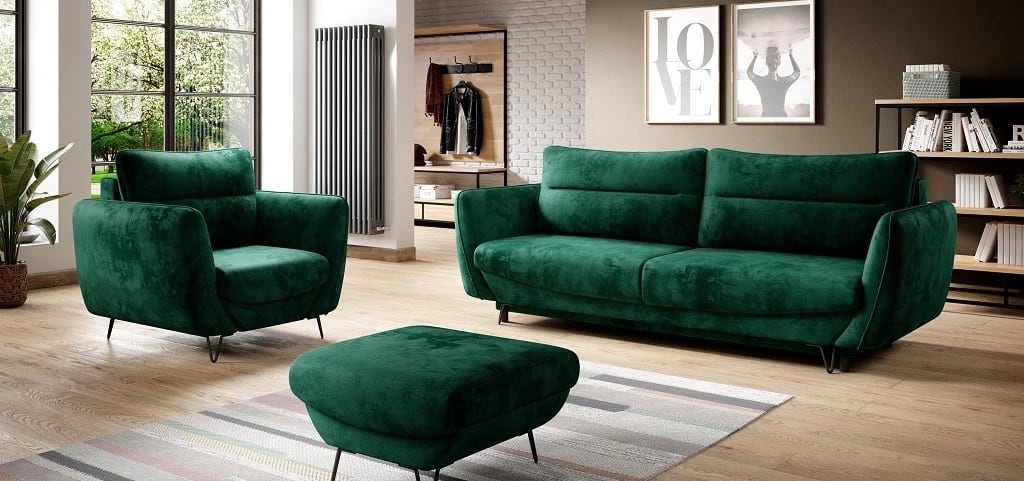 Silva furniture set
The way you decorate your living room changes its entire look. One of the basic elements that can affect the design of your living room is, of course, a set of lounge furniture. It turns out that arranging appropriately looking interior is not such an easy task. We are well aware of this, which is why we have created an appealing Silva set that will transform the interior of just any living room! Decorate your room easily with this alluring 3-piece furniture set, which includes a sofa, armchair and pouffe.
Silva lounge set - an adorable kingdom
If you like the idea of combining contemporary style with traditional style that is extremely cosy and appealing, you'll surely love the Silva set. This set is a realm of subtlety, and on top of this, it really delights with its appealing design. The furniture is upholstered and has a beautiful natural finish - it will attract the attention of many. What makes this set unique are the modern, black, steel legs, as they have a very original look. Because of this feature, simple pieces of furniture become more flamboyant. When choosing the Silva set, it is possible to choose one of the many beautiful upholstery colors. This makes it easier to create your dream corner for relaxation. In addition, the furniture from the Silva set is also very comfortable and convenient, which is facilitated by - corrugated spring and highly elastic HR type foam, which the seats of the furniture are equipped with. The backrest of the sofa uses T25 foam, which has a high resistance to deformation. The sofa, armchair and pouffe are also great if you like to spend evenings with your family and friends. It's just perfect to watch TV while sitting in the comfortable armchair or play board games on the upholstered sofa. Having said that, the pouffe is a good place to put down your game or for providing some additional space for a table.
Invest in comfort with the Silva furniture set
We provide you with the lounge set that is the perfect combination of style, comfort and functionality. The Silva set is a great choice for both smaller rooms and large interiors. With the right design, the furniture is minimalist but very comfortable, at the same time. Sofa dimensions: 236 x 90 x 90 cm, armchair: 93 x 80 x 82 cm, and the pouffe: 67 x 69 x 42 cm - aren't they just perfect? As if that wasn't enough, the sofa has a sleeping function with the area of: 200 x 145 cm. It seems to be a great solution if you need an extra bed. Besides, the DL folding mechanism makes turning the sofa into a sleeping place intuitive and child's play. If you're looking for something else in your perfect furniture, it's definitely a bedding container. And the Silva sofa has it too, while providing space to store pillows, quilts or other textiles. All this makes our Silva set a great choice to have a nice time. If you need a moment of relaxation, you've come to the right place - just sit back and relax.
3 pieces of furniture per set
Sofa with bedding storage
Fold-out sleeping function in the sofa
Deep, comfortable seat made of highly elastic HR foam
Availability of the set in a wide range of colors
Steel, high legs for easy cleaning
Sofa
Width: 236 cm
Depth: 90 cm
Height of sofa with cushions: 90 cm
Height of sofa without cushions: 74 cm
Seat depth: 60 cm
Seat height: 43 cm
Sleeping area: 200 x 145 cm
Height of legs: 13 cm
Armchair
Width: 93 cm
Depth: 80 cm
Armchair height with cushions: 82 cm
Armchair height without cushions: 62 cm
Seat depth: 60 cm
Seat height: 40 cm
Height of legs: 12 cm
Pouffe
Width: 67 cm
Depth: 67 cm
Height: 42 cm
Height of legs: 12 cm
similar products - Lounge suites