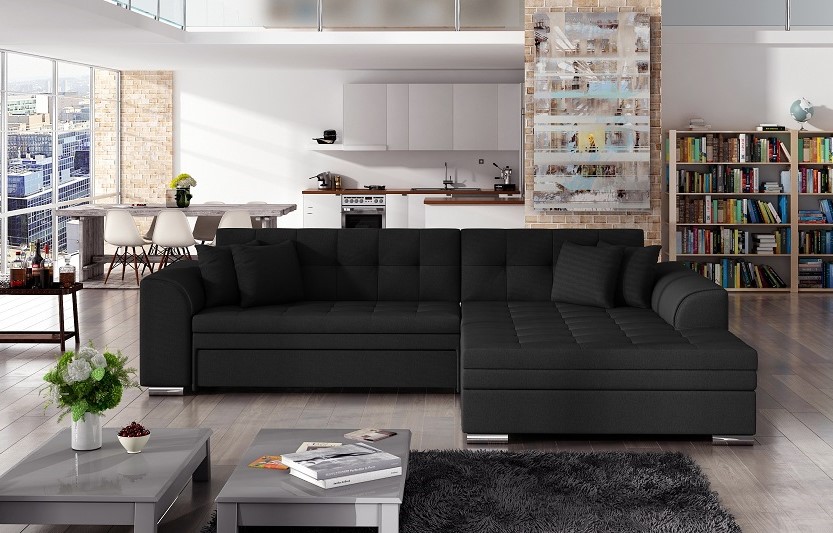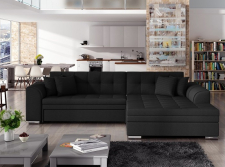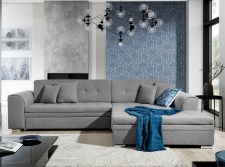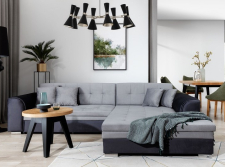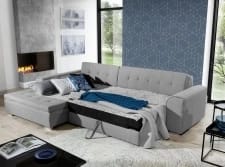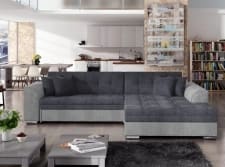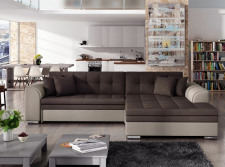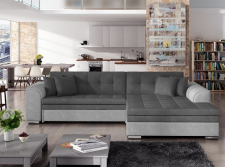 Sorento corner sofa
Space and comfort are key features of any corner sofa. The Sorento has them and, better yet, it maintains a very refined look.
Sorento corner sofas: a perfect complement for modern interiors
Modern interior design is all about simplicity and enduring elegance. The Sorento corner sofa fits these settings well. The traditional yet simple layout features extensive seating space, and this 295x195x80 cm sofa also performs well as the centrepiece to the living room. Large seating, optimum backrest profile and gently rounded arms contribute to the delightfully high aesthetics. Another advantage is the great attention to detail and the accents. The stylish legs and subtle tufting across the whole backrest and the seat provide a striking finish. The sides and the lower section are in colour contrast to the remainder, with extra accent cushions included. There is an extensive selection of two-tone combinations, making it incredibly easy to find the right finish for your interior. This corner sofa is intended for modern, minimalist and loft-styled interiors.
Sorento furniture: comfort maximised
The Sorento corner sofa impresses with its fabulous looks as well as its functionalities. The optimum shape of the backrest favours relaxation and leisure, something it shares with the seats, which are soft yet stable to sit on. This is the benefit of the padding formed by continuous springs and T30 foam. The combination maximised comfort, supports the body properly and resists deformation. The corner sofa is great to relax on during the day and at night. It is easy to transform the sofa to a bed by pulling the unit from underneath, to enjoy a sleeping surface measuring 210x126 cm. While it lacks bedlinen storage, it is still a great choice as a large bed for every night.
The Sorento corner sofa merges modern design lines with superb comfort. If you are looking for upholstered furniture in delightful colours combined with wonderful functionality, then this is the best choice.
Large seats
Profiled backrest
Rounded arms
Chrome legs
Stylish tufting
Sleeper corner sofa
Available in a wide selection of colours
Corner sofa width: 295 cm
Corner sofa length: 195 cm
Corner sofa height: 80 cm
Seat cushion depth: 58 cm
Mattress height: 38 cm
Sleeping surface: 210x126 cm
Armrest height: 60 cm
Armrest width: 25 cm
Leg height: 4 cm
Leg width: 15 cm