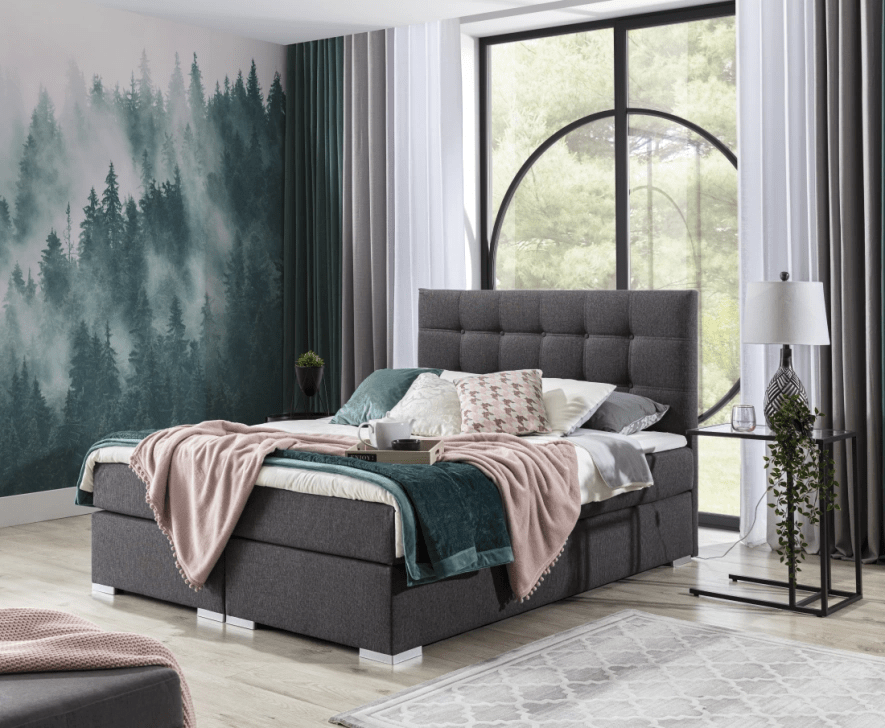 Available colors:

See the 3d animation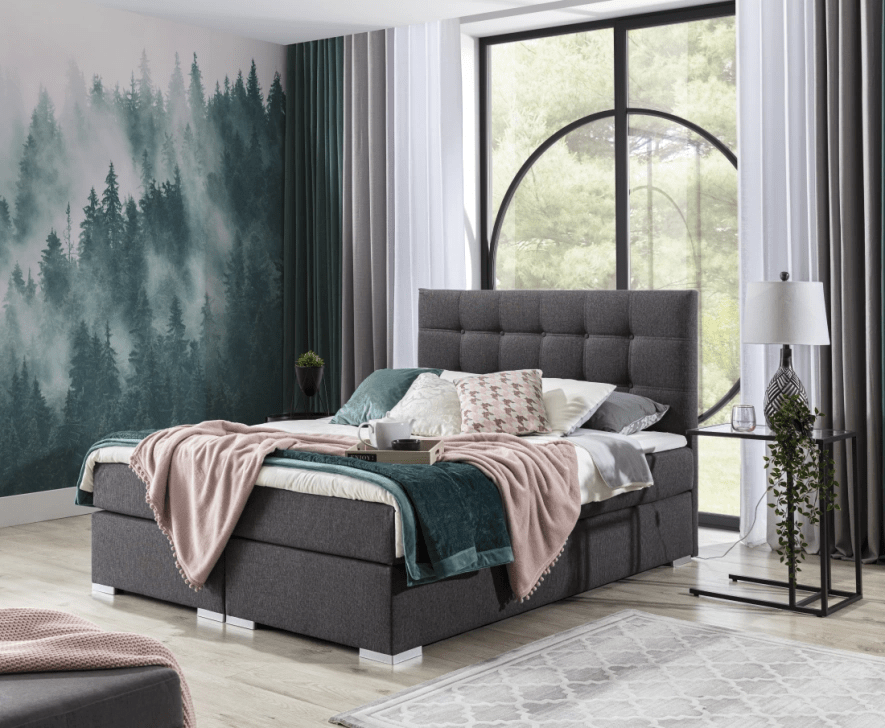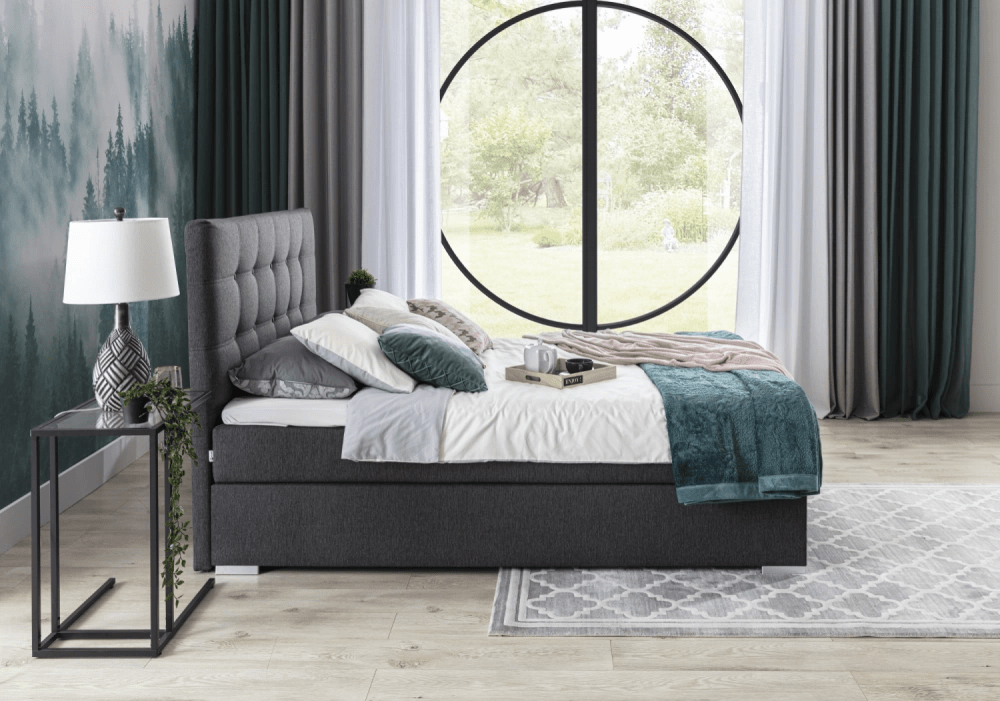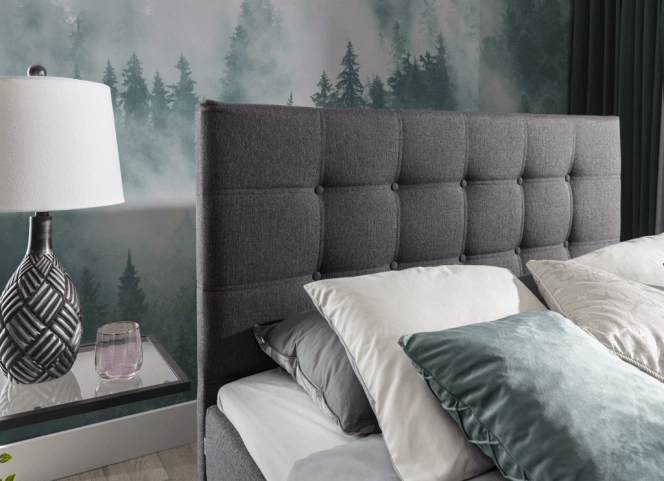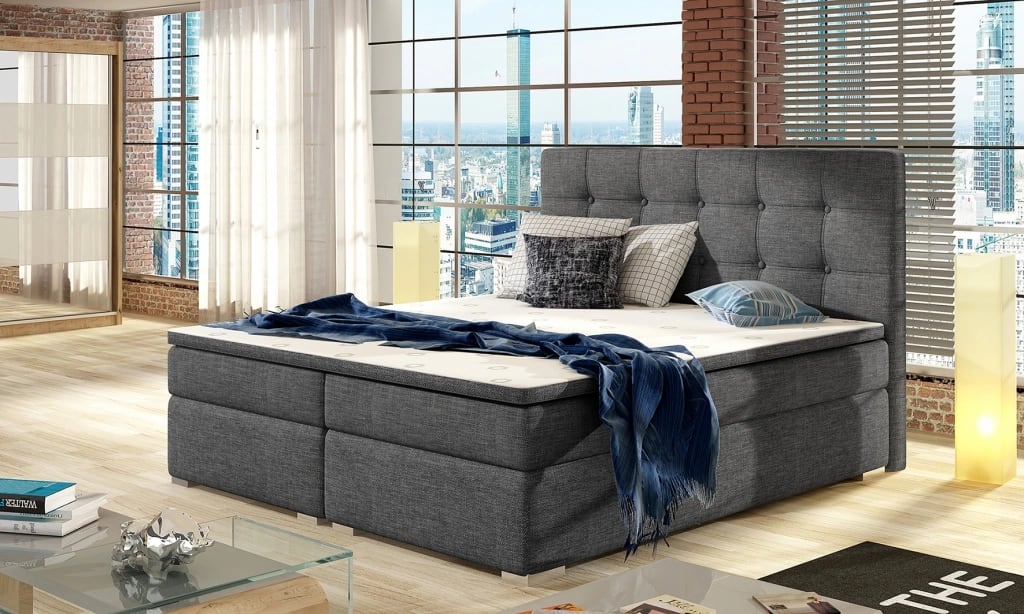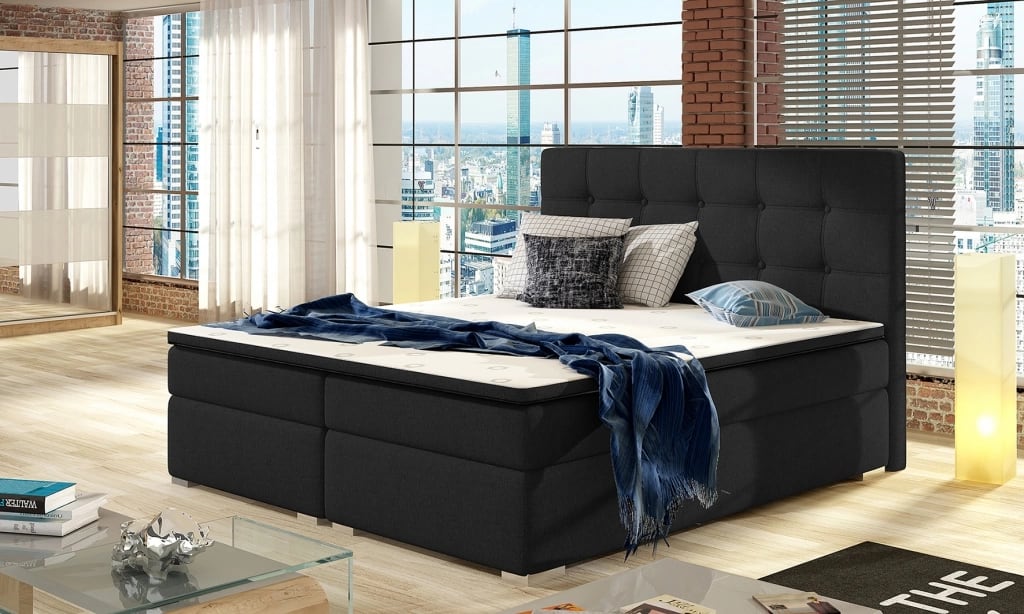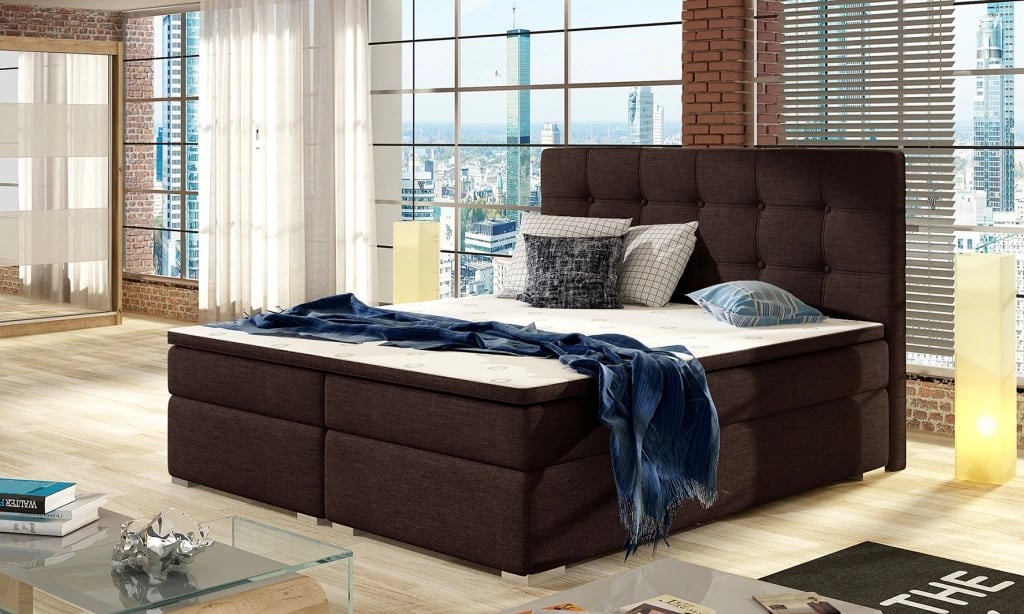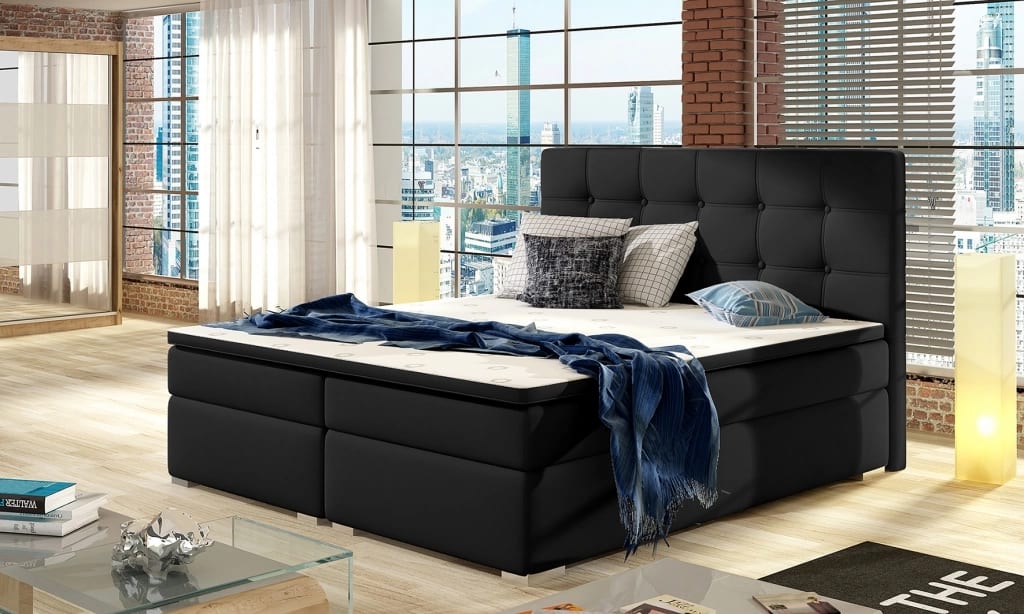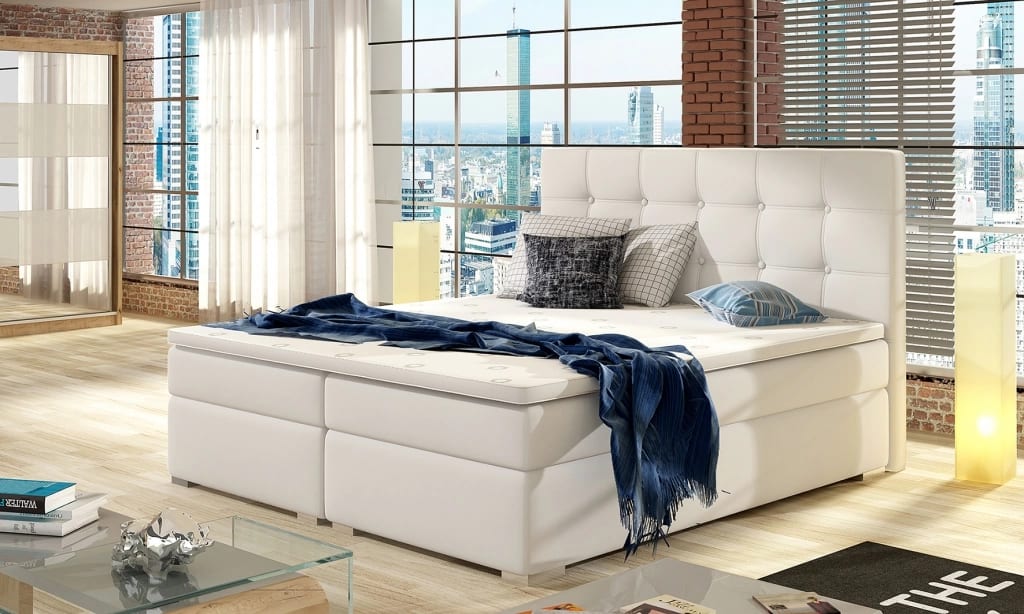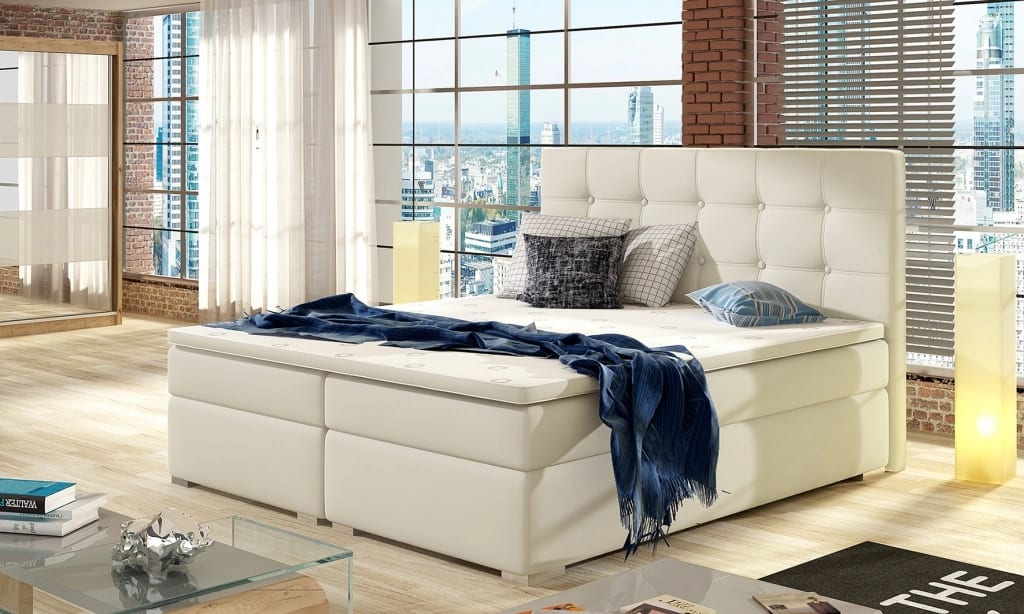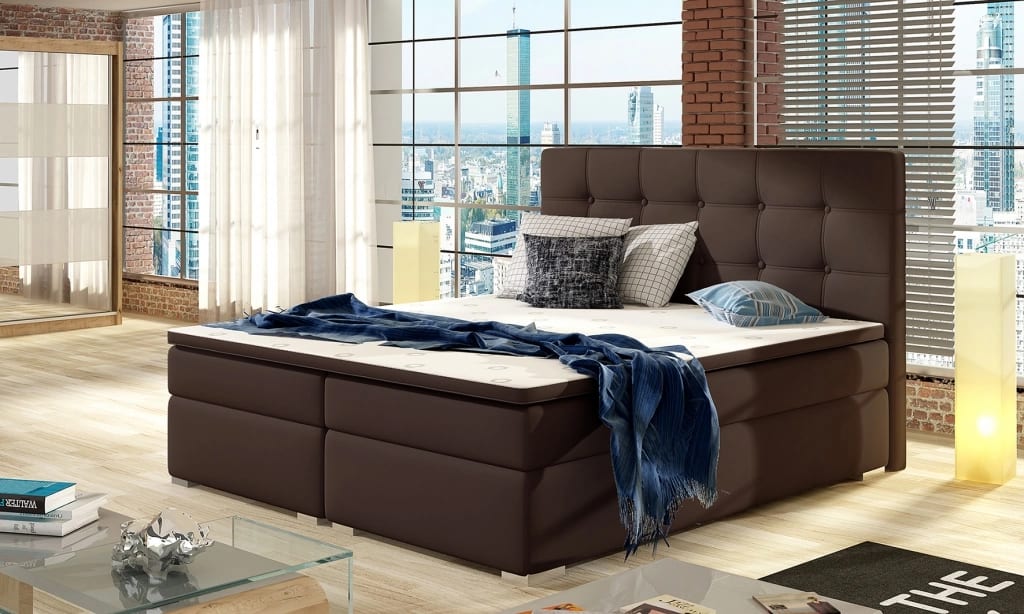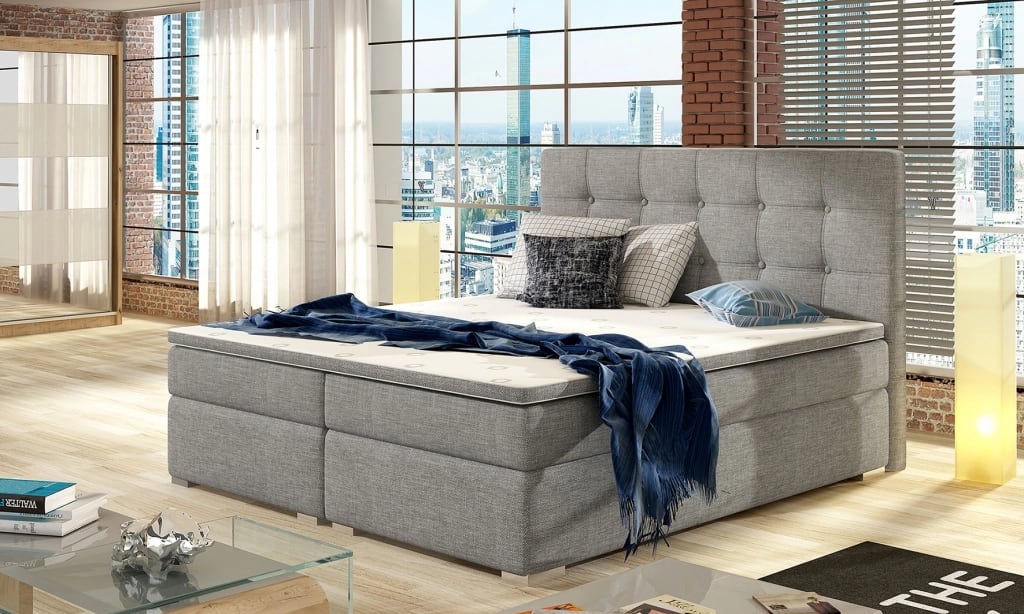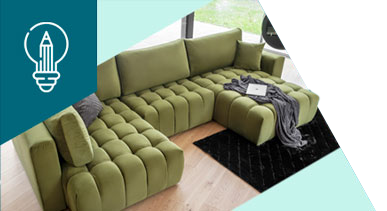 King of the living room, i.e. a corner with a sleeping function!
Follow our advice and choose the perfect piece of furniture for your interior.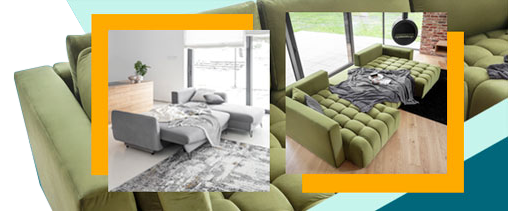 Boxspring Inez Inez boxspring bed
Marzysz o przestronnym, wygodnym, a do tego stylowym łóżku? Wyposaż swoją sypialnię w łóżko typu boxspring. Model Inez bez trudu sprosta Twoim oczekiwaniom. Dreaming of a large, comfortable and stylish bed? Get a boxspring for your bedroom. The Inez easily lives up to your expectations.
Boxspring Inez - łóżko w retro klimacie Inez boxspring bed: for the retro feel
Sypialnia to miejsce, w którym powinna panować przytulna atmosfera. Otoczenie, w jakim śpimy, wpływa na jakość naszego wypoczynku, dlatego warto wyposażyć się w łóżko, które jest nie tylko przestronne i wygodne, ale i atrakcyjne dla oka. Model Inez spełnia wszystkie te cechy, będąc idealnym rozwiązaniem dla osób lubiących stylowe wnętrza. Prosta konstrukcja połączona z dekoracyjnym, wysokim zagłowiem zdobionym delikatnymi pikowaniami i guzikami nadaje łóżku retro klimatu. Tapicerka utrzymana została w stonowanych, eleganckich kolorach i wykonana z materiału odpornego na przetarcia i blaknięcie, dzięki czemu łóżko Inez na długo zachowuje swój oryginalny wygląd. Opcja wyboru odcienia materiału, jakim pokryte jest łóżko, umożliwia pełne dopasowanie modelu do własnych preferencji i ogólnej aranżacji sypialni. Metaliczne, srebrne nogi stanowią kropkę nad i, sprawiając, że mebel równie dobrze prezentuje się w sypialni w klimacie retro, skandynawskim, jak i glamour. The bedroom is somewhere you need to feel relaxed. The ambiance of our environment defines how well we sleep, so the bed must be spacious, comfy and very agreeable to the eye. The Inez has all of these, a perfect solution for those who like their interiors refined. The simple design features a tall accent headboard, with subtle tufting and buttons for a retro feel. The upholstery is available in subdued elegant colours with a fabric that easily resists wear and fading so you can enjoy your Inez for many years to come. The choice of upholstery colours helps you find the perfect match for your preferences and interior. The silver metallic legs finish off the bed so well it looks great in retro, Scandinavian, and glamour settings.
Łóżko kontynentalne Inez - wygoda podczas snu Inez boxspring bed: sleeping in comfort
Model Inez zalicza się do typu boxspring, czyli łóżek z wysokim materacem i obszerną, tapicerowaną ramą. Inez posiada materac bonelowy o wysokości 20 cm, wyposażony w dodatkowe warstwy - górną i dolną, wykonaną z miękkiej i elastycznej pianki T25 oraz obszytego toppera z pianki T21 o grubości 4 cm. Tak skonstruowane wypełnienie przekłada się na maksymalną wygodę podczas snu oraz odpowiednie, stabilne podtrzymanie ciała i odciążenie kręgosłupa. Łóżko posiada przestrzeń do spania o wymiarach 140/160/180x200 cm, zapewniając swobodę i komfort wypoczynku. The Inez is a boxspring bed, characterised by a high mattress and a large, upholstered frame. The Inez features a 20 cm thick Bonnell spring mattress with top and bottom padding of resilient T25 foam, on which is a 4 cm thick T21 foam topper, complete with a fabric case. The mattress configuration provides the best possible quality of sleep with stable and correct support for the body to relax the spine well. The choice of 140/160/180x200 cm sleeping areas provide a lot of space for easy relaxation.
Lubisz meble, które są dekoracyjne, jednak nieprzesadzone i utrzymane w eleganckim tonie? Łóżko boxspring Inez idealnie wkomponuje się w Twoją sypialnię, gwarantując Ci zdrowy sen. Do you like your furniture to be subdued yet striking showpieces that speak refinement? The Inez boxspring bed will be a perfect match for your bedroom, with the warranty of a good night's rest.
Available in three sizes
Elegant metal legs
Tall headboard with stitching and tufting accents
Wide selection of colour options
Bed width: 140/160/180 cm
Bed length: 205 cm
Bed height: 105 cm
Base height: 50 cm