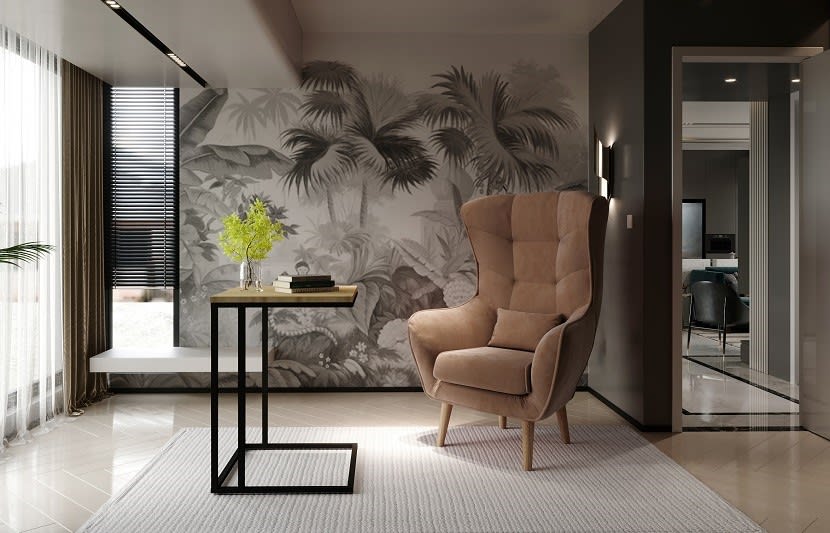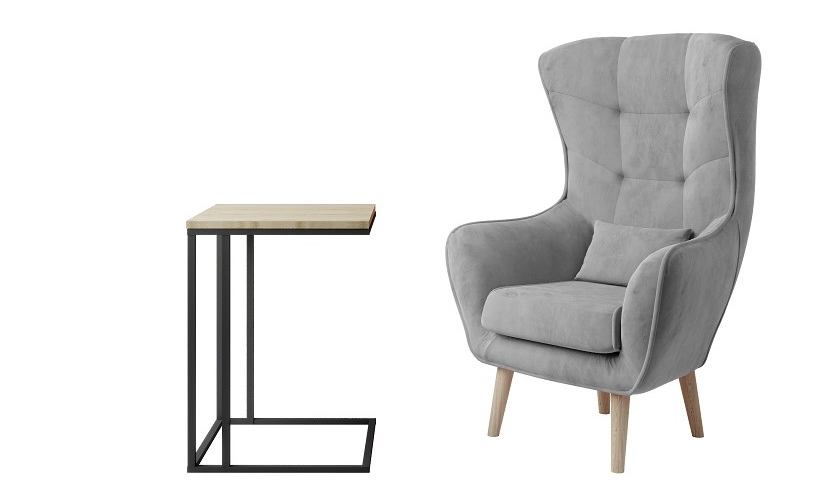 Vigo Table and Arti Lounge Armchair
Are you looking for fashionable and functional solutions for your home? We have prepared something special for connoisseurs like you: a set of Arti and Vigo furniture! A coffee table and a wing chair will perfectly take care of your space, while inviting current trends to it!

Vigo Coffee Table and Arti Upholstered Armchair – modern materials for your comfort
Vigo is a small coffee table. The little companion hides great potential, allowing you to easily find a place for it in your home. Why not to put it in the corner of the living room to revive this forgotten space? Or maybe you will place it in the hallway to gain an additional shelf for a flower vase? The possibilities are endless! Frequent experiments are favoured by the low weight of the product (7 kg) and compact dimensions (45 x 45 x 67 cm). An unexpected solution in Vigo is a block that is open on one side. This makes it possible to slide it, for example, over the corner armrest, which significantly increases its functionality.
The modern Vigo coffee table has a geometric base. The structure is made of black painted steel, thanks to which it looks extremely stylish. The tabletop, mounted on the base, is a laminated board in SONOMA colour. The materials used ensure high resistance to dirt and mechanical damage.
The Arti armchair is a real treat for lovers of relaxation at home. The furniture has an internal frame made of HDF plywood and furniture board. It was mounted on wooden legs. Thanks to this, it does not wobble during use and is not distorted. The surface of the product was filled with a combination of HR foam and T25 foam. The result is a soft and flexible surface that gently wraps around you. The spreading body and characteristic ears ensuring increased privacy also make Arti a perfect chair for feeding.
Arti and Vigo, a simple way to a beautiful interior
Our stylish duo will make sure that the apartment looks exceptionally attractive. The coffee table included in the set focuses on a universal combination of a tabletop stylized in SONOMA oak with a uniformly black base. The combination obtained in this way perfectly harmonizes with most modern styles, allowing you to build a tasteful industrial, Scandinavian or even futuristic space. The comfortable Arti armchair, on the other hand, is a more subdued solution. The furniture in its design draws clear inspiration from Scandi. However, the wide range of ELTAP fabrics means that you can easily incorporate it into more crazy decors.
Coffee table:
Table top made of laminated board in SONOMA colour,
High side table, you can put it on the side of the armchair or corner,
Legs painted black
Steel base with profile 20x20x1.2 + 15x15x1.5
Universal, minimalist style,
Easy to keep clean.
Wingback armchair:
Decorative pillow included
Geometric stitching on the backrest
Contoured backrest, high armrests
Characteristic "wings" at the top of the chair
Upholstered back allowing to place the chair anywhere
Wooden feet
Frame is made of a combination of furniture board and HDF plywood
Seat foam type: HR
Type of foam based on: T25
Product available with all fabrics from the ELTAP collection
Table width: 45cm
Table depth: 45cm
Table height: 67 cm
Laminated board thickness: 18 mm
Table weight: +/- 7 kg.
Armchair width: 80 cm
Armchair depth: 85 cm
Armchair height: 90.5 cm
Armchair's seat height: 47.5 cm
Armchair's seat depth: 55.5 cm
Armchair's seat height: 26 cm
Number of legs: 4
Armchair's legs height: 21.5 cm
Height weight: +/- 40 kg
similar products - Lounge suites