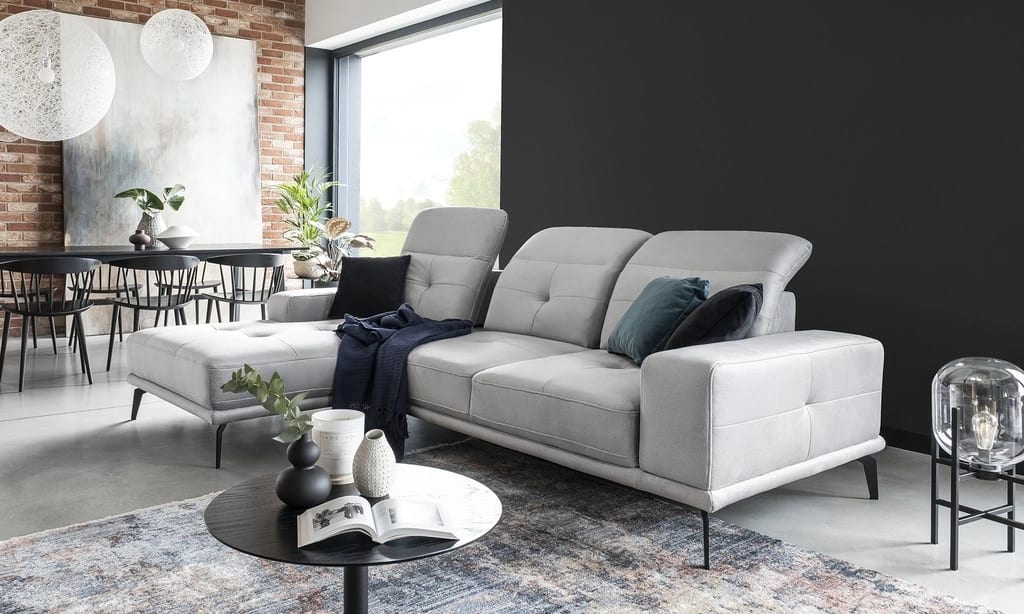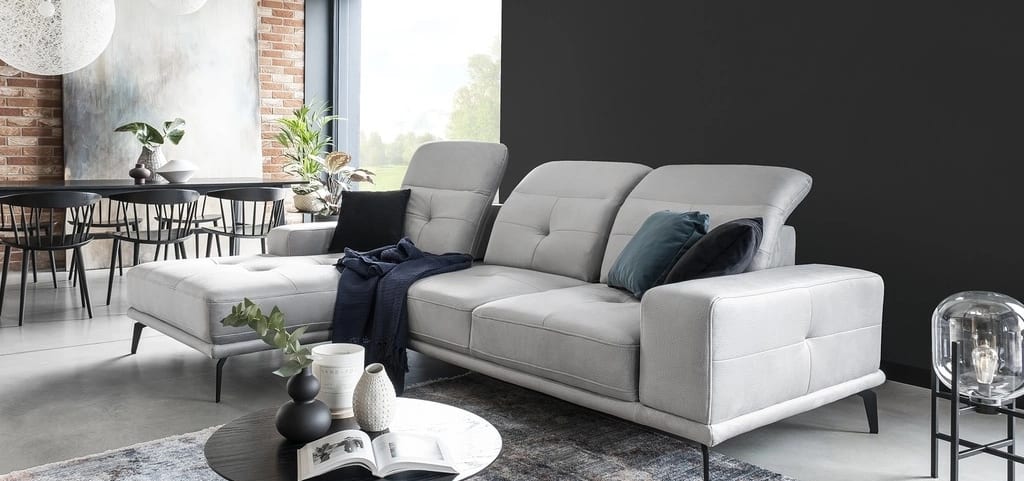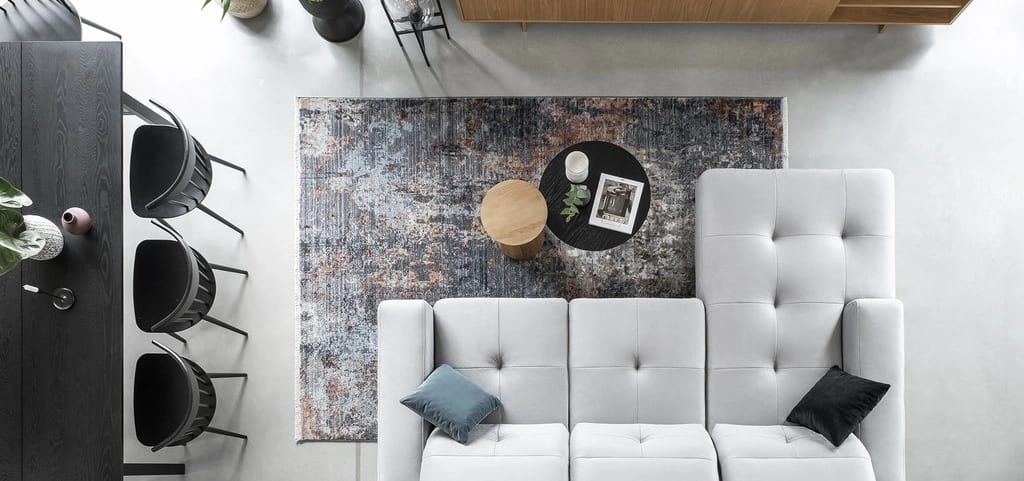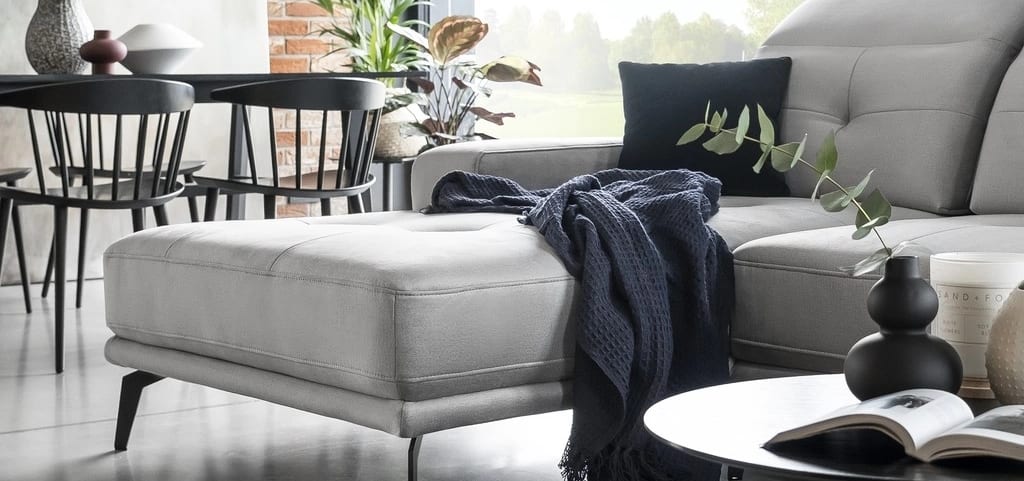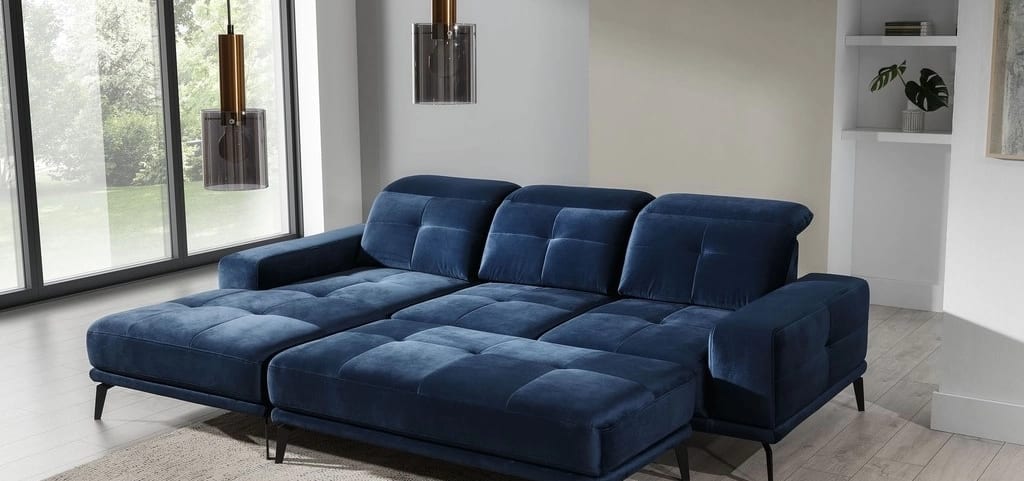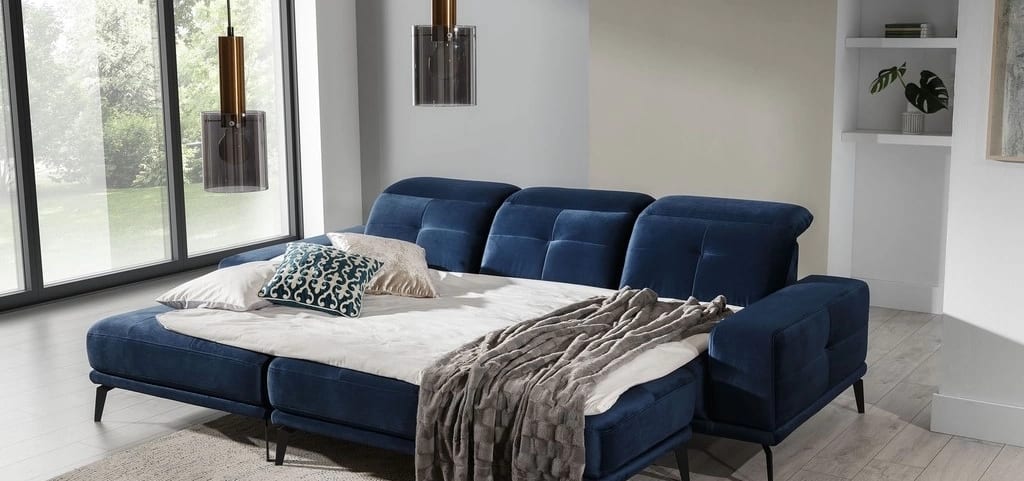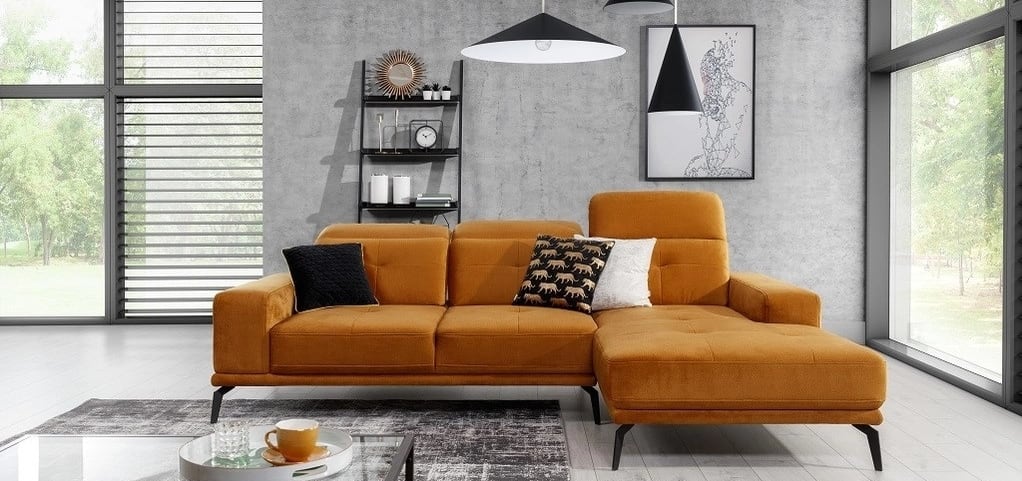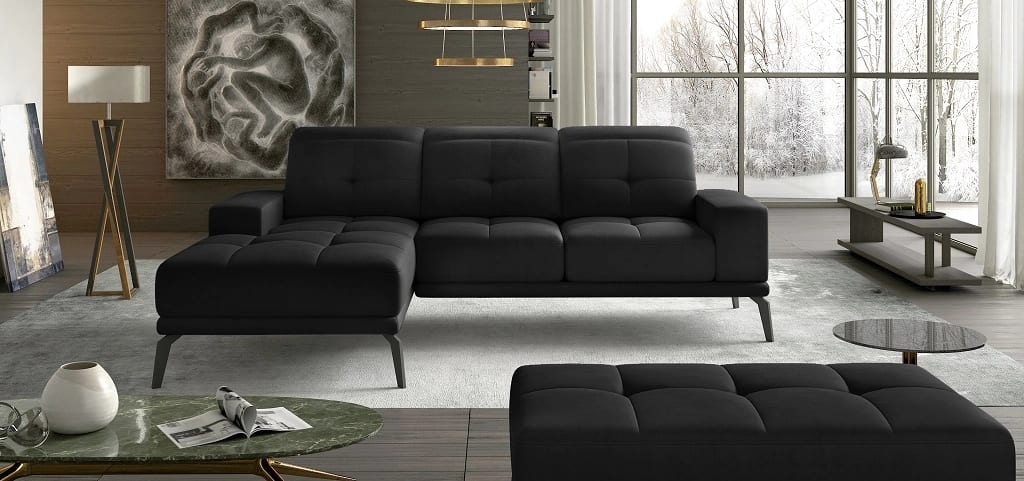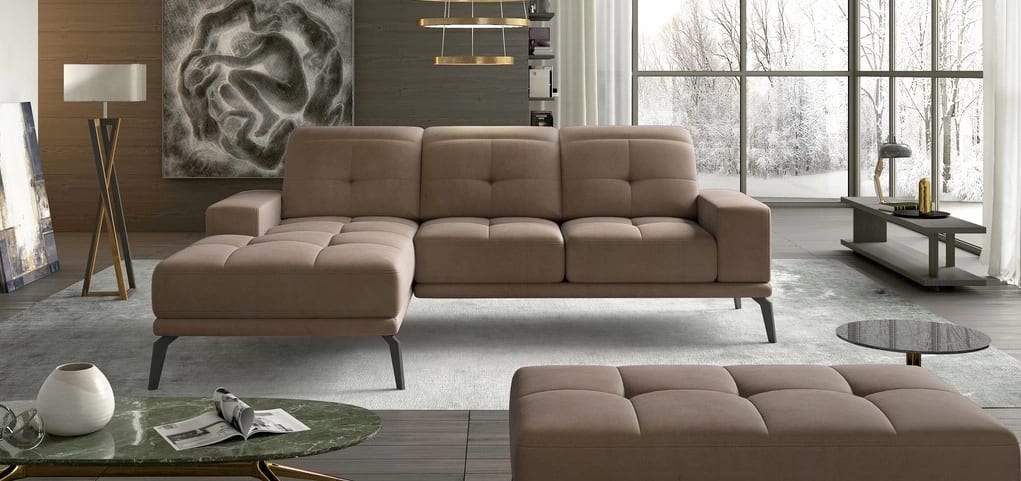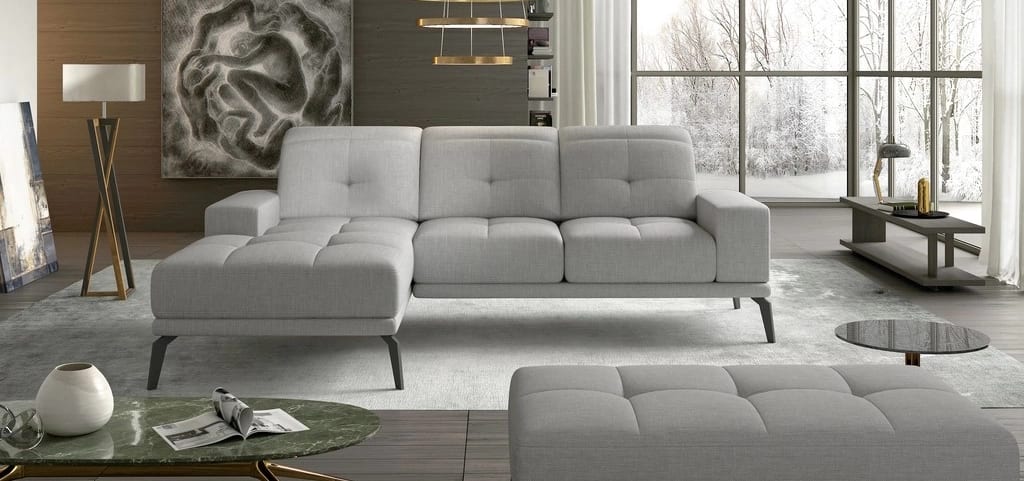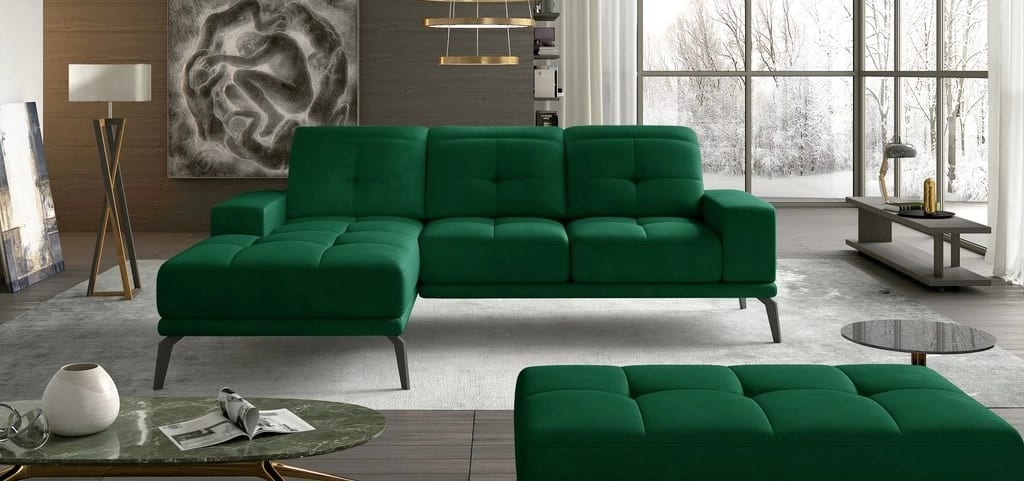 Torrense: a corner sofa bed with a pouffe
The Torrense corner sofa speaks a modern design language, and includes an all-rounder pouffe to sit on, serve as a footrest, or double as a table for a tray from which you can serve your tea or coffee. It adds a subtle touch of luxury to your room. The tall, slender metal feet in black keep the large seat section looking light while achieving great stability. The Torrense is a corner sofa with many innovative solutions: a long ottoman so you can easily stretch your legs, two wide armrests, sliding backrests and adjustable headrests. All these features make the Torrense simply perfect in terms of the relaxation that it provides, and you can use the pouffe as an extra seat when guests arrive, or to enjoy a large sleeping area. The subtle tufting on the seat and the backrest are accents which flesh out the truly refined look and feel. The corner sofa and its pouffe are available in more than 30 colour options, from bold to subdued.

Torrense: high comfort in dozens of colours
The interesting concept of a detached pouffe aside, the corner sofa is delightful in functionality and the quality of finish. The seats are stuffed with innovative HR foam to prevent unsightly depressions, while increasing the levels of comfort and convenience by endowing it with greater resilience. The Torrense is guaranteed to be superbly comfortable, every day. You can convert the sofa into a bed by placing the pouffe beside the reclining section. This allows you to easily create a large area on which to sleep, measuring 214x130 cm. The front to rear sliding backrests and adjustable headrests make it easy to assume the most comfortable position. Choose the Torrense in one of your favourite colours.
Pouffe for conversion into a bed
Wide seat made from innovative HR foam and finished with refined tufting
Large sleeping surface: 215x140 cm
Upholstered back for easy positioning anywhere in the room.
Adjustable headrests
Sliding backrest with front to rear adjustment
Wide armrests
Elegant metal legs in black
Available in the complete range of Eltap upholstery fabrics
Corner sofa width: 265 cm
Corner sofa length: 175 cm
Height w/cushions: 98 cm
Height w/o cushions: 77 cm
Seat cushion depth: 53 cm
Mattress height: 45 cm
Armrest width: 23 cm
Sleeping surface: 215x140 cm
Leg height: 20 cm
Pouffe size: 137x70 cm
Headrest width/height: 69/23 cm