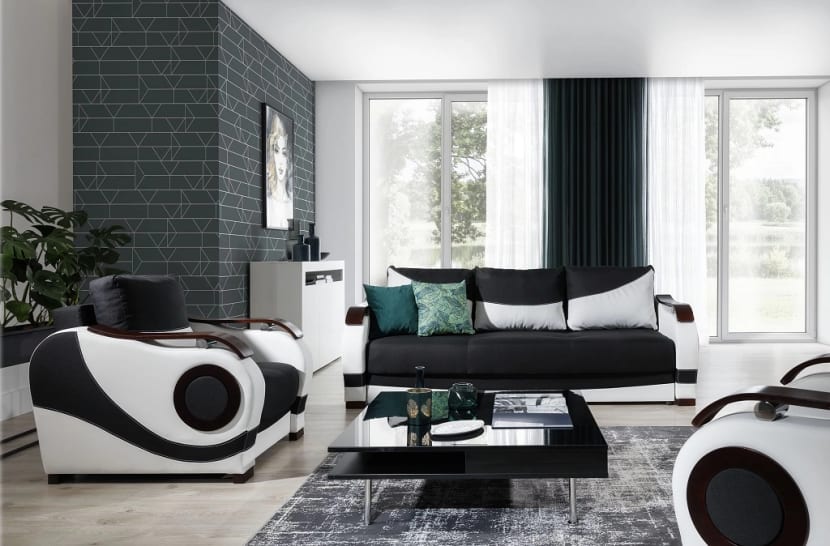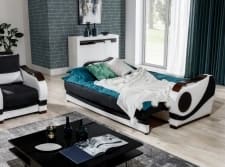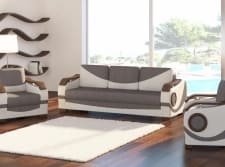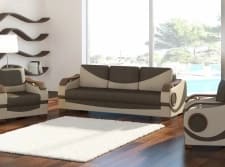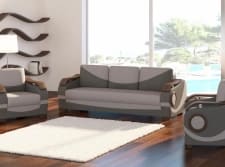 Puerto lounge suite
Do you have a large living room? How about relaxing at home by reading a book or watching a film with your family? Choose the right lounge suite that enhances your time-out experience with superior quality of rest in great comfort and plenty of space for everyone. The Puerto lounge suite, comprising a large sofa and two soft club chairs, might just be the right thing for you.
Puerto lounge suite, that a perfect choice for seekers of unique furniture
If you love unique interiors, styles and furniture that are anything but common, the styling of the Puerto lounge suite will certainly delight you and make you want it as the centrepiece of your living room. A juxtaposition of the modern with the classic, and the classic with the vintage: in short this is the design behind the Puerto, a set comprising a full and comfortable sofa and two club chairs. The whole set enhances your perfect place of rest, both day and night, for the sofa bed is a perfect thing when you have guests staying overnight, or simply as a master bed if you live in a small flat without any space to spare for a bed. The simple, classic construction of the furniture adds unique accents to broaden its variety. The arms feature smart-looking wooden pads. The upholstered sides have asymmetric stitching and round decorative inserts with wooden bezels. The upholstery is a mix of two colours, the Puerto being available in subdued or contrasting tones.
Puerto lounge suite: the best in lounge comfort
The Porto lounge suite is designed for demanding users who dream of living room furniture which is stylish, comfortable and functional. The suite includes the Puerto 3F sofa, measuring 228x97x90 cm, and two Puerto 1F club chairs, each 90x90x90 cm. The sofa is more than a place for daytime repose, as it is convertible into a bed. The simple and intuitive mechanism, with a flip-back backrest and pull-out bottom, makes it easy to sleep in. Yet another advantage is the bedlinen storage. The sofa is uses Bonnell springs to provide optimum resilience, flexibility and resistance to deformation, padded with T25 foam to ensure a soft feel for good relaxation. The chairs are stuffed with soft yet stable T30 foam, which optimally supports the body. With the carefully profiled backrests and seat cushions, you can enjoy a sublime level of comfort and allow your spine to relax.
If you seek functionality combined with comfort and a genuinely original appearance, consider the Puerto lounge suite for your living room.
Tall arms on both sides with wooden trims
A sofa that transforms into a large bed
Upholstered back
Wooden legs
Wide selection of colours
Sofa width: 228 cm
Sofa depth: 97 cm
Sofa height w/cushions: 90 cm
Sleeping surface: 195x145 cm
Chair width: 88 cm
Chair depth: 97 cm
Chair height: 90 cm
similar products - Lounge suites