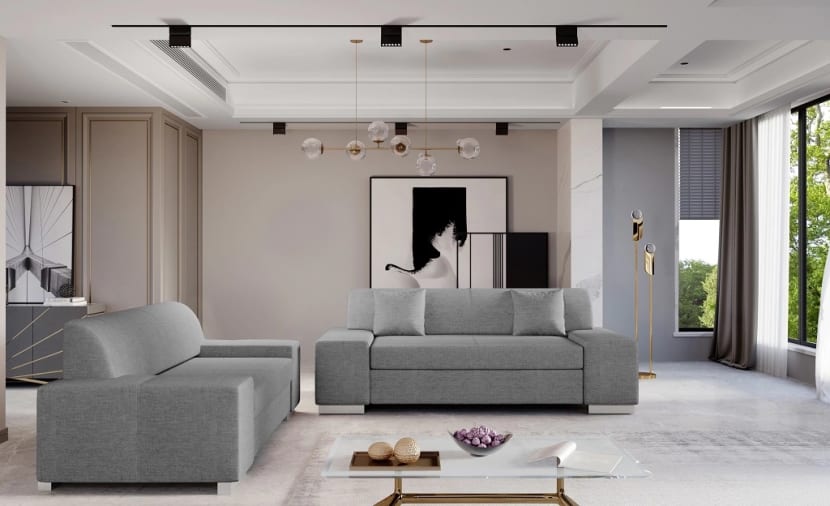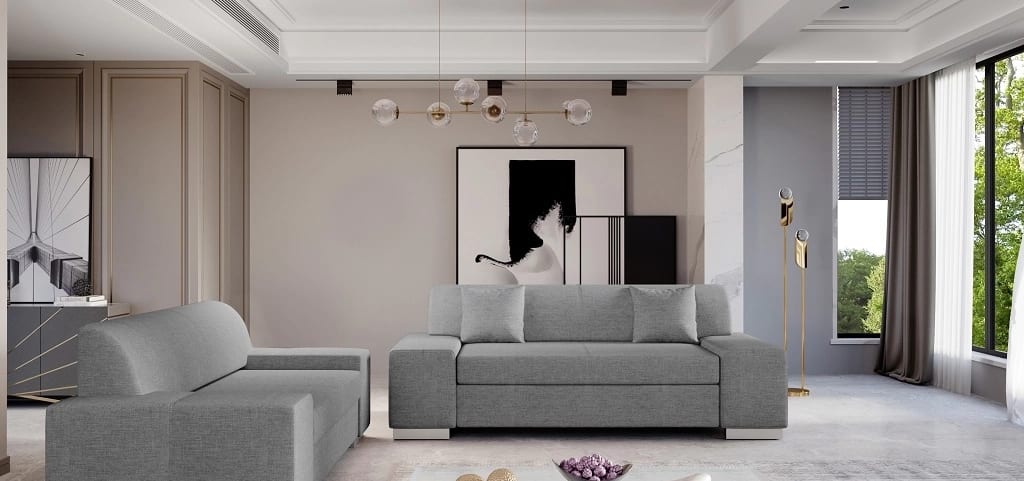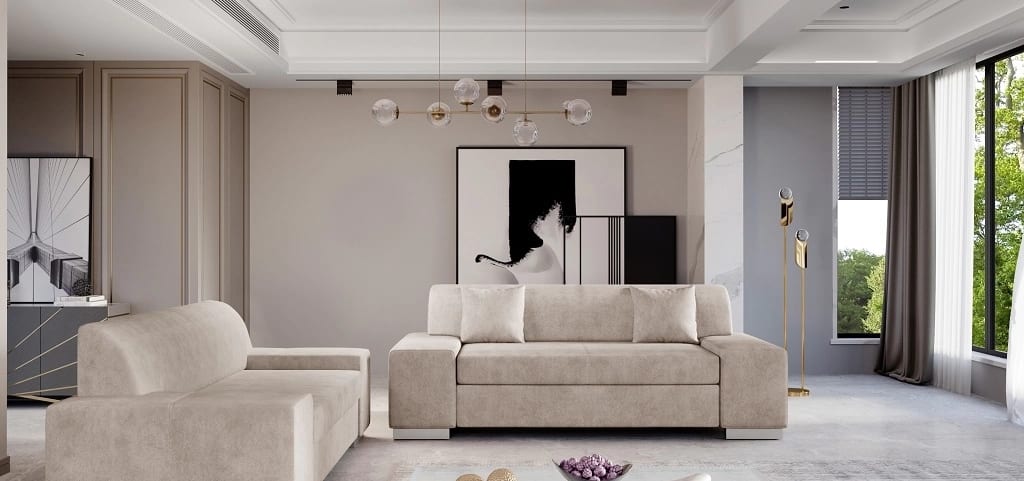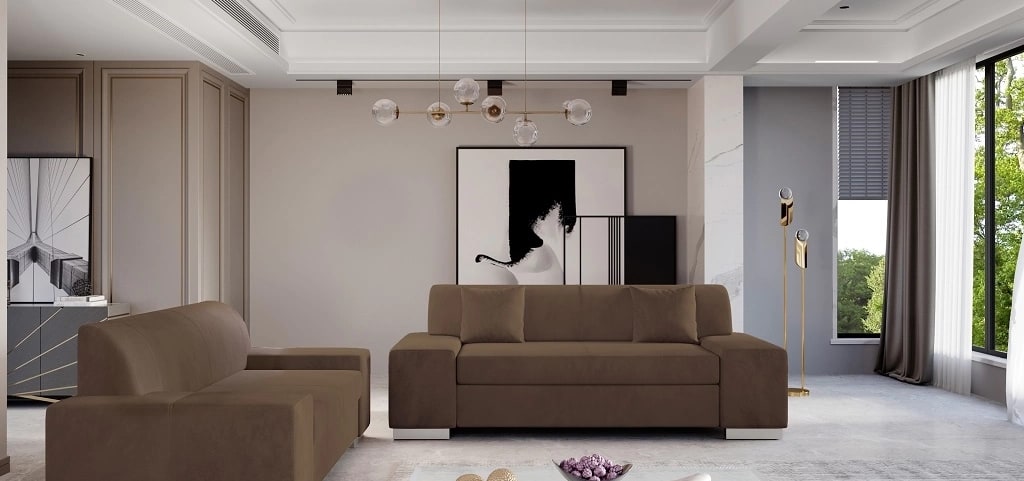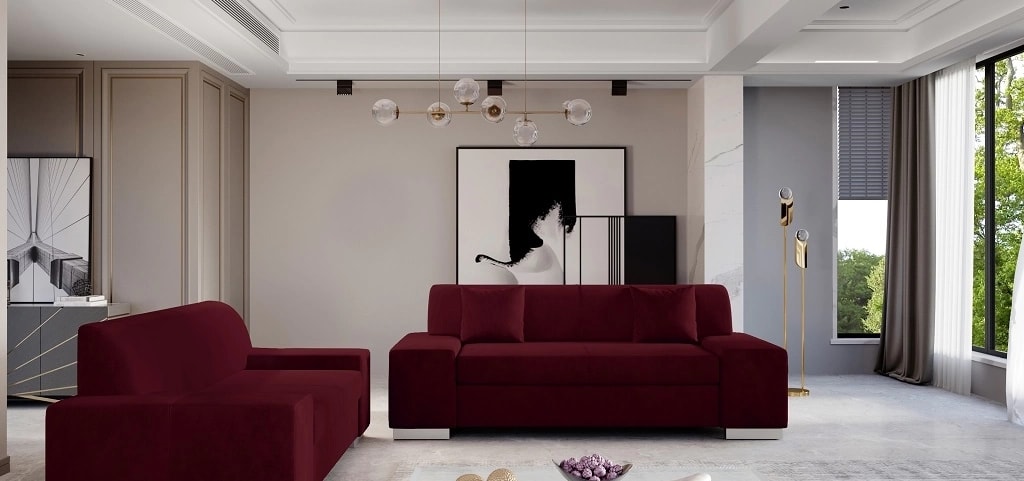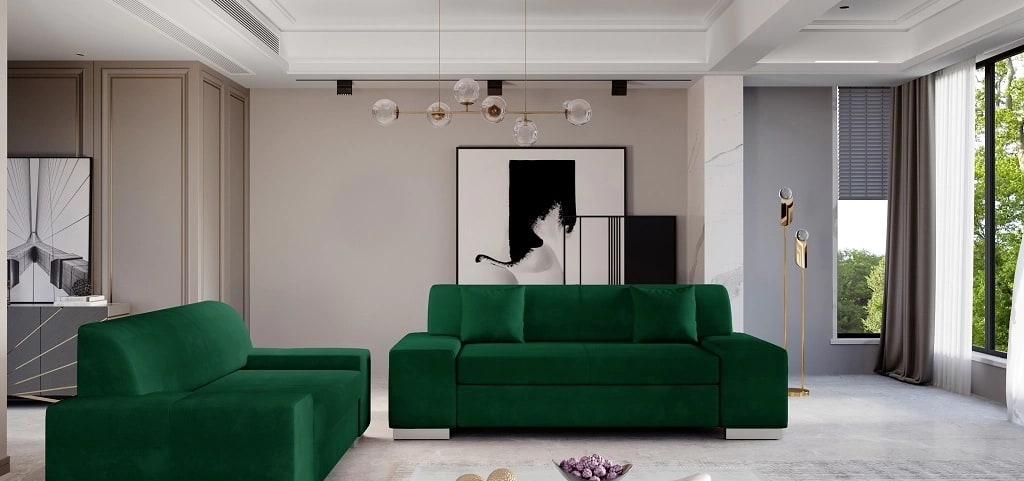 Porto lounge suite
Is your home modernly minimalist? Flesh out the interior styling with sublime furniture. The Porto lounge suite features two spacious and comfortable sofas, making it the perfect place in which to relax and a really good showpiece in a large living room.
Porto lounge suite: a modern take on minimalism
Minimalist interiors may seem a bit cold and lacking in that homely feel. Yet with the addition of some stylish and refined furniture, an incredibly good ambiance can be created. If you want your home to look and feel refined, to be a place to relax, then it is a great idea to furnish the living room with a lounge suite large enough to unwind in with ease. The Porto lounge suite comprises two sofas with modern, cuboid lines. The deep and wide seats extend to the low arms and meet the sleekly profiled, slightly sweptback backrests for a greater sense of comfort. The sofas are delightful for their form, overall design style and colours. The Porto lounge suite is a contrast of two different tones, providing a striking effect. The backrests and decorative cushions share the same colour, contrasting starkly with the seat, the lower elements and the side panels. To liven up the overall feel, each backrest features stripes in the colour of the bottom part of the sofa. This finish provides a unique appearance. The Porto lounge suite features several colour-matching options, which range from rather harmonious and subdued tones to pairs of wildly different ones, making it easy for you to find the right look and feel for your interior.
Porto lounge furniture: superior quality guaranteed.
Apart from the exceptionally modern style of the Porto lounge suite, a unique feature of the furniture is the high quality of finish. This comes from the tested and proven materials, all of first class quality. The sofas are stuffed with heavy-duty continuous springs and resilient T30 foam padding. This combination provides the sofa seats with optimum stability without the tendency to subside into unsightly depressions, while cancelling out any unwanted vibrations. Yet another advantage provided by T30 foam is the soft feel with a good support for the body, so the spine can easily relax, shedding all strain. The larger sofa measures 210x90x73 cm, while the smaller sofa is 190x90x73 cm. Your family can easily relax with so much seating to spare.
If you desire a refined and modern set of lounge furniture and your living room is large enough to fit one, choose the minimalist suite of two Porto sofas and enjoy the exactly indoor ambiance you dream of.
Wide seat cushion
Upholstered back
Wide, comfortable backrest
Available in a wide selection of Eltap's upholstery fabrics
Sofa width: 190 cm/210 cm
Sofa depth: 90 cm
Sofa height w/cushions: 73 cm
Seat cushion depth: 65 cm
Mattress height: 44 cm
similar products - Lounge suites