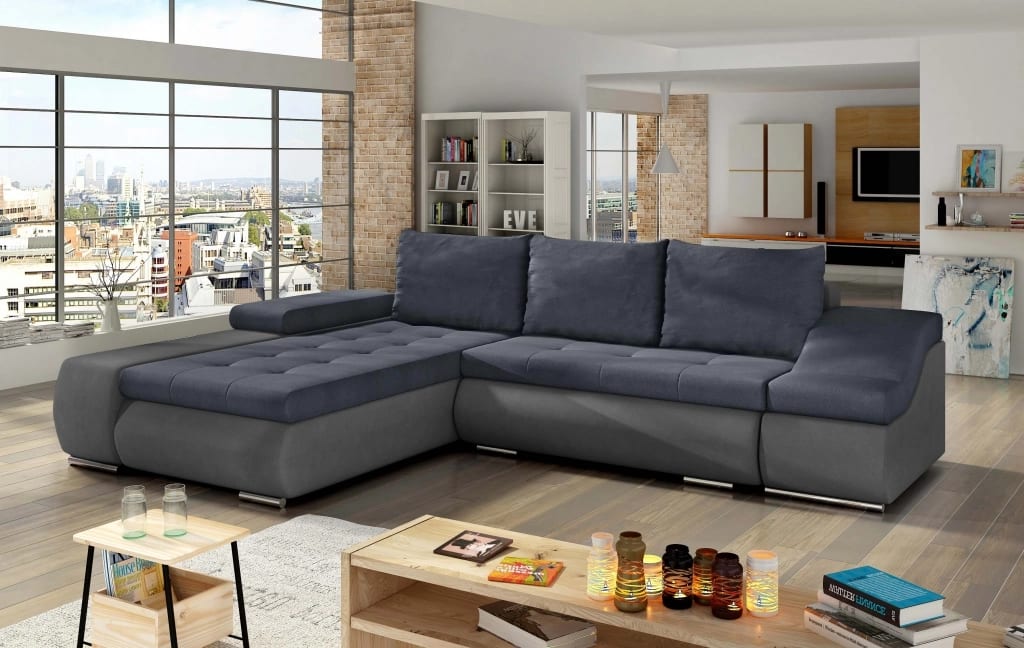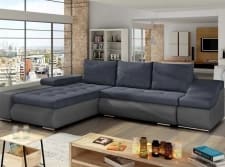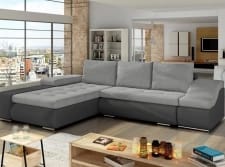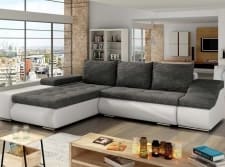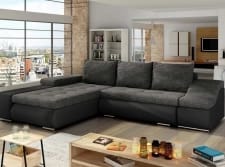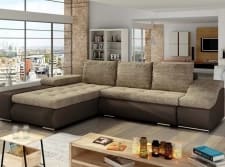 Ontario corner sofa
Functionality is essential when it comes to lounge furniture. The right place to relax at home, allowing you to rest fully and greatly uplifting your mood. If you are looking for furniture with these qualities, choose the Ontario corner sofa.
Ontario corner sofa: elegantly modern
Are you simply fascinated with modern design and loft styling, and fitting out your living room right now? That is perfect! You cannot go wrong with the Ontario corner sofa. The classic layout helps with its easy location and arrangement in your living room, and the overall appearance is refined with unique accents to make it one of a kind in terms of elegance. The wide armrest on one end features a headrest for even better comfort of while you are lounging. The other end of the corner sofa is finished off with a shorter, rolling arm, which can double well as an extra seat. The rounded edges flowing down to stylish accent legs embrace large, stylish cushions padding the backrest, and the overall finish is enhanced with very subtle tufting to provide a stunning effect to please anyone who loves modern furniture. The corner sofa features two-tone upholstery of superior quality, which does not mark easily and resists wear, tear and fading. The cushions, the seat and the top surfaces of the armrests share the same tone, forming a great contrast with the colour of the rest of the upholstery, and you can easily customize the Ontario by choosing two tones harmonising or contrasting with each other. This helps in choosing the finish option that you are going to love, one matching the style of your living room.
Ontario furniture: an all-rounder for your living room.
The Ontario measures 296x200x88 cm, providing plenty of space to relax during the day. It is also a sleeper, and with the bed unfolded it is great for a night's rest. The pull-out bottom section and flippable backrest help quickly convert the sofa into a bed for the night. When unfolded, it makes a comfortable bed measuring 225x140 cm and features spacious bedlinen storage. The sheer comfort of the sofa is not solely due to its construction and materials, the combination of continuous springs and T30 foam each make a great contribution too.
If you want to enjoy a sofa to relax on comfortably day after day for many years, go with robust upholstered furniture. The Ontario corner sofa merges superior comfort with refinement, a perfect match for every modern styled living room.
A wide armrest on one end and a short, rolling one on the other
Rounded edges
Accent legs
Wide cushions
Upholstered back
Convertible into a bed with the pull-out bottom and flippable backrest
Bedlinen storage included
Available in any combination of colours
Corner sofa width: 296 cm
Corner sofa length: 200 cm
Height w/cushions: 88 cm
Height w/o cushions: 70 cm
Seat cushion depth: 53 cm
Mattress height: 37 cm
Sleeping surface: 225x122 cm