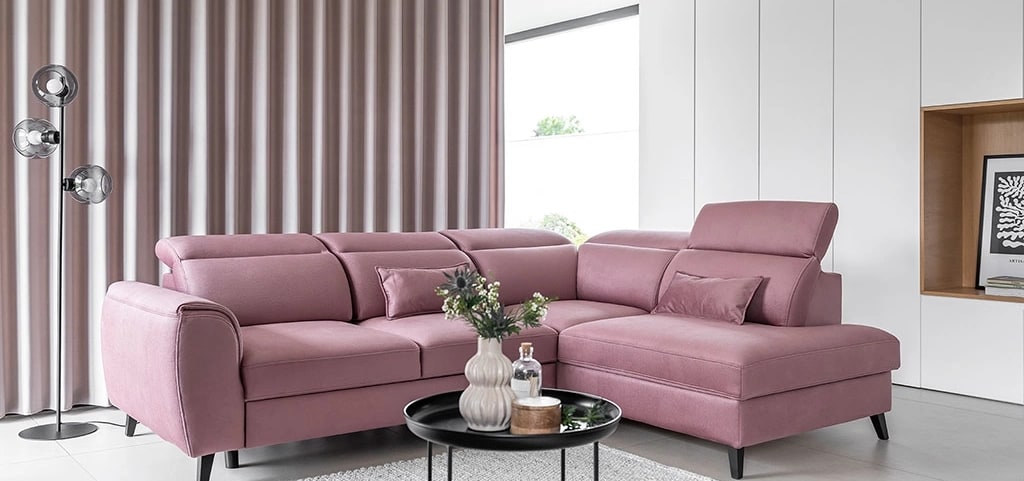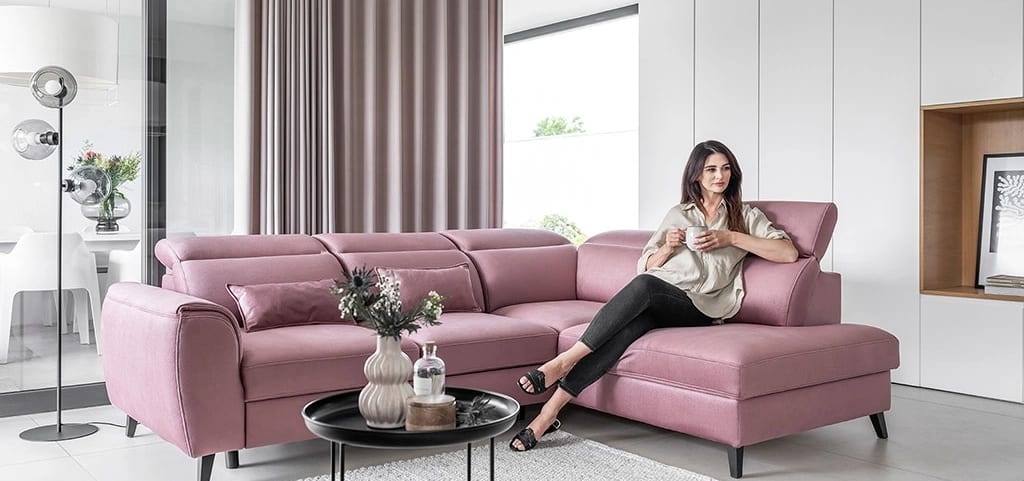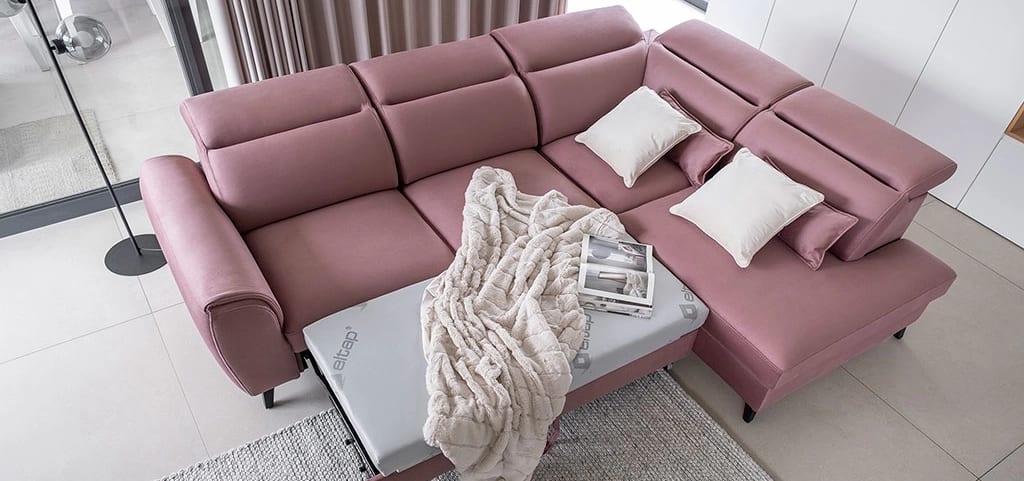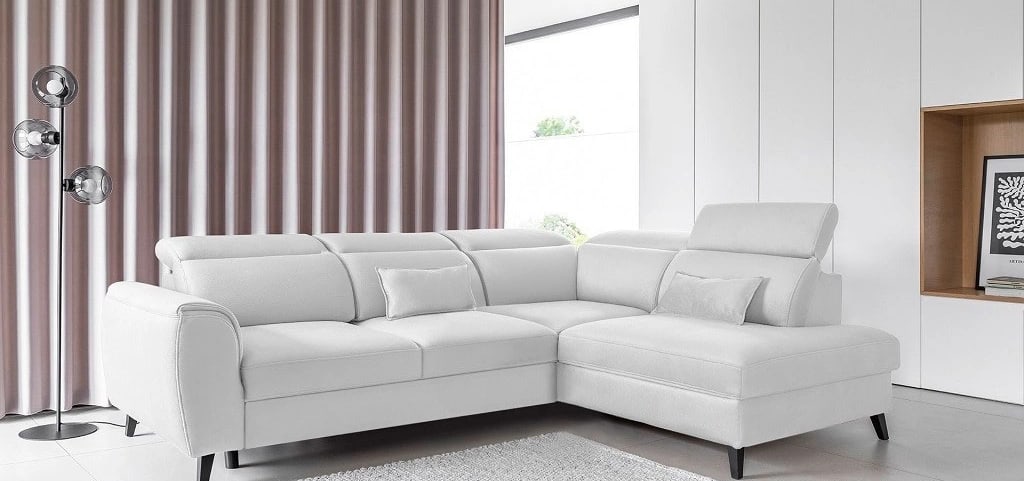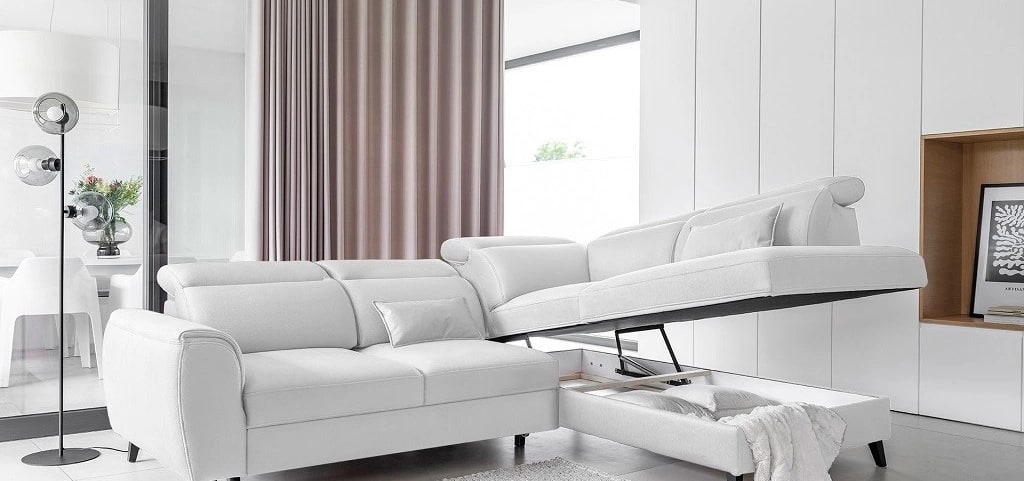 Noble corner sofa bed
As we know, nowadays every living room needs a comfortable piece of furniture. Currently, modern corner sofas are in the lead in this part of home. Thanks to the movable components, the furniture can be easily adapted to the current requirements and preferences. Corner sofas with the sleeping function are perfect for smaller rooms. They will save some space and at the same time will not lose their aesthetic value. However, such models of upholstered furniture also fit large living rooms. By placing the corner in the center of the room, you will get a more modern character.
Noble fold-out corner - the master of corner sofas
At ELTAP, we believe that nowadays furniture should not only be comfortable, but must also be a delight for the eyes that are sensitive to aesthetics. That is why we have created the Noble corner sofa, which is functional, comfortable and beautiful. In addition, this leisure furniture is available in a wide range of upholstery, i.e. all fabrics available at ELTAP. Also, let's not forget that if the guests have nowhere to sit, the host's home may seem cold and unfriendly. Therefore, for even greater comfort of your living room, the Noble corner sofa is as much as 255 centimeters wide to accommodate many household members and guests. Its other dimensions are: 201 x 100 cm. The Noble corner sofa quickly and easily turns into a spacious bed: 120x195 cm. The furniture is equipped with a dolphin unfolding mechanism, which is very simple and intuitive. In addition, the Noble folding corner sofa also has an automatically retractable wheel, which contributes to a more comfortable use and unfolding of the furniture. This upholstered corner sofa also has a bedding container! The perfect place to store spare quilts, pillows and bedspreads. All this to make the living space orderly and harmonious.
Noble upholstered corner sofa - geometry and finesse
The Noble corner sofa bed is a modern, stylish and practical piece of furniture that is valued both for its functionality and form! This model is equipped with a wooden frame, thanks to which the furniture is durable and can be used for a long time. The highly elastic HR foam and the B-type corrugated spring with which the seat of the Noble corner sofa seat is filled, ensure its stability and comfort. At the base of the corner sofa, an upholstery belt, characteristic for the production of modern upholstered furniture, was used. Wooden, black fixed legs provide stability to the Noble corner sofa. In addition, they are an interesting decorative element, and their height - 13 cm - makes it possible to use cleaning robots to clean the floor under the corner sofa. Thanks to this procedure, you enjoy a clean floor without having to move your leisure furniture. Our corner sofas have been designed with comfort and durability in mind. Everything is carefully thought out to ensure quality and unbeatable comfort. That is why the Noble corner sofa bed has 5 adjustable headrests that help you relax and unwind. Remember that a cozy home is the basis for successful social events.
5 adjustable headrests
Container for bedding
Sleeping function
Upholstered backrest
Seat filled with durable HR foam
Dolphin unfolding mechanism with an automatic, retractable wheel
Type B wave spring
Backrest with elastic belt and T21 foam
Wooden, black feet
Available in all fabrics from the ELTAP collection
Corner sofa height: 83/100 cm
Seat depth: 58 cm
Seat height: 45 cm
Corner sofa width: 255 cm
Corner sofa depth: 201 cm
Leg height: 13 cm
Sleeping area: 120x195 cm