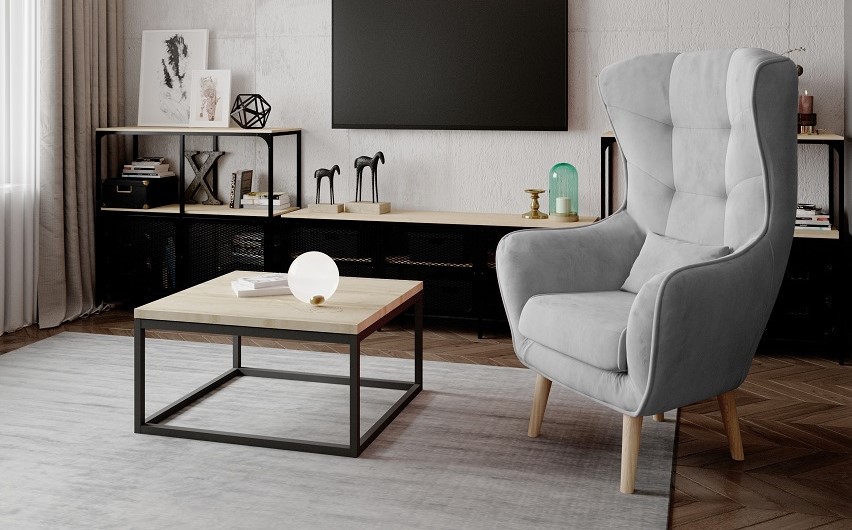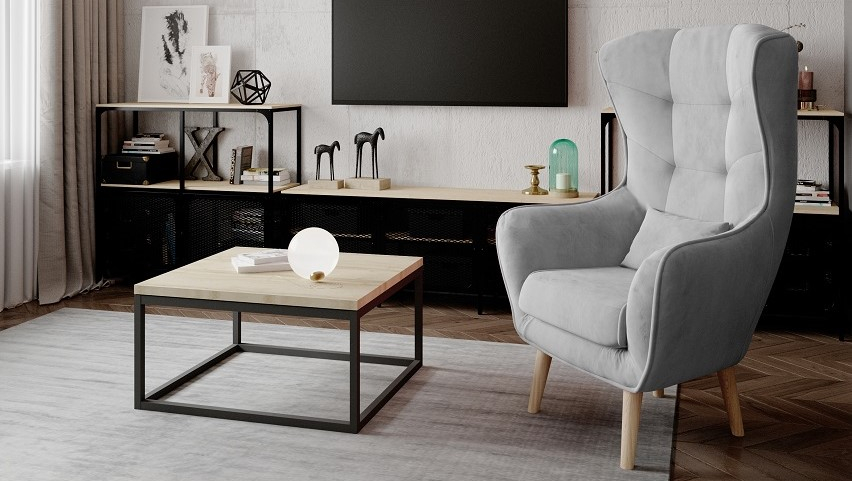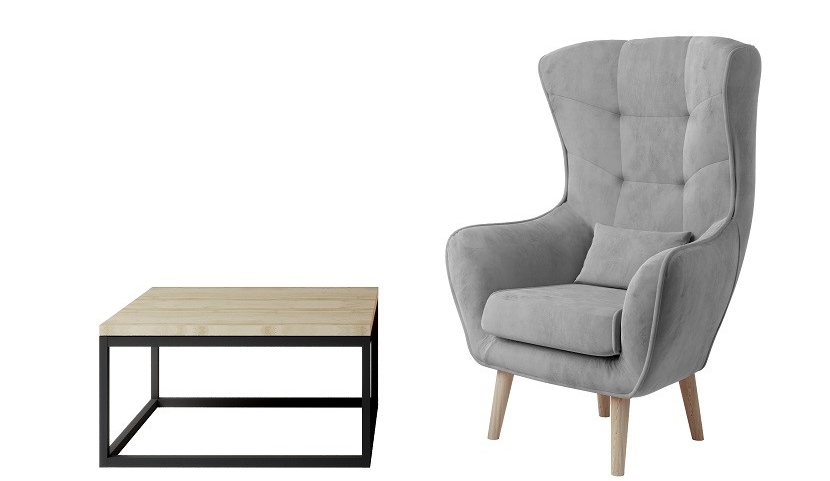 Arti Armchair and Moss Coffee Table
Empty space in the living room looks at you with accusatory eyes? Reach for a set of Arti and Moss furniture to get rid of this problem for good! The furniture included in the set - a minimalist coffee table and a comfortable armchair - will perfectly cope with the arrangement of empty places.

Arti and Moss - delight not only with their appearance
The Arti wingback armchair will steal the hearts of all lovers of durable furniture. The product has an internal skeleton made of a combination of furniture board and HDF plywood, and it is mounted on wooden legs. Thanks to this, the structure is resistant to overloads associated with everyday use and there are no ugly distortions on its surface. In addition, it does not wobble, so it will not disturb your rest.
The Moss coffee table is an example of a modern school of design. There is a geometric frame made of black painted steel, which provides the whole with high resistance to mechanical damage. On such a base, a table top made of laminated furniture board in SONOMA colour was mounted. The component will beautifully display the decorations and allow you to put a cup of coffee aside, and at the same time remains easy to care for. Its surface is therefore enough to wipe with a damp cloth and it's ready! Tea stains or cake crumbs will disappear in no time.

Moss and Arti, or a way to a graceful interior
The modern Moss coffee table focuses on proven solutions. Here you will find both a simple body and an elegant combination of a light top with a black base. In this way, our piece of furniture, although industrial at first glance, will work perfectly in virtually any arrangement. Do you dream of a cool Scandi? Or maybe you prefer an original futuristic style. Skilfully arranged, the Moss coffee table can become a star in any space!
The Arti wingback armchair is a fashionable companion of the home relaxation zone. Its characteristic shape and profiled surface make resting in the living room a whole new dimension. It has long been known that we feel better when there is a beautiful environment around us. The Arti armchair also offers a choice of upholstery. All you have to do is choose one fabric from the wide range of ELTAP and you can easily incorporate it into your home!
A coffee table:
Table top made of laminated board in SONOMA colour,
Legs painted black
Base made of steel with a 20x20x1.2 profile,
Universal, minimalist style,
Easy to keep clean.
Wingback armchair:
Decorative pillow included
Geometric stitching on the backrest
Contoured backrest, high armrests
Characteristic "wings" at the top of the chair
Upholstered back allowing to place the chair anywhere
Wooden feet
Frame is made of a combination of furniture board and HDF plywood
Seat foam type: HR
Type of foam based on: T25
Product available with all fabrics from the ELTAP collection
Table width: 65cm
Table depth: 65 cm
Table height: 36 cm
Laminated board thickness: 18 mm
Table weight: +/- 11 kg.
Armchair width: 80 cm
Armchair depth: 85 cm
Armchair height: 90.5 cm
Armchair's seat height: 47.5 cm
Armchair's seat depth: 55.5 cm
Armchair's seat height: 26 cm
Number of legs: 4
Armchair's legs height: 21.5 cm
Height weight: +/- 40 kg
similar products - Lounge suites