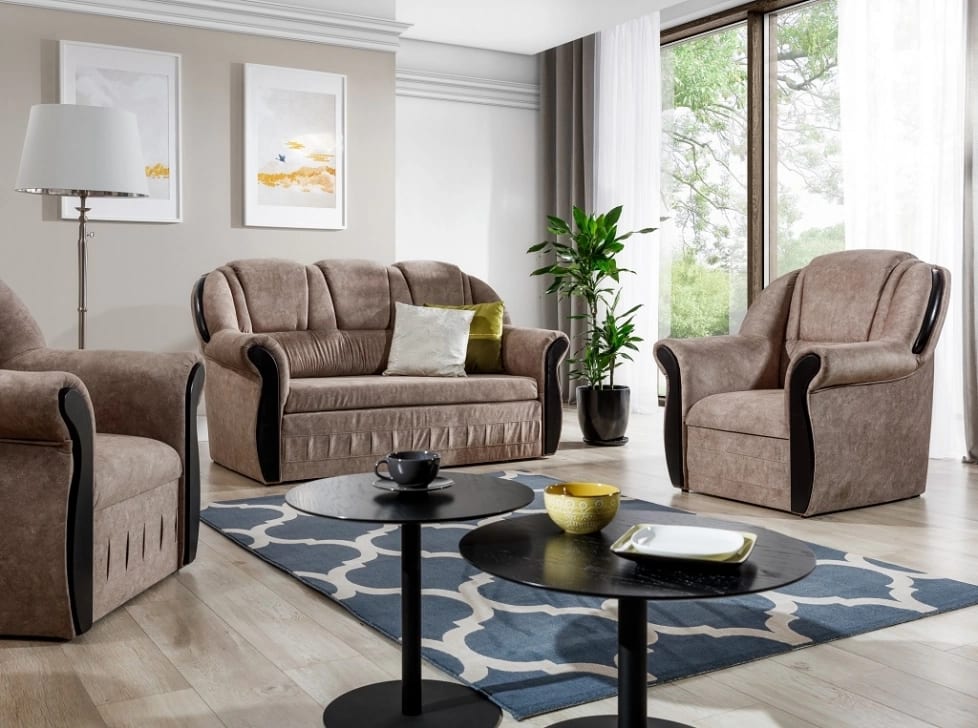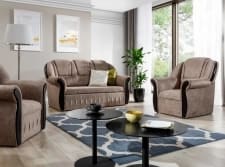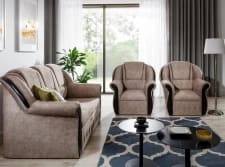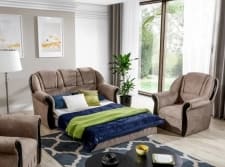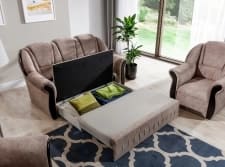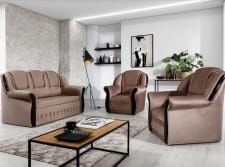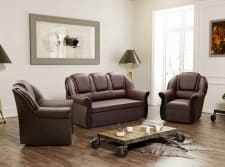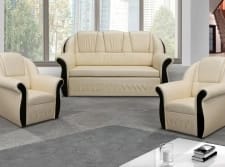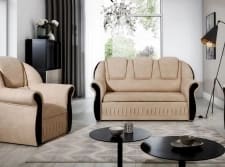 Lord lounge suite
Classicalism and elegance combined, the underlying design thought for the Lord lounge suite, a perfect match for conservatively styled wooden furniture. Do you love interior design in this style? The Lord lounge suite can be the central showpiece in your living room.

Lord lounge suite: classics are always in fashion
Deep seat cushions, tall backrests and pronounced arms. The furniture is finished with wooden accents and stylish tufting, rounded off by a turned-up edging along the base. The styling of the Lord lounge suite is perfect for predominantly elegant interiors. The Lord 3F sofa and the Lord 1F chairs are upholstered in leather. The suite is available in cream or tan brown. With these classic colour options, it blends in best with wooden furniture and antiques.
Lord lounge furniture: functional with high comfort guaranteed
There is so much more to the Lord lounge suite than its smart design. Apart from the stylish and classic lines, this collection stands out with its superior attention to detail, unique accents that flesh out the look and feel, and the quality of the materials. The sofa and the armchairs both feature soft seats filled with flexible, heavy-duty, very resilient T30 foam. To improve the comfort, the sofa doubles as a bed with a spacious bedlinen container. The sofa measures 180x87x105 cm, and each chair measures 80x87x105 cm. When the sofa is unfolded to make a bed, it provides a delightfully soft place to sleep measuring 185x135 cm. The simple construction makes the sofa easy and intuitive to unfold, quickly ready for a great night's rest.
If you prefer furniture which is rather traditional and interiors which are refined, and are seeking a lounge suite on which to enjoy superior levels of comfort as the centrepiece of your living room, then the Lord lounge suite is exactly what you need.
Tall rounded backrests
Comfortable arms
Wide seat cushions
Stylish stitching
Smart turned up hem along the base
Wooden accents
Sofa width: 180 cm
Sofa height: 105 cm
Seat cushion depth: 55 cm
Chair width: 80 cm
Chair height: 105 cm
Seat cushion depth: 55 cm
similar products - Lounge suites