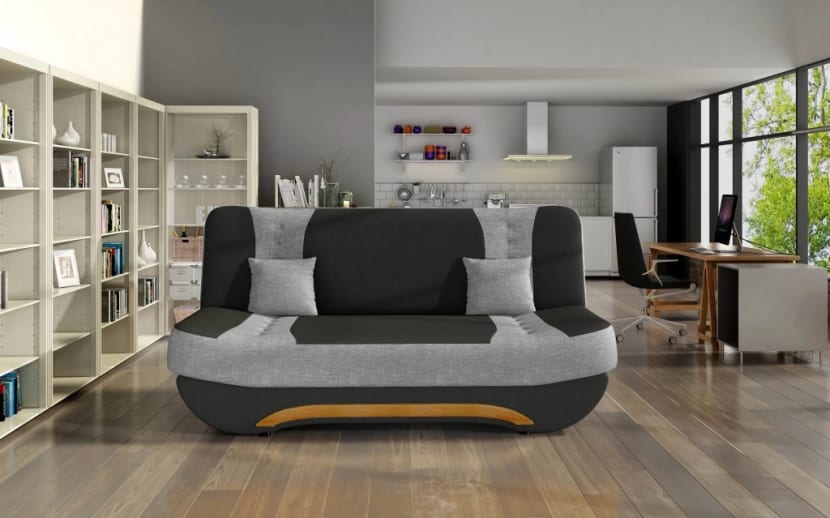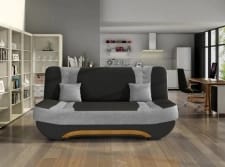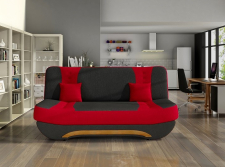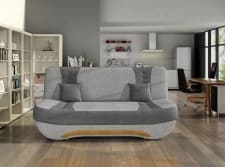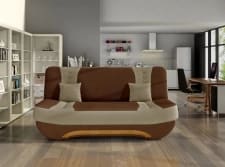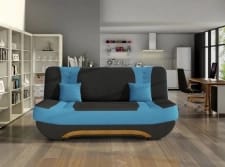 Ewa II sofa
Do you prefer furniture with astounding look, feel, and function? Ewa II is a sofa to go well with your style preferences, endowing your living space with a bold accent.
Ewa II sofa: a perfect pick for your living room
Furnishing your living room and looking for a lounge sofa with high levels of comfort and convenience? The Ewa II sofa is a popular pick for those who like simplicity and comfort. The simple design with a traditional, trusted, and proven sleeper folding mechanism, combined with the streamlined form of the sofa, make a perfect mix for day to day use. The slightly rounded edges and the decorative wooden trim at the bottom give the sofa a very appealing look. The upholstery adds to the grand appearance. Ewa II is available in many colour options. The upholstery juxtaposes two colours: a predominant tone which spans most of the sofa and contrasts well with the insets on the backrest, the seat, and the complementary decorative cushions. The selection of the colour choices means everyone can find an option in harmony with their preferences and the theme of their room.
Ewa II furniture: high functionality, simplicity of form
Known not just for its unique design, Ewa II provides great functionality and convenience. Measuring 194x100x95 cm, it provides plenty of space to relax during the day. Being a sleeper sofa, it can be converted into a bed for the night. In the folded-out configuration, it provides 195x125 cm of sleeping space. The simple and intuitive click clack folding system, a common feature in vintage studio sofas, makes the conversion into a comfy bed extremely easy. The bottom box accommodates a large bedlinen storage. Ewa II has everything to make your rest comfortable. This comes from its size and the Bonnell springs and T25 foam in both the backrest and the seat. This provides the right body posture while sitting during the day or while sleeping during the night.
Looking for a guarantee of highly comfortable rest? Choose the modern-styled Ewa II sofa, a perfect blend of simplicity and innovation.
Streamlined shape
Wooden decorative trim at the bottom
Available in different colour matches
A sofa that transforms into a bed
Sofa bed width: 194 cm
Sofa bed depth: 92 cm
Sofa bed height: 95 cm
Seat cushion depth: 58 cm
Seat cushion height: 45 cm
Sleeping surface: 194x125 cm