Dalia Corner Sofa Bed
back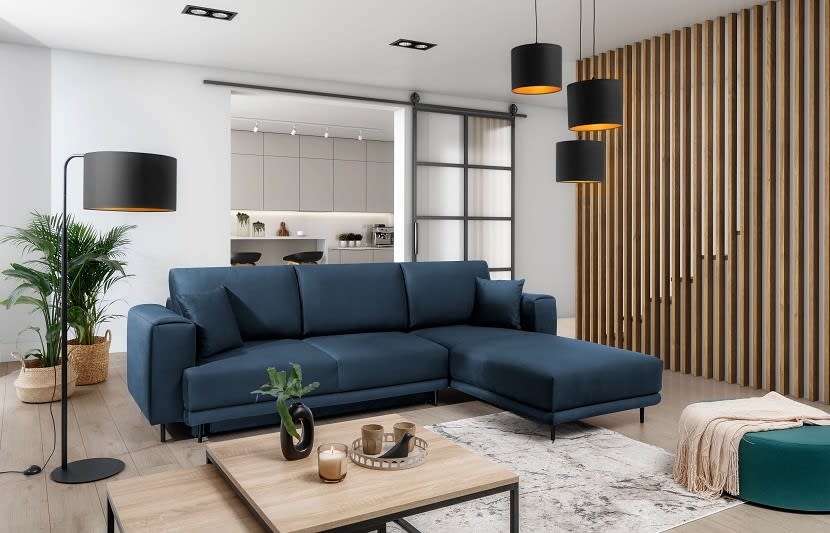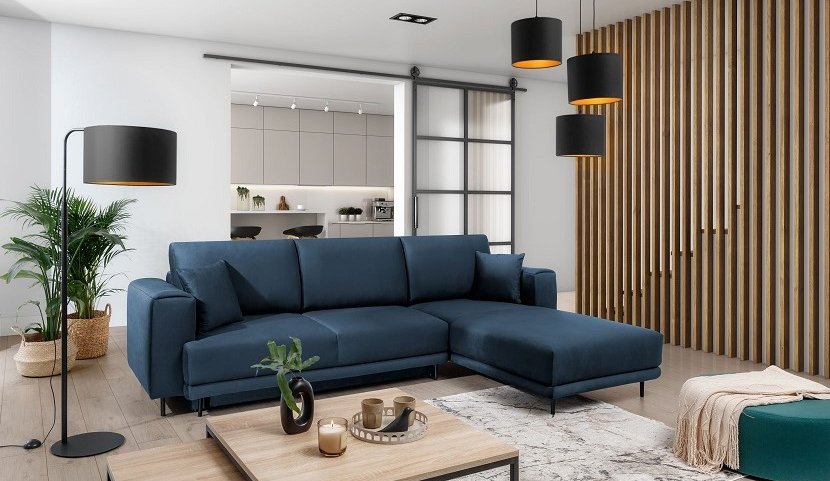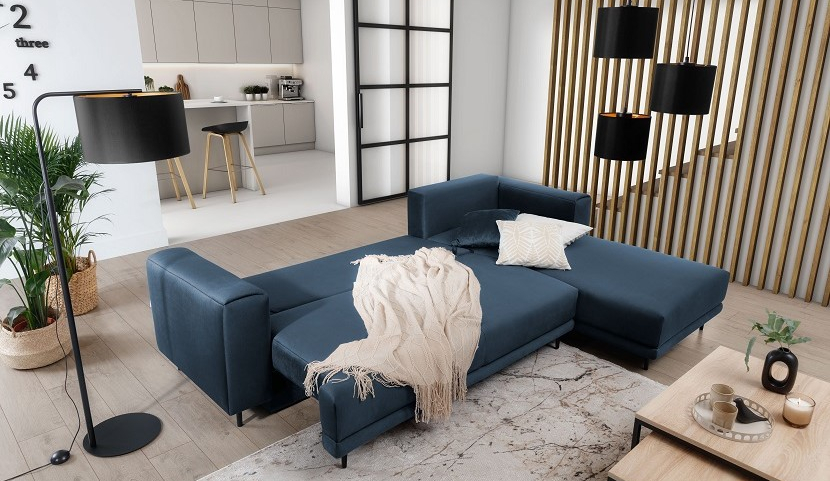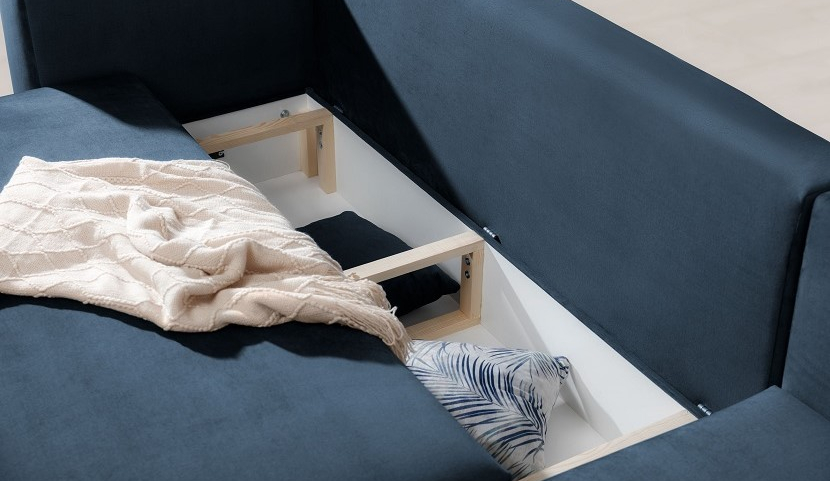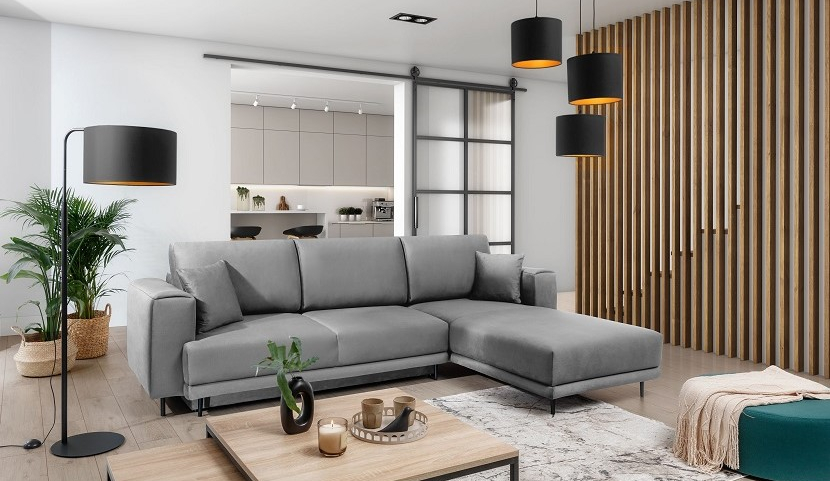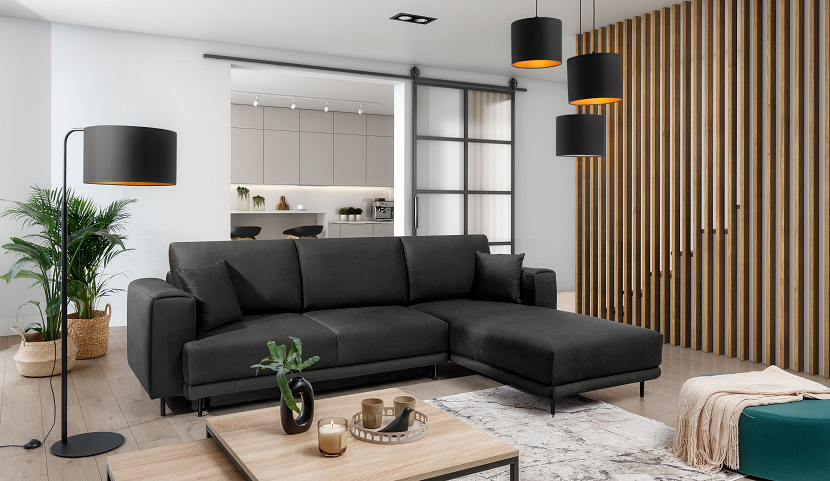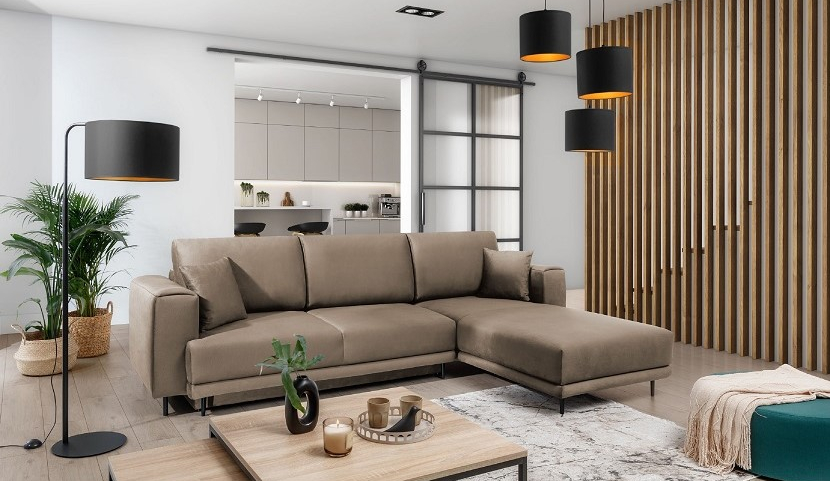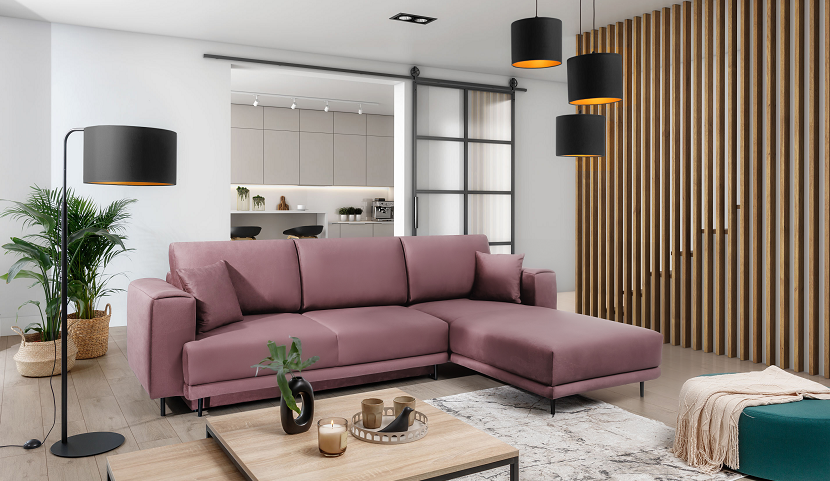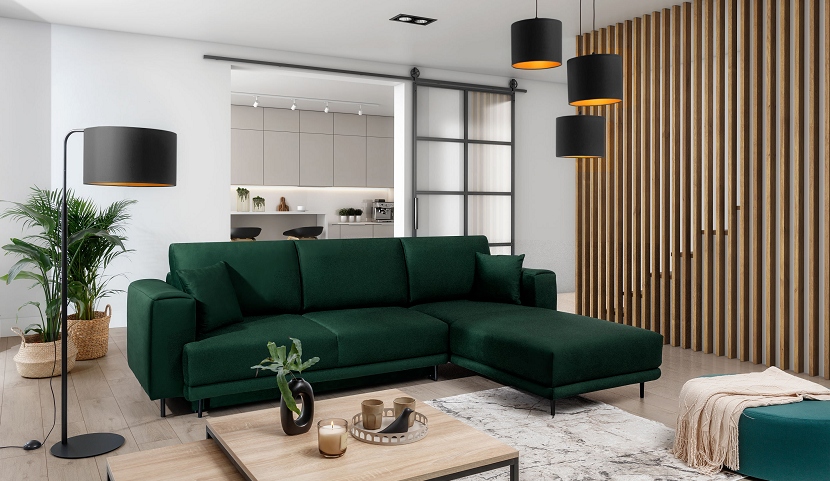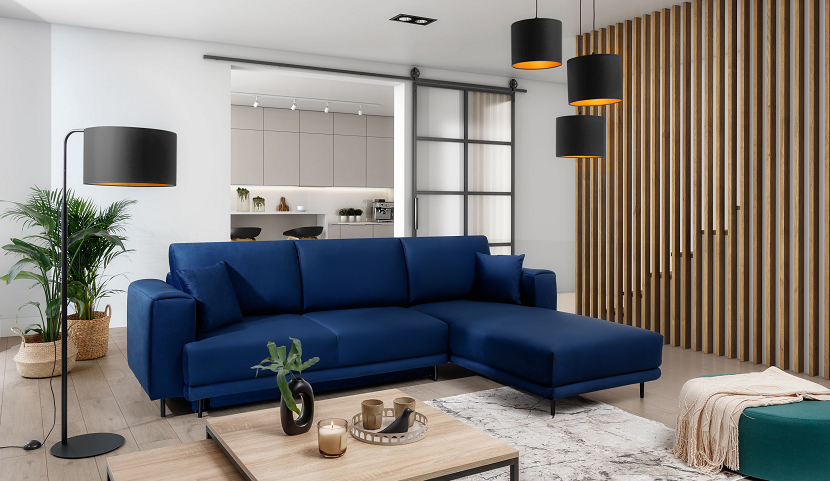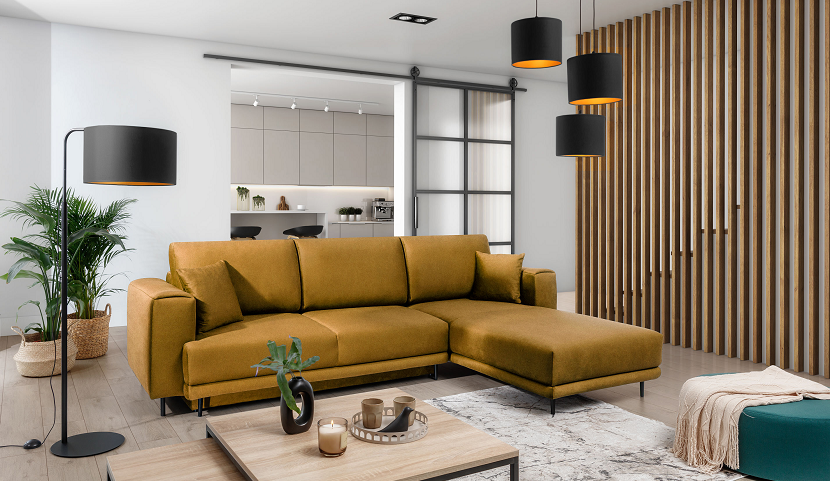 Dalia Corner Sofa Bed
Do you love minimalism? Do you feel best among modern, simple furniture? The Dalia fold-out corner sofa was created with you in mind! In its design, the most beautiful of the current trends meet - in order to provide you with everything you love the most.

Dalia - A modern corner sofa - A corner sofa with a soul
Close your eyes for a moment. Imagine your dream living room: an elegant carpet stretches on the floor, a fancy TV set plays softly against the wall, harmoniously completed furniture flaunts around. And who plays the first violin? Dalia, an unusual upholstered corner sofa. It seduces you with its fashionable design that combines smooth, soft lines and charming curves with predatory, slender legs made of black-painted steel and plastic. In addition, it is able to provide you with a truly royal rest when you return home tired. What more could you want?
Of course! That is why the Dalia living room corner was made of a number of the highest quality components. All this so that it can serve you in perfect condition for an exceptionally long time. In the seat of the furniture, type B corrugated springs supplemented with highly elastic HR foam appeared. This means that the surface of the product is captivatingly soft and flexible, while remaining able to gently adapt to the shape of its user's body. Thanks to this, it is able to gently relieve your muscles and eliminate the tension accumulated in them, replacing them with a sense of relaxation and comfort. In addition, the furniture remains resistant to the formation of unsightly creases!
On the other hand, the backrest of the Dalia corner arouses recognition with pillows filled with foam granulate and a movable, overturned part full of T2540 foam. These components together make our product able to properly care for your spine. It will therefore provide it with adequate support for its sensitive curves, thanks to which even a few hours spent in one position will not have a negative impact on your health.
However, this is not the end of the advantages of the model we offer! It has an easy-to-use sleeping function that will allow you to quickly conjure up a truly comfortable bed. Overnight guests will never have to resort to an inflatable mattress again! It is also worth noting that there is a large container for bedding inside. The storage compartment is able to easily accommodate all kinds of textiles, which will make it much easier for you to keep order in the room.

Dalia Corner Sofa Bed - A wide range of possibilities
When choosing a corner sofa, you want it to fit your interior as well as possible. That's completely understandable! For this reason, ELTAP has prepared for you the possibility of choosing the colour and type of fabric from a selected range of proposals. Thanks to this, you will find out that corner sofas from the Dalia collection will be perfect for your home. Especially that you can match them with an equally stylish lounge chair and fold-out couch. In this way, you will conjure up a beautiful set, where you will entertain your friends in comfortable conditions.
Free-standing model – with an upholstered back,
Suitable for 4 people,
Possibility to choose the side - whether the ottoman is to be placed on the right or left side,
A practical sleeping function in the form of a turned backrest allows you to quickly and efficiently transform the whole into a comfortable bed,
The bedding container will store the necessary textiles within reach,
Two decorative pillows 40x40 cm as standard,
The seat filled with a B-type corrugated spring and HR foam is resistant to distortion and pleasant to use,
The backrest filled with T2540 foam is complemented by pillows filled with foam granulate, which makes the structure capable of properly taking care of your spine.
High legs made of black painted steel and plastic provide the necessary stability and beautifully balance the visual weight of the body,
Minimalist design inspired by Scandinavian and industrial influences,
Possibility to choose the type and color of the fabric from the ELTAP collection.
Corner sofa length - 190 cm,
Corner sofa width - 289 cm,
Corner sofa depth - 190 cm,
Corner sofa height - 73-95 cm,
Capacity - 280 kg,
Seat height - 40 cm,
Seat depth - 58-80 cm,
Seat width - 80 cm,
Backrest height - 51 cm,
Leg height - 12 cm,
Sleeping function width - 127 cm,
Sleeping function length - 157 cm,
Sleeping function height - 40 cm
Bedding container length - 154 cm,
Bedding container width - 59 cm,
Bedding container internal depth - 21 cm.