Continental Bed With A Higher Standard Cortina 140x200cm
back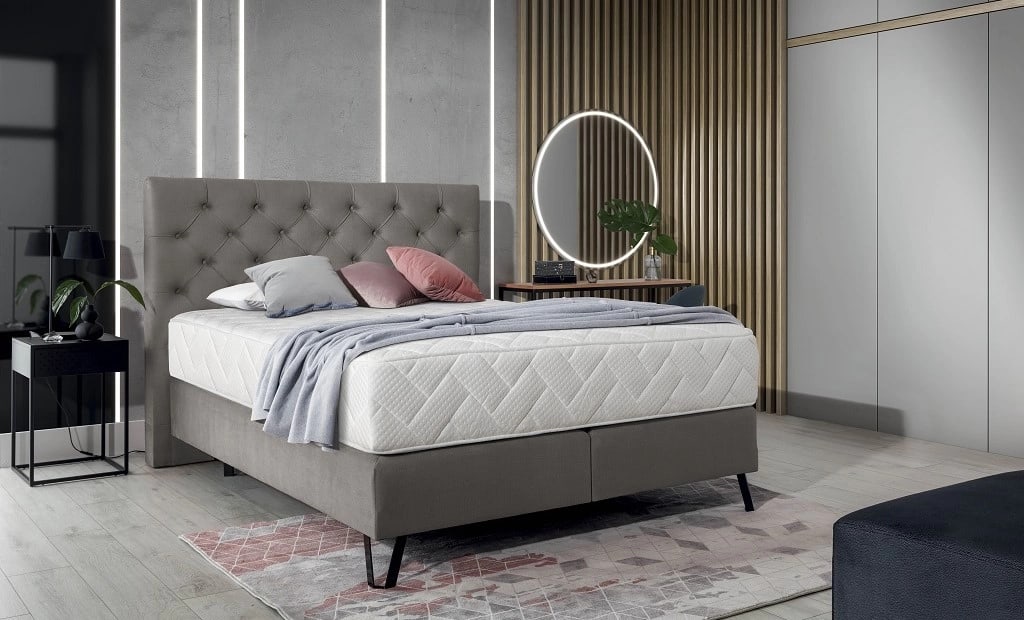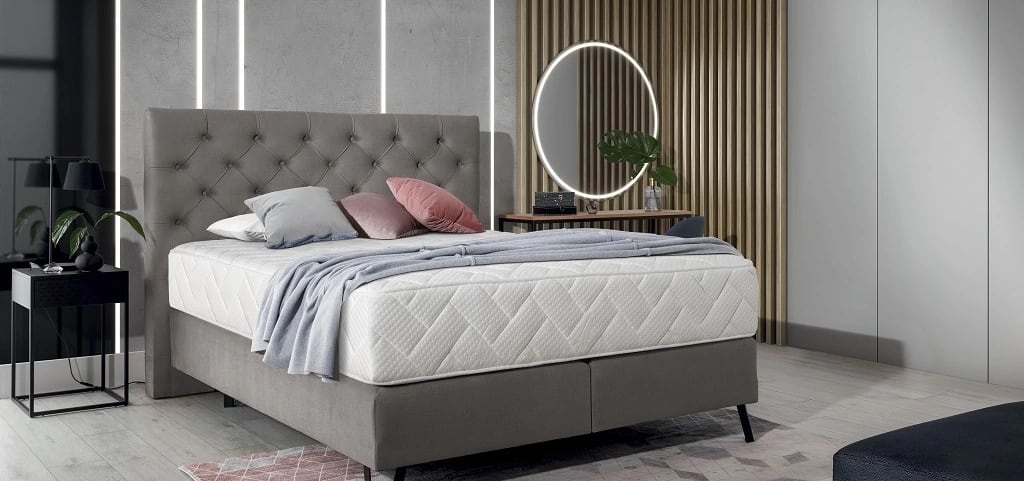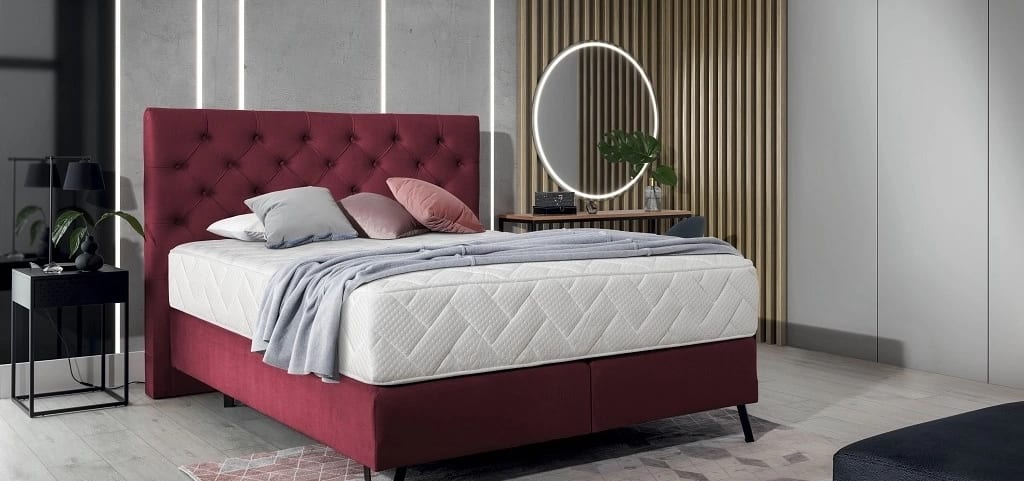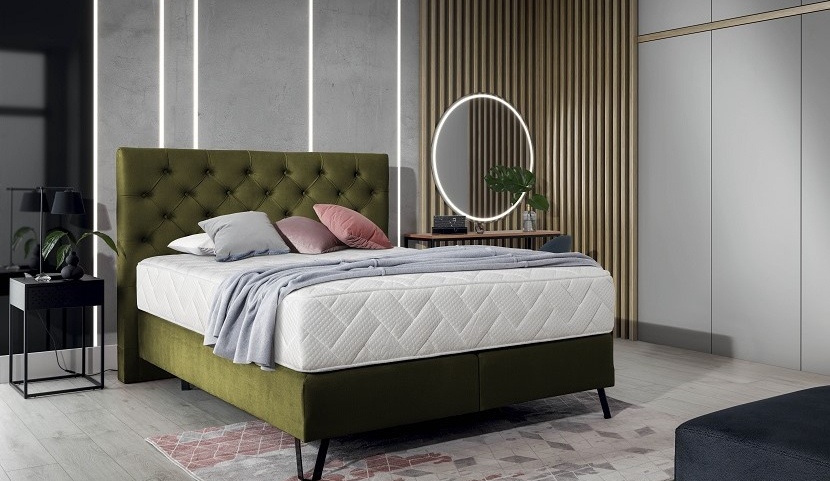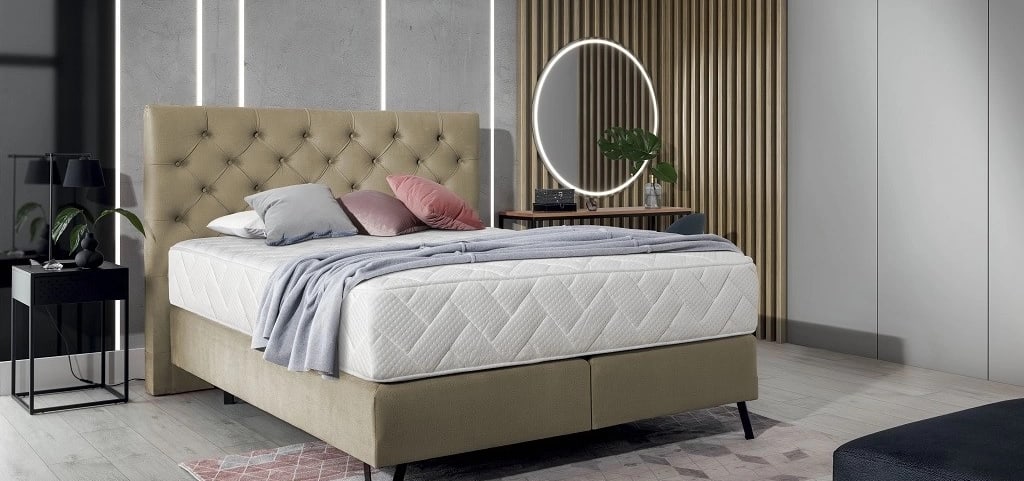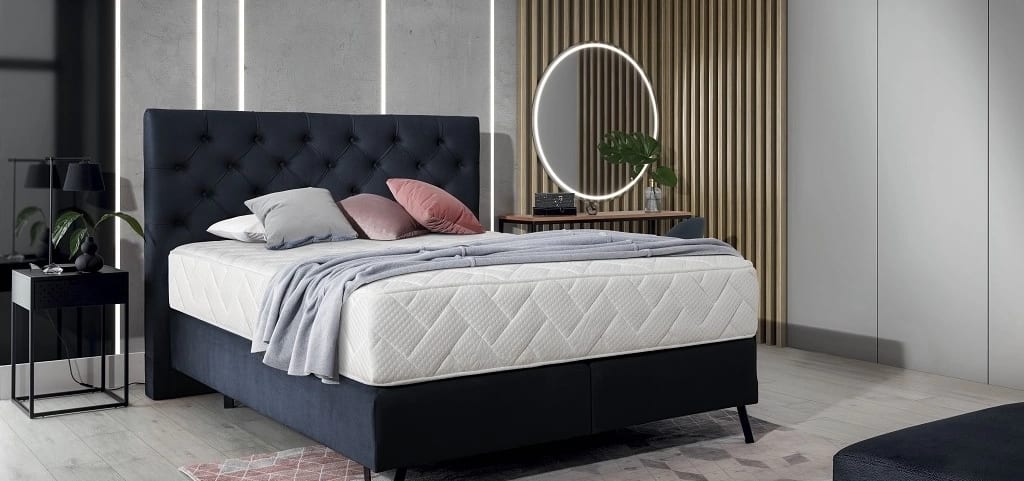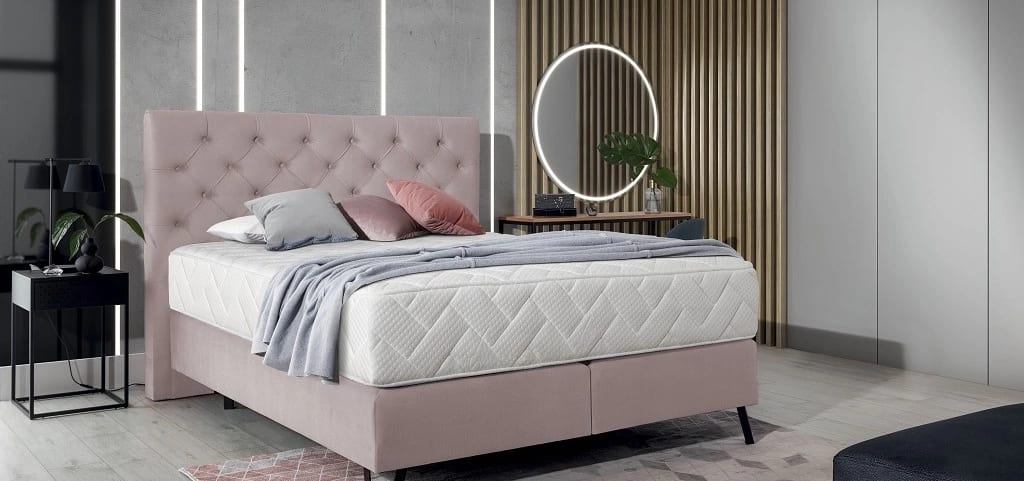 Cortina Continental Bed
We sleep for almost a third of our lives, so it is important that this time is used well - you need to rest and regenerate before the next day. In order to have a good rest, you need to provide your body with proper sleeping conditions, i.e. remember about sleep hygiene: airing the bedroom, physical activity, avoiding sweetened drinks before going to bed, but also a comfortable mattress and a comfortable bed. This is where the Cortina boxspring continental bed comes in handy. It is a model that impresses with its elegance and style, as well as comfort. Check how comfortable our Cortina bed is and sleep like a baby.
Cortina Continental Bed – a modern continental bed
Complete your bedroom in a discreet, minimalist style with this standard bed. It is constructed from a sturdy chest with durable black metal legs and an ornamented panel headrest. The height of the legs of the Cortina continental bed is as much as 15 centimeters. This means that most of the cleaning robots available on the market are able to drive under the furniture and clean the dust that forms there. In addition, the legs of the upholstered bed have a very designer style and emphasize the character of the furniture, i.e. a combination of classic and modern in one. Boxspring Cortina is available in 3 variants of the sleeping area to choose from: 140x200 cm, 160x200 cm, 180x200 cm. Whether you need a large or a smaller bed, you can have Cortina in your room.
Boxspring Cortina – a bed and a mattress included
Filling the headboard of the Cortina bed with foam provides an additional, soft support for the head, so you can rest comfortably and perform simple activities such as reading or watching TV. In addition, the headrest is decorated with quilting and stitching - all together create several dozen diamonds. They add charm to the bed, as well as the whole arrangement in which the Cortina upholstered bed by ELTAP will be found. An important part of each bed is also a mattress, and in this case we add a super-comfortable mattress to the set with the bed. At first glance, it may seem that the mattress is just a mattress, and the springs in it are just ordinary, always the same springs. Nothing could be more wrong! Our Cortina bed is equipped with a pocket spring mattress. It is made of individual pocket springs, and each spring in turn is enclosed in its own pocket. Acting independently, a particular spring responds only to the pressure applied to that area. Then the comfort of rest on such a mattress increases, and it is also an ideal solution for people looking for relief from joints or constant hardness of the mattress. Apart from the advantages of a comfortable mattress, let's also remember about the possibility of choosing the color and structure of the fabric, with which the Cortina continental bed will be upholstered. We have many different, beautiful materials in our ELTAP collection, see for yourself.
Upholstered back
Comfortable mattress included
Removable mattress cover
Pocket spring
Metal, black, high legs
Elegant quilting on the headrest
Available in a wide range of ELTAP colors
Bed width: 158/178/198 cm
Bed depth: 215 cm
Bed height: 130 cm
Seat height: 69 cm
Leg height: 15 cm
Sleeping area: 140/160/180 cm