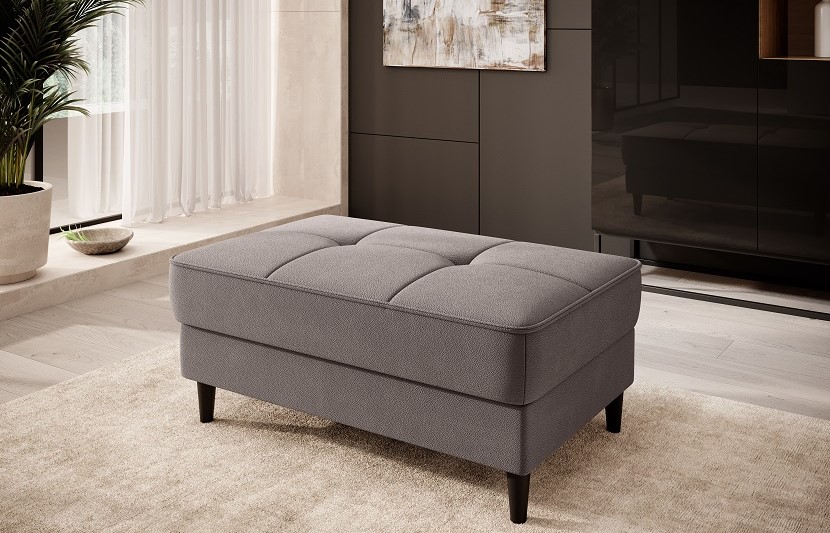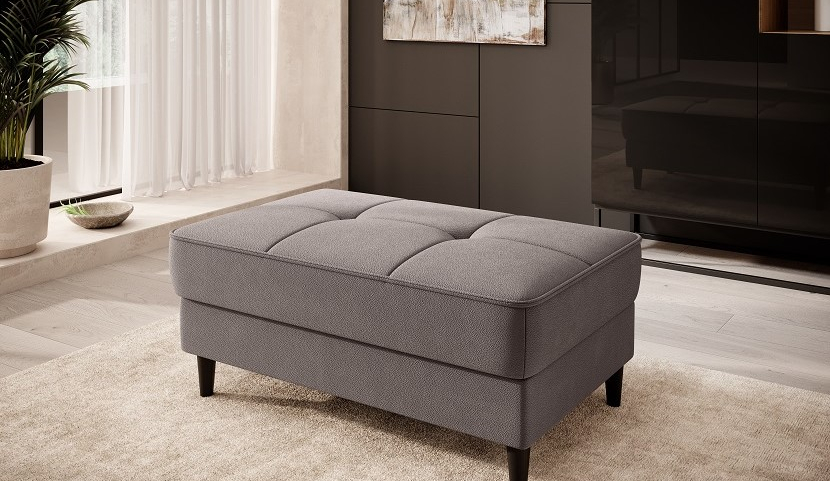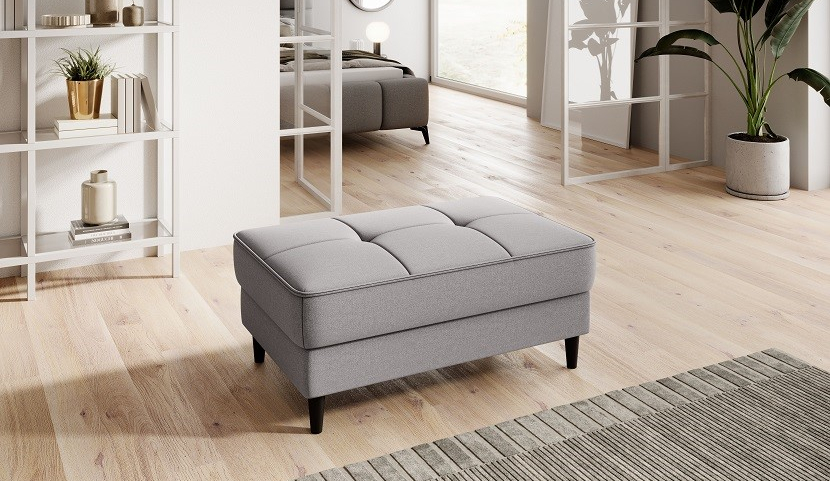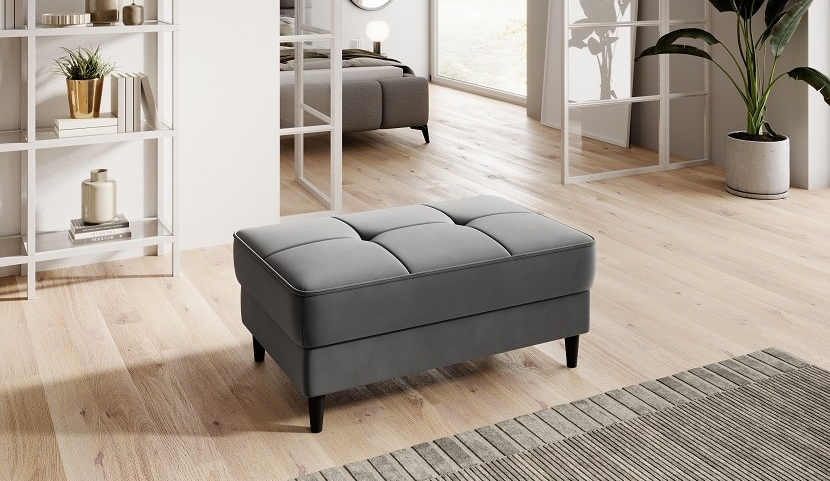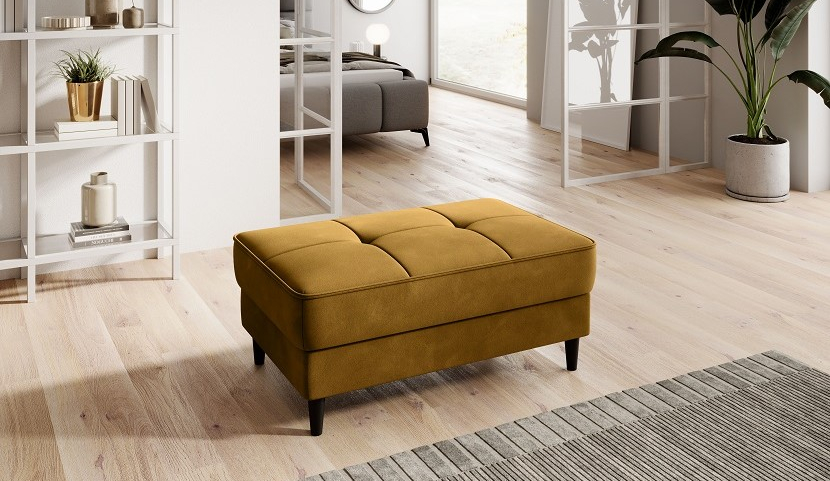 Bellis Pouffe with a storage compartment
Do you care about a stylish and original space? Need extra storage space? Today you can satisfy these two desires in one go! It is enough that Bellis appears in your apartment, i.e. a pouffe with a compartment for practical trinkets.
The Bellis model is a high-quality proposition that will change the interior arrangement for the better! When creating it, our designers took into account all the current trends in the interior design market, thanks to which you get a fashionable and stylish solution at your disposal.
Bellis hall pouffe - a comfortable seat and practical elegance
Have you ever put your shoes on in a hurry? Then you stand on one leg, and awkwardly slip on slippers or trainers on the other, which makes you dangerously sway from side to side. But why all this gymnastics and balancing on one leg when you can give yourself a more comfortable alternative? It is enough to put the Bellis pouffe in the corridor, and such problems will be forgotten for good!
The wide, comfortable seat of the furniture allows you to sit comfortably on it. It will be useful not only when putting on shoes every day, but also when you come home tired. After all, nothing improves the mood like being able to catch your breath after climbing the stairs to the fifth floor!
Or maybe you are visited by elderly or sick people? Remember that they often have trouble moving and manipulating their hands. No wonder that strategically placing the seat in the hall makes it much easier for them to overcome smaller and larger challenges on a daily basis.
Bellis hall pouffes are also a visually attractive piece of equipment. Their minimalist form and subtly quilted surface make them work exceptionally well with modern interior styles. And they are what we usually choose when arranging a narrow or cramped hall!
A composition inspired by the Scandinavian style, modernist beauty or even industrialism full of rapacity? Choose the right accessories, choose neutral colors, and complete everything with our charming Bellis. And now! Fashionable space will appear within your reach!
The interior of Bellis is equipped with a special mechanism that allows opening. So here you have a storage for small items! Bellis can be an additional place to store things: from sewing supplies to your child's toys! Why generate unnecessary clutter and place items on countertops when you can put them discreetly in a pouffe?

Bellis: a fashionable vanity table pouffe that will transform your daily beauty routine
Ah, if only we could sit comfortably in front of the console and put on makeup or perform a complicated care ritual in peace. Your day would then become much more pleasant! So why not get out of the dream zone and make this fantastic dream come true? Bellis pouffes with a storage are recommended for your care corner.
So place our piece of furniture in the corner of your bedroom. Hang a charming mirror on the wall, and complete the whole with a glamor-style vanity table. Every home needs a place like this. It will help you relax, thanks to which cosmetics applied to your face and hair will provide even better results. And after all, you can slide the piece of furniture under the console table to effectively save space.
Bellis dressing table pouffes hide a practical storage under their upholstered seat. This means that if you do not have space for your make-up, some cosmetics or, for example, a hair dryer, now you will gain a new way to store them. No more cluttered vanity table or console - with Bellis you will welcome a harmoniously beautiful apartment!

Bellis Pouffe - because what matters is the inside
In order to provide you with a number of the best possible experiences, only high-quality materials are used in our pouffe. They are what make sitting on a piece of furniture such an unforgettable experience. Here you will find highly elastic HR foam, T2130 foam and a B-type corrugated spring!
Together, these components make the product we offer very resilient. This feature allows it not only to perfectly wrap your body, providing it with proper support, but also to quickly return to its original state! This means that there will be no unsightly and uncomfortable dents and unevenness on its surface.
The visual aspect has not been forgotten here either. Bellis is therefore available in a wide range of fabrics from the ELTAP collection. Therefore, it will easily cooperate with the components of your apartment's decor, even when you decide to include it in your child's room!
Our pouffe has legs made of solid wood. They provide it both with adequately high stability and make its shape pleasant to the eye. So forget about the risk that a piece of furniture added to the room will overwhelm its other parts! Things like that have no place with Bellis.
It has a special mechanism for opening the container, thanks to which you can store your treasures in it,
Fashionable quilting on the seat,
A minimalist shape inspired by modern trends,
High, slender legs ensure stability and visually balance the weight of the body,
Creates a perfect combination with the Bellis sofa bed from the same collection,
Available in many different fabrics from the ELTAP collection.
Number of people: 1,
Pouffe length: 97 cm,
Pouffe width: 62 cm,
Pouffe height: 42 cm,
Pouffe load: 80 kg,
Pouffe weight: 20 kg,
Pouffe seat filling: HR foam, T2130 foam, B-type corrugated spring,
Pouffe seat height: 42 cm,
Pouffe seat depth: 62 cm,
Pouffe seat width: 97 cm,
Type of leg material: wood,
Leg color: black lacquered,
Practical container as standard,
Container length: 87 cm,
Container width: 53 cm,
Internal depth of the container: 13 cm,
Estimated assembly time +/- 15 minutes.
similar products - Pouffe