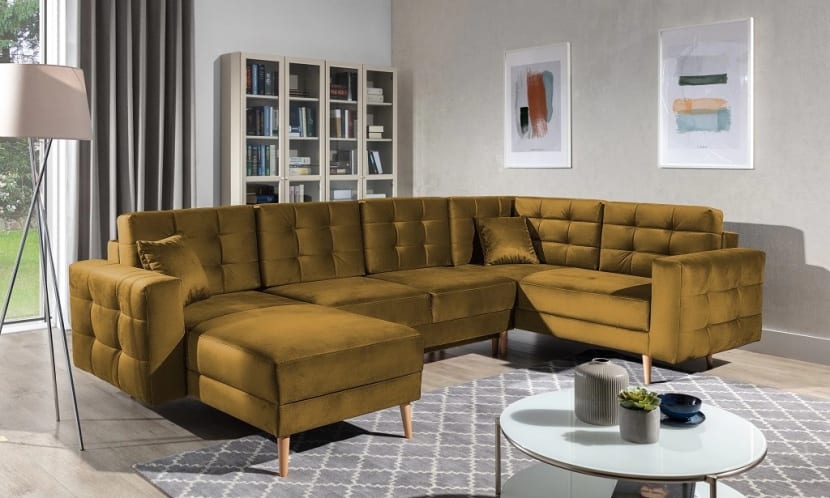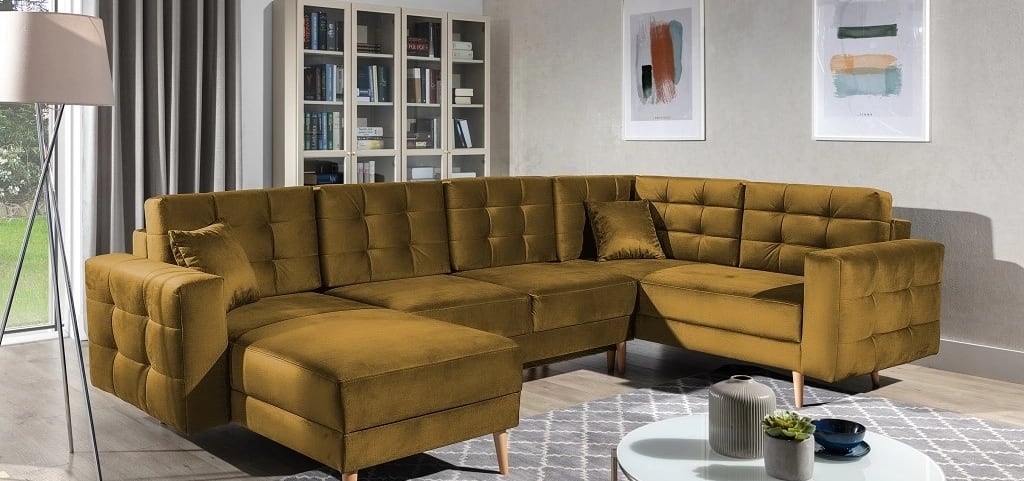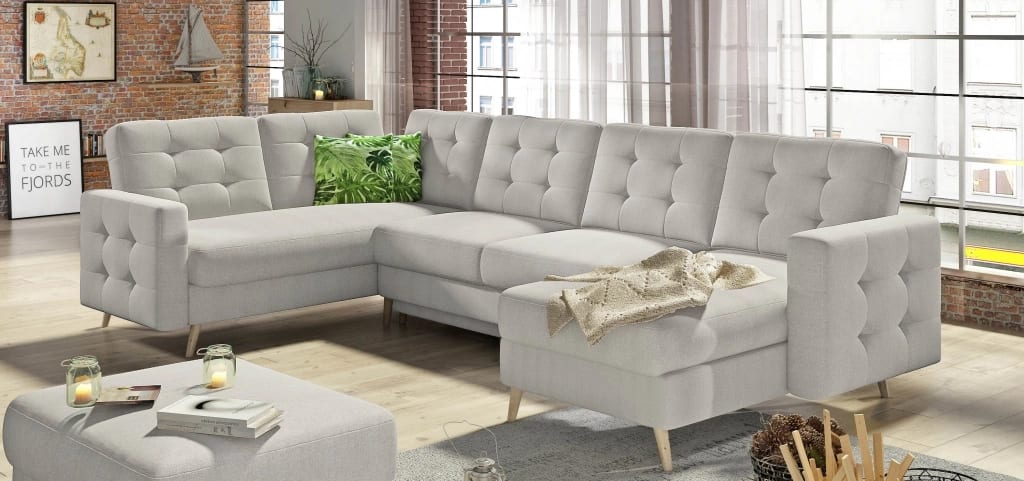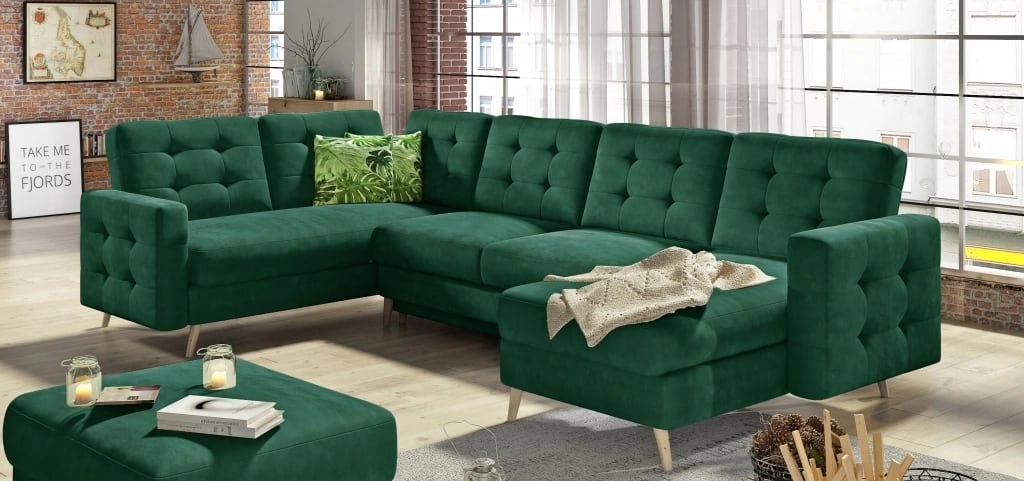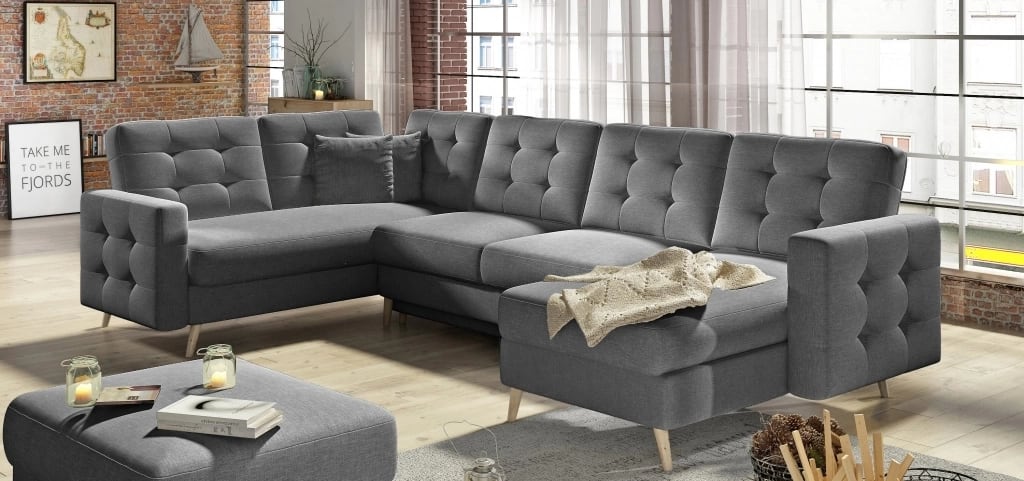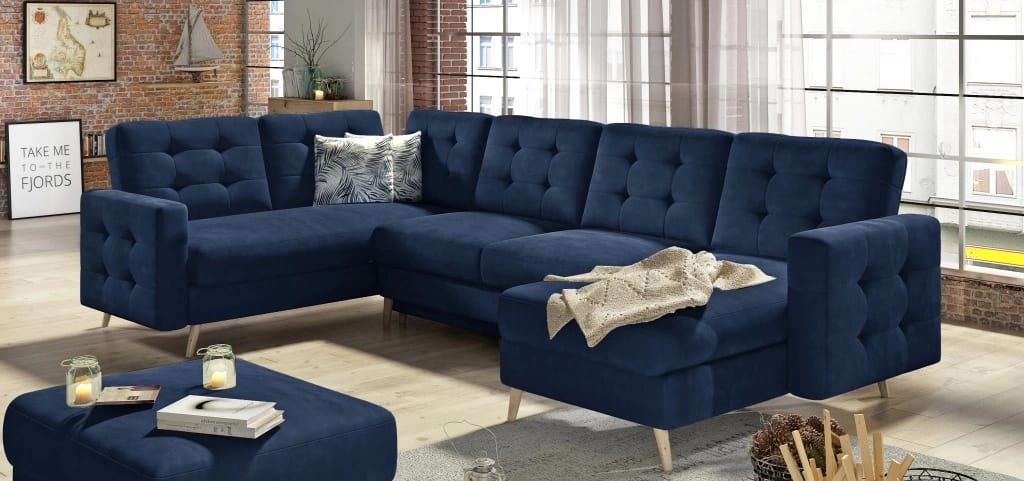 Asgard U corner sofa
Do you have a large and open living room that needs furnishing? Choose a comfortable piece of upholstered lounge furniture that is right for the size. The grand Asgard U corner sofa is the perfect solution!
Asgard U-shaped corner sofas: tastefully finishing your living room.
A large piece of upholstered furniture is the heart of every living room, one that should be big, comfortable and stunning in appearance. The Asgard U corner sofa follows modern design trends, where simplicity meets refinement. The U-shaped layout provides plenty of space on which to relax, as the sofa measures 320x202x90 cm. What is striking about the appearance is the refined accents, which include tasteful tufting and subtle stitching across the backrest and the sides, finished off with tall legs of turned wood. The Asgard U is available in a wide selection of colour options, and you can easily find the one that perfectly suits your taste and the prevailing styling of the room.
Asgard U furniture: robustness harmonised with great comfort
The unique design is a great match for Scandinavian, New York, eclectic and retro interior designs, and the advantages do not end here. While it is very refined in style, it lacks nothing in functionality. This sleeper sofa has plenty of room for you to spend some of your precious leisure time in, as well as being convertible into a bed featuring spacious bedlinen storage. The DL mechanism is used to make the transformation from sofa to a bed measuring 120x282 cm. The sumptuousness that defines this sofa is due to the seat stuffing system and the optimum geometry of the backrest. The seating combines an upholstered system of sturdy, continuous springs, all lined with soft T30 foam with its ability to resist damage well. The materials selected for the Asgard U helps to create a great place where you can relax, with high stability and good support for the body, relieving your back from strain.
The Asgard U corner sofa is the essence of superior comfort. If you need a stylishly upholstered living room, furnished in a way that allows plenty of space to relax, look no further than the Asgard U.
Elegant tufting and stitching on the backrest and sides
Tall, turned wooden legs
Available in a wide selection of colours
Sleeper
Bedlinen storage
Sleeper sofa with the DL folding mechanism
Seating with continuous springs and T30 foam padding
Corner sofa width: 320 cm
Corner sofa length: 202/165 cm
Height w/cushions: 90 cm
Height w/o cushions: 72 cm
Seat cushion depth: 50/74 cm
Mattress height: 45 cm
Sleeping surface: 282x120 cm