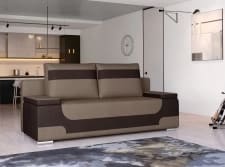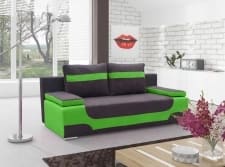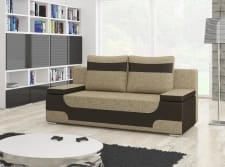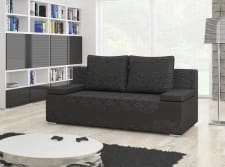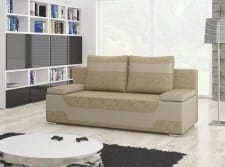 Area sofa
Modern style that goes hand in hand with high functionality, the essence of the Area designer sofa.
Area sofa: comfort with modern styling
Simple, full in form, with a modern touch is the calling card of the Area sofa, a popular choice for large living rooms and small spaces alike. The cuboid shape is complemented by stylish decorative accents in the upholstery and cushions, for a very refined appearance. The wide arms and relaxing profile of the backrest, padded with lush cushions, greatly improve the level of comfort. Note the unique contrasting inset at the bottom, on the sides and on the cushions. The available selection of upholstery materials makes it easy to match the sofa to the predominant style and colour.
Area furniture: high functionality in your living room
The Area sofa measures 200x95x90 cm, for very comfortable rest during the day. The sleeper feature is available by unfolding the sofa into a 200x140 cm bed for the night. The conversion action is very intuitive: just flip the backrest to the back if you need a bed. There is a large, convenient bedlinen storage, easily accessed with the DL folding mechanism. The Bonnell springs with T25 foam make the seat so soft yet resilient, providing superior support for the body. All these features help make the Area sofa highly convenient and extremely comfortable.
If you are fitting out a modern living room, choose the Area sofa for your minimalist or New York-themed style.
Wide cushions
Wide armrests
Profiled backrest
Wide selection of Eltap colour options
A sofa that transforms into a bed
Spacious bedlinen storage
Sofa bed width: 200 cm
Sofa bed depth: 92 cm
Sofa height w/o cushions: 73 cm
Sofa height w/cushions: 90 cm
Seat cushion depth: 50 cm
Seat cushion height: 45 cm
Sleeping surface: 200x140 cm