Aderito Continental Bed With Container 140x200
back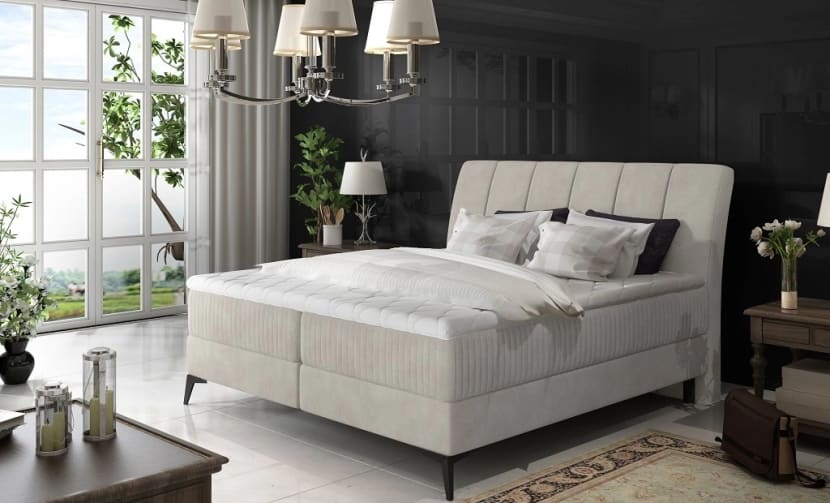 Aderito boxspring bed
Looking for comfort and elegance combined? The Aderito boxspring bed is comfortable, so that every morning you wake up well and rested.

Aderito boxspring bed: your bedroom in style
A fusion of modern design, refinement and good style: the Aderito boxspring has character and a level of comfort of which dreams are made The spacious bed is covered in a fabric that is pleasant to the touch, and resistant to wear and fading, with a tall headboard tilted slightly to the back, and long 13 cm metal legs in black. The design is enchanting and blends perfectly with Scandinavian, glamour, eclectic, and retro styles. You can choose the upholstery colour to match your preferences and the overall styling of the bedroom, making the Aderito boxspring bed popular with anyone who believes that tasteful design really matters.
Aderito continental boxspring bed: high quality for a healthy night's sleep
Aderito is a continental boxspring bed. The sturdy mattress sits on a robust, upholstered frame with spacious bedlinen storage, combining delightfully modern design, durability and functionality. The mattress is available in three sizes, 140/160/180x200 cm, so you can decide how much space you need for your night's sleep. The comfort comes from the type of mattress and springing. A combination of heavy-duty, 20 cm thick bottom mattress with Bonnell springs and highly resilient T25 foam with a 4 cm thick topper of T30 foam, complete with a high-quality fabric cover, ensures the maximum level of comfort possible while properly supporting the body and relieving strain on the spine. The comfort and spaciousness aside, the Aderito boxspring bed is also designed to be functional. This is where the spacious bedlinen storage comes in, accessed by lifting the mattress base. This feature is convenient to use, with two handles and a spring-action lift.
Looking forward to waking up fully rested and recharged, not just today but every day? Choose a bed with plenty of space to sleep and healthy, safe support for the spine. The Aderito boxspring bed fully lives up to your expectations.
Available in three sizes
Tall, slightly swept-back headboard
Tall legs
Two large bedlinen containers
Available in a broad selection of colours
Bed width: 143/163/183cm
Bed length: 221 cm
Bed height: 118 cm
Base height: 57 cm
Leg height: 14 cm