Wardrobe Lanzzi small
back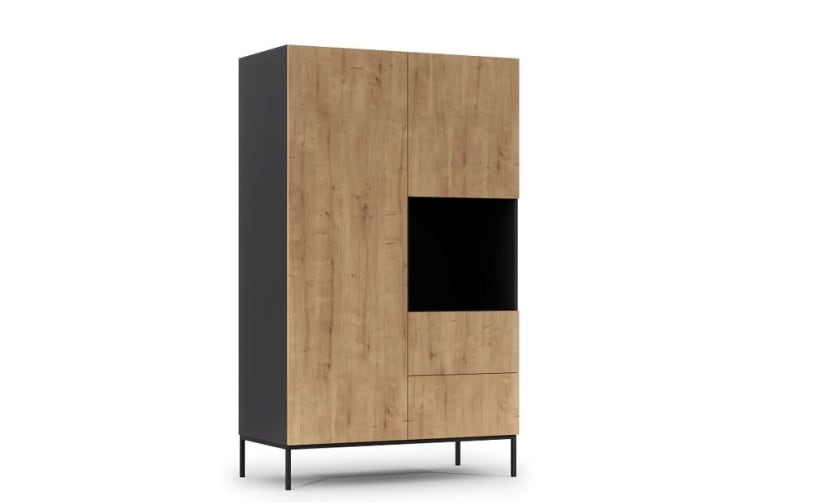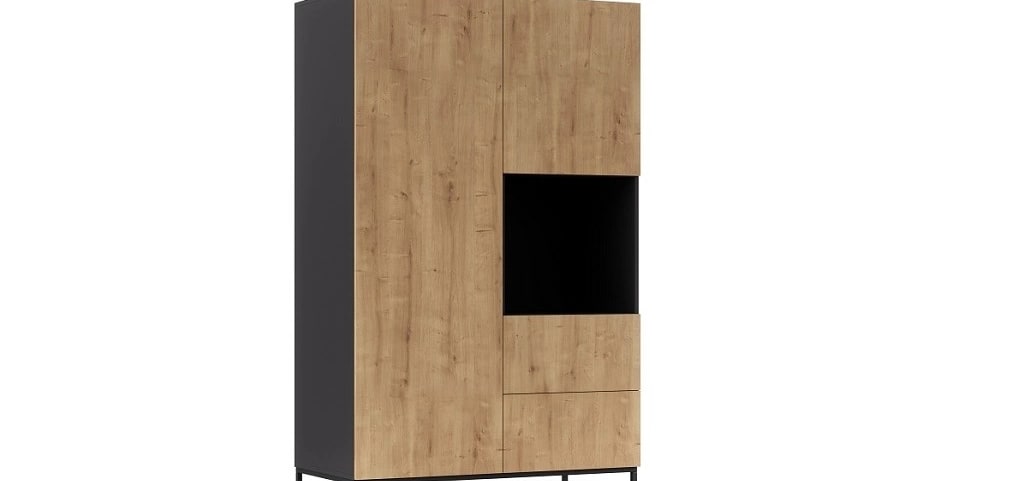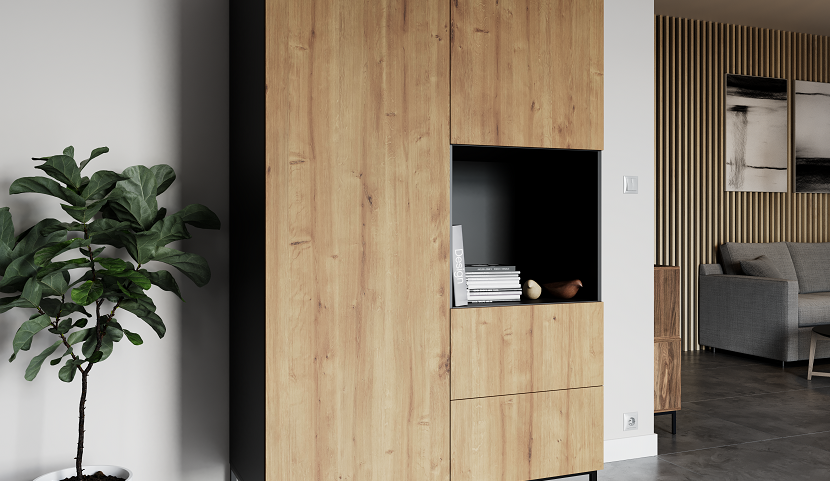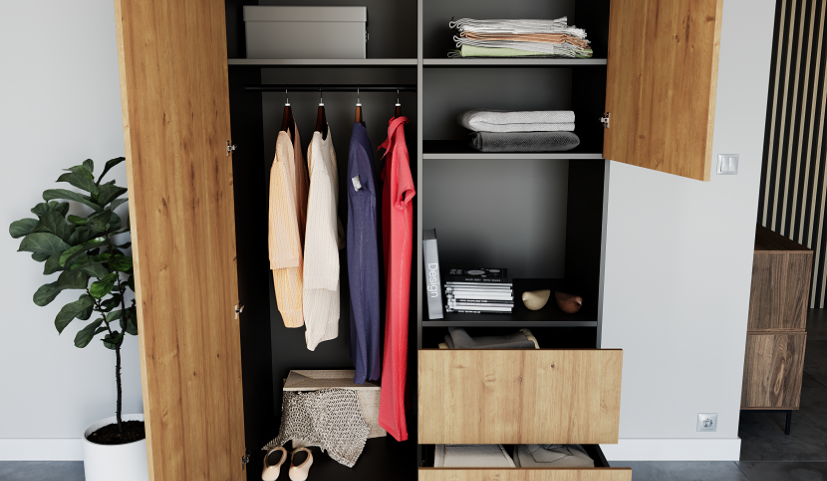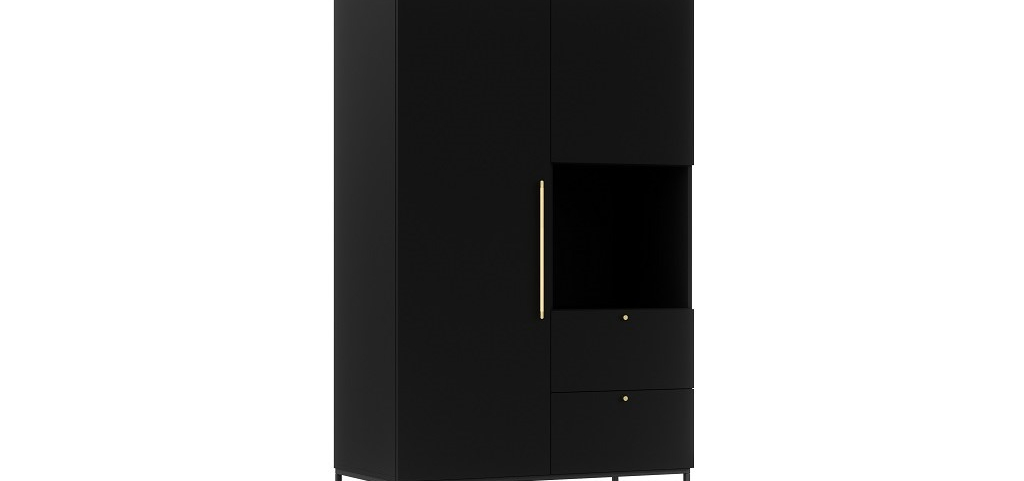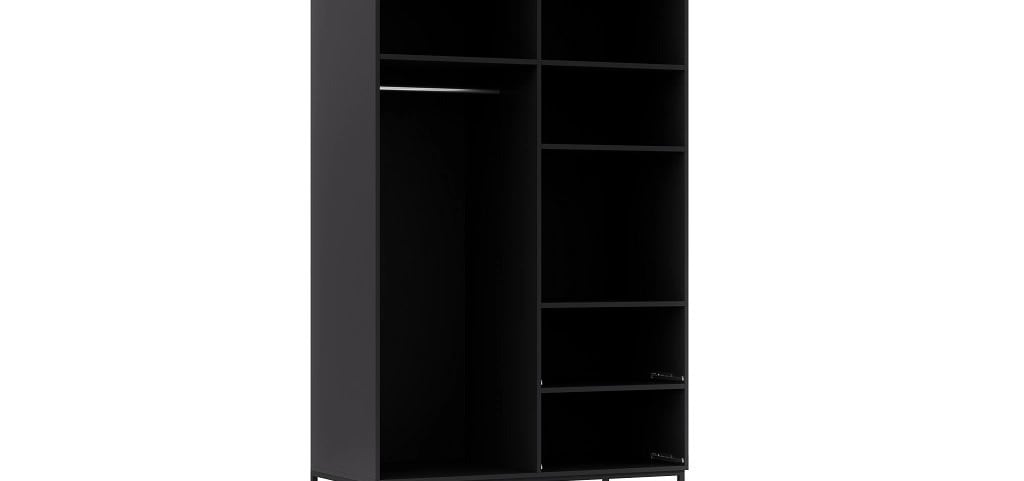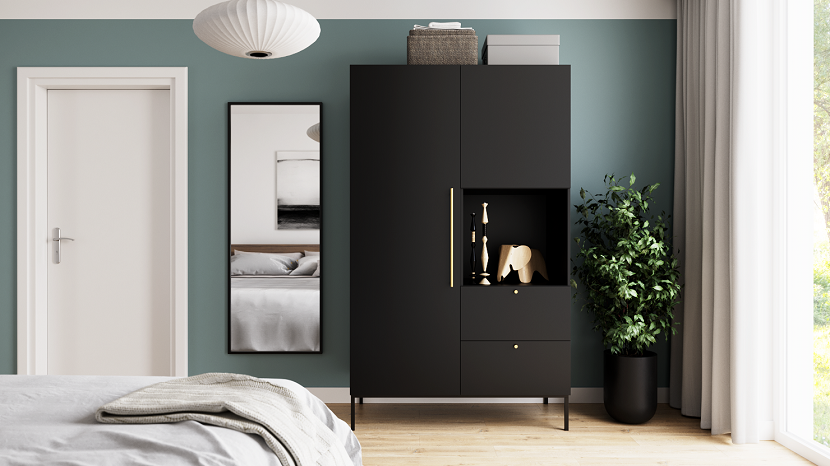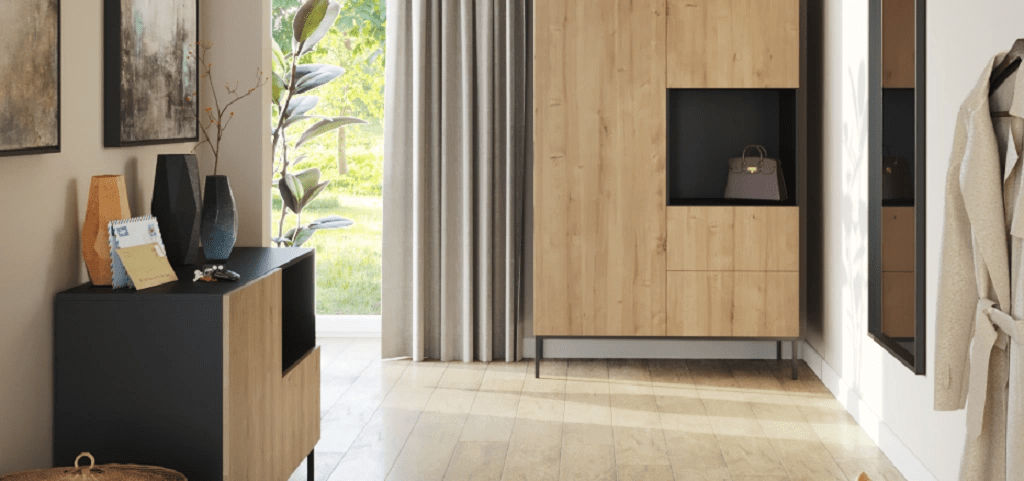 Lanzzi Wardrobe
Looking for an easy answer to clutter in your closet and a stylish solution for your apartment? Then our Lanzzi collection is just for you! Its basic but useful design will give your wardrobes a fresh look at a reasonable price. The Lanzzi wardrobe is a great addition to any dressing room, hall, living room or bedroom. The hanging bar, shelves and drawers make the furniture can be used in many places in the house. A small and simple wardrobe with opening doors will save space, easily blend in with the decor and keep your clothes and shoes in order.

Lanzzi-Small Wardrobe - functional division
The Lanzzi wardrobe is a combination consisting of: two drawers, three closed and one open shelf, and a bar - a place to hang hangers with your favourite dresses, shirts, trousers or suits. The wardrobe provides flexible storage, while the open shelf offers space to display some of your favourite hats and bags or show off some interesting photos from your dream vacation. The easy-to-pull drawers are equipped with a soft-closing function, so you don't have to worry about unnecessary noise. This is especially important, e.g., for people with small children. Drawers in the wardrobe are a great place for folding items - sweatshirts for a gym set, socks or scarves.

Lanzzi-Small Wardrobe - timeless design
The Lanzzi wardrobe is available in two colour versions: artisan oak laminate combined with black matt or black matt. These options also differ in the way some items are opened. In the two-colour version, we only have "push-to-open" opening, which means that to open or close a drawer or door, you need to slightly press the front of the furniture. The black wardrobe is additionally decorated with golden handles attached to the drawers and large doors. The upper shelves open by pressing them. The Lanzzi wardrobe is made of a metal frame and MDF board, and its dimensions: 120 x 60 x 200 cm - allow the furniture to be adapted to many different rooms.
Explore the storage solutions in the wardrobe and in the bedroom as well as ideas that will work well in your home. Discover customised bedroom wardrobe storage and much more with the Lanzzi furniture collection.
Need even more space in the wardrobe? No problem ;) See our Lanzzi-Large Wardrobe.
Available in two colour options
Powder-coated steel, black legs
Handleless option
Elegant design
Handles and a clothes rail included
Available in two colour options
Powder-coated steel, black legs
Handleless option
Elegant design
Handles and a clothes rail included


Height: 200 cm
Depth: 60 cm
Width: 120 cm
Weight: 115 kg
Configuration: black mat + artisan oak / black mat + black mat
Frame colour: black
Material: MDF board
Legs made of metal
Leg height: 20 cm
Number of drawers: 2
Number of doors: 2
Number of closed shelves: 3
Number of open shelves: 1
Hanger rail: 1
similar products - Wardrobes