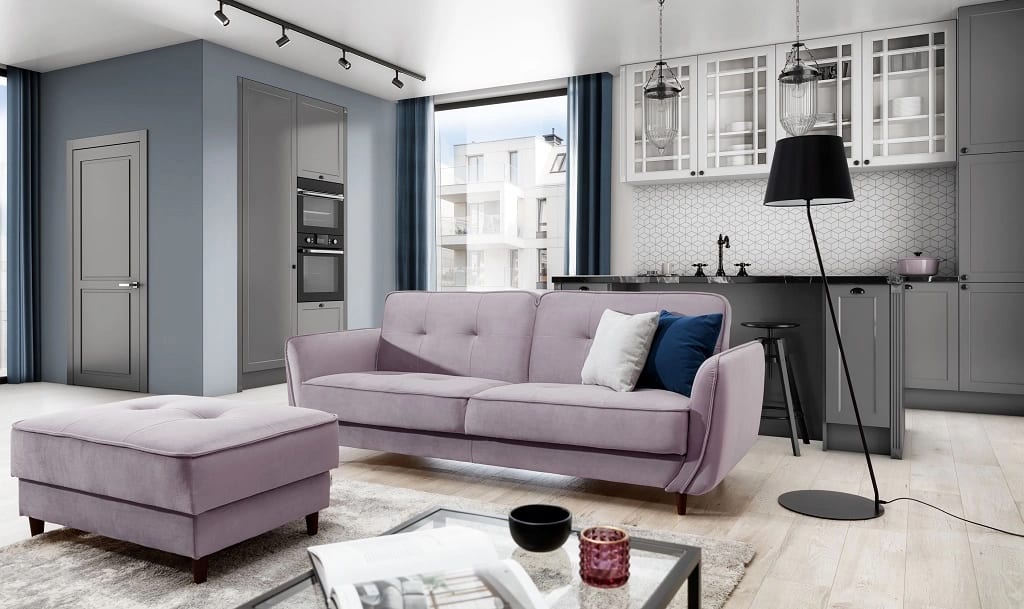 Available colors: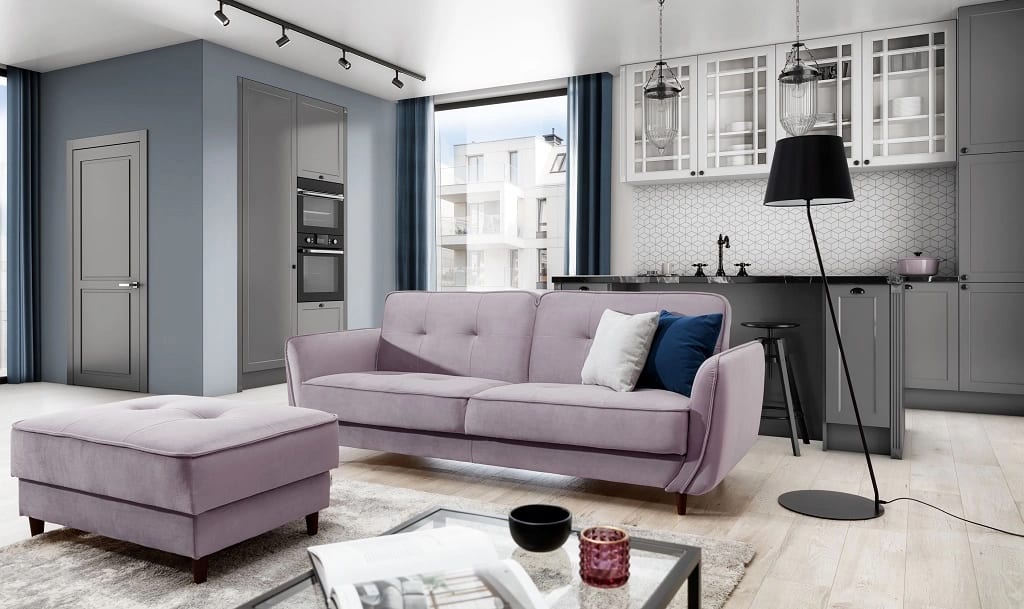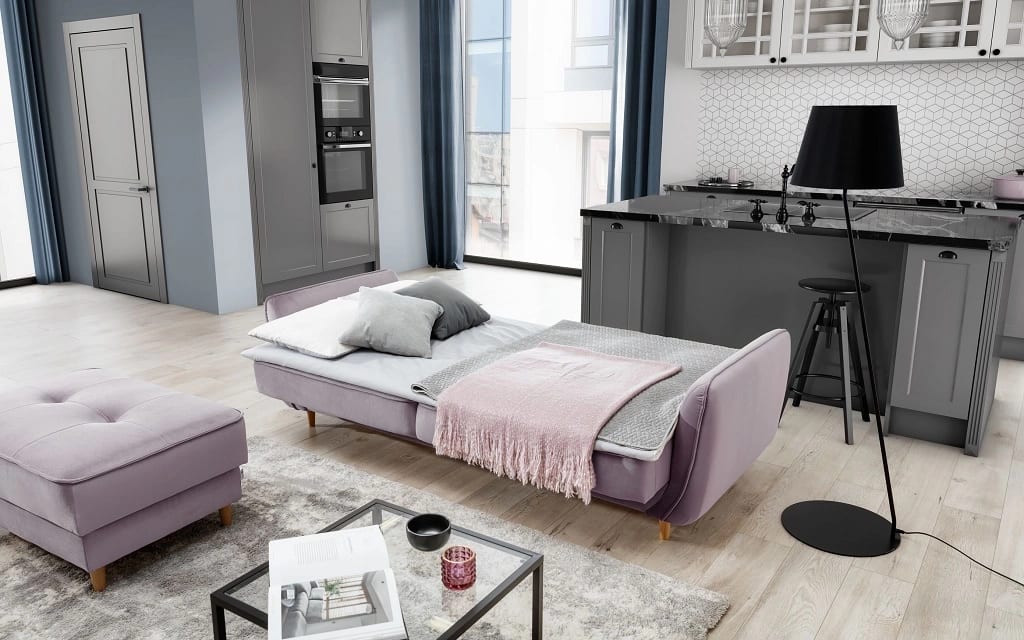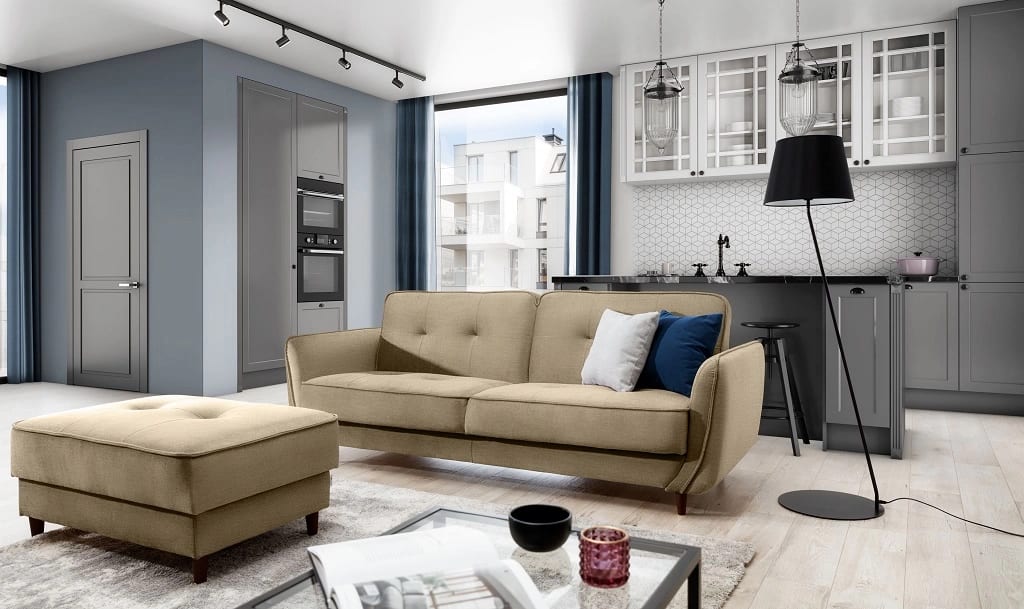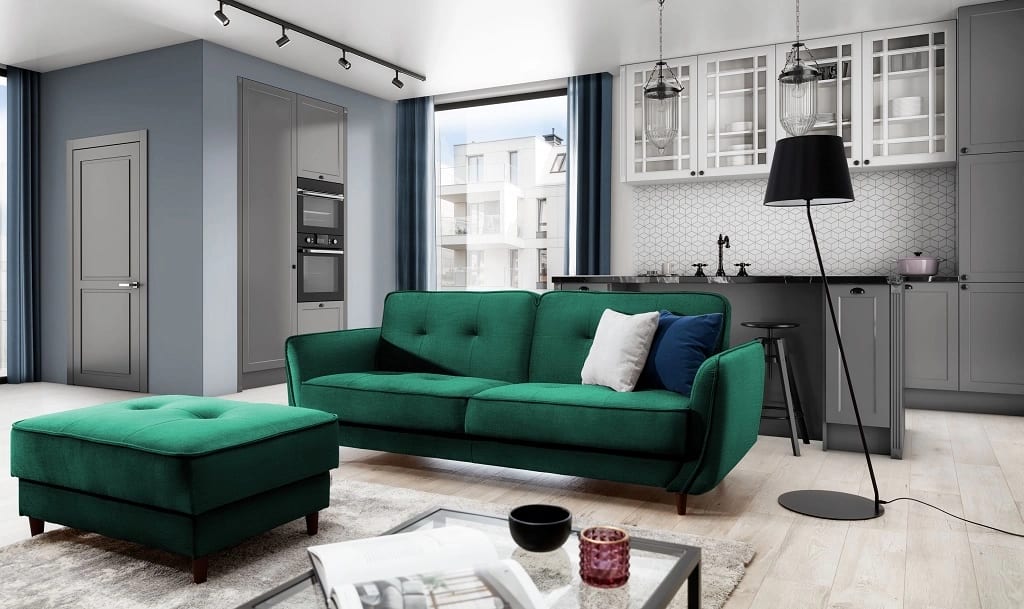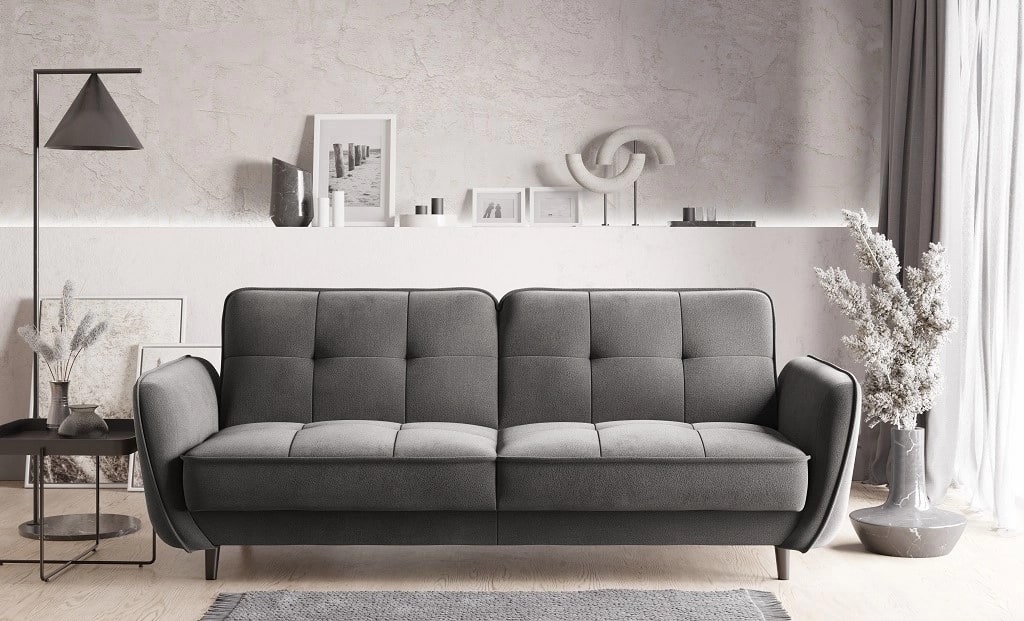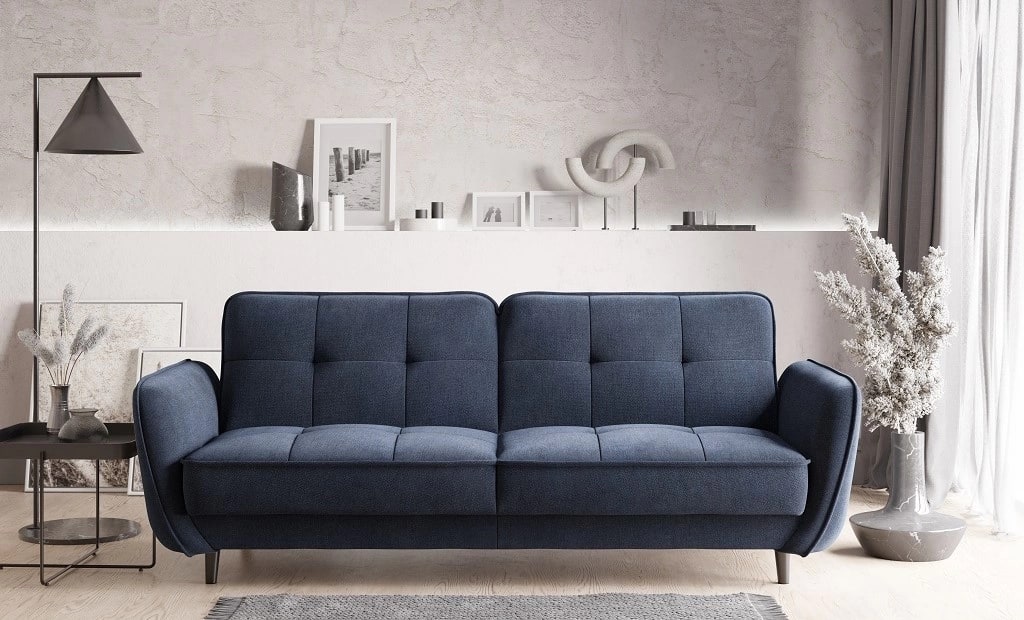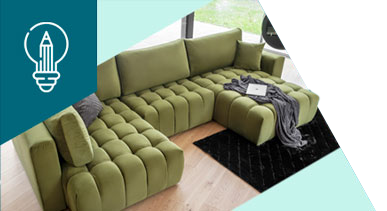 King of the living room, i.e. a corner with a sleeping function!
Follow our advice and choose the perfect piece of furniture for your interior.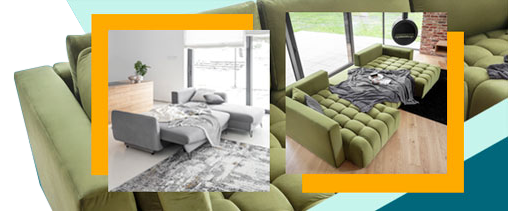 Bellis – an upholstered convertible couch bed
Greet your guests with a broad and warm hug on the four-seater Bellis couch. This couch combines classic elegance with modern style, creating an everyday must-have for any living room. And it is so extravagant and contemporary at the same time! This convertible piece of furniture is not only a couch – it is distinguished by a sophisticated sleeping function, with a fold-out backrest and comfortable, minimalist armrests. Our Bellis convertible couch bed is complemented by noble wooden legs that will bring a touch of nature to any room.

Bellis – a convertible couch bed - sitting, lying and sleeping in one
The Bellis convertible couch bed can complement the existing interior design or be the main initiator of new furnishings in the living room. The simple design of the Bellis couch bed can add elegance to any room. All thoughtful details are designed with long-term use in mind. Couch width bed is 220 centimetres, which is the perfect size for a piece of furniture for medium-sized living rooms. In the case of large surfaces, we encourage you to choose and introduce two Bellis models right away, because the choice of colours from the materials from the ELTAP collection makes you feel dizzy. 11-centimeter long legs are a great idea, because they will not only visually enlarge a smaller room, but also make it possible to clean under the furniture. Cleaning robots or even a normal-sized vacuum cleaner will easily get there. Stop moving furniture forever to clean up the space beneath it. Another brilliant idea that was used when designing the Bellis couch bed is a bedding container. Useful when there is not enough space for additional blankets, sheets or pillows. The Bellis couch bed with a bedding container has one more hidden function, namely the sleeping function. Thanks to the click-clack unfolding mechanism, you can quickly and easily turn the couch into a comfortable bed. What's more, the Bellis couch bed does not need to be moved away from the wall when unfolding the sleeping function. In the case of many other models, it is a necessary procedure. Bellis is designed so that you don't have to make so many revolutions in the living room. This is a very good solution when you host friends or want to spend the night in front of the TV. A fold-out couch bed with a sleeping function provides a sleeping area of 190x110 centimetres.

Bellis – a convertible couch bed - simply perfect
This is not the end of all the advantages of our Bellis convertible couch bed. This piece of furniture is filled with highly flexible HR foam, known for its strength and durability as well as resistance to damage. Both the couch seat and its backrest, thanks to this type of foam, provide great support for the body during a movie night, playing with your friends, or an after-dinner nap. The Bellis convertible couch bed also has a high-quality B-type wave spring and a multipocket. Thanks to them, the seat of the furniture does not collapse when sitting, and the foam does not lose its shape over a long period of use. In addition, this combination of springs and foam makes the Bellis couch bed a very comfortable and convenient piece of furniture. The use of these materials on both the backrest and the seat makes the comfort of using the furniture the same over the entire sleeping area. This is a big advantage of the Bellis couch bed, which was created to provide its users with the same comfort and relaxation during day and night rest. The quilting and stitching on the seat and backrest are responsible for its character and style. All this gives our convertible couch bed a beautiful look and feel. Bellis is a stylish and universal product which is perfect for guests and homes with limited space.
Container for bedding
Fold-out sleep function
Wooden legs
Upholstered backrest
Click-clack unfolding mechanism
Wide range of colours of the furniture upholstery
Type B corrugated and pocket spring
HR foam in the seat and backrest of the furniture
Decorative quilting and stitching on the seat and back of the sofa
Couch width: 220 cm

Couch depth: 90 cm
Couch height with cushions: 83 cm
Seat depth: 55 cm
Seat height: 45 cm
Backrest height: 48 cm
Leg height: 11 cm
Sleeping area: 190x110 cm