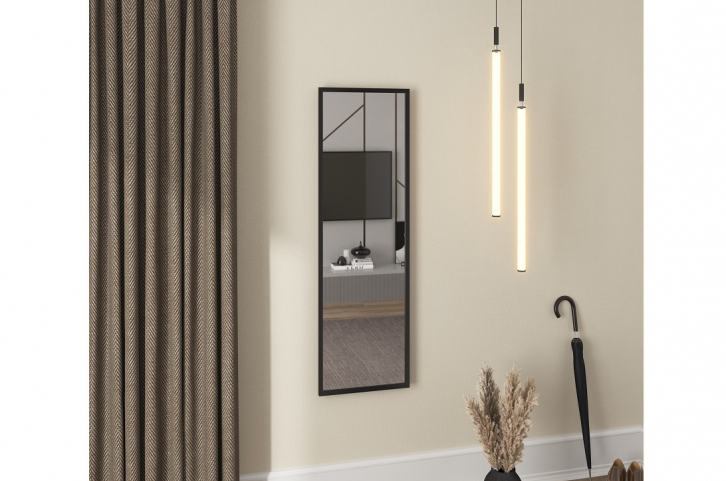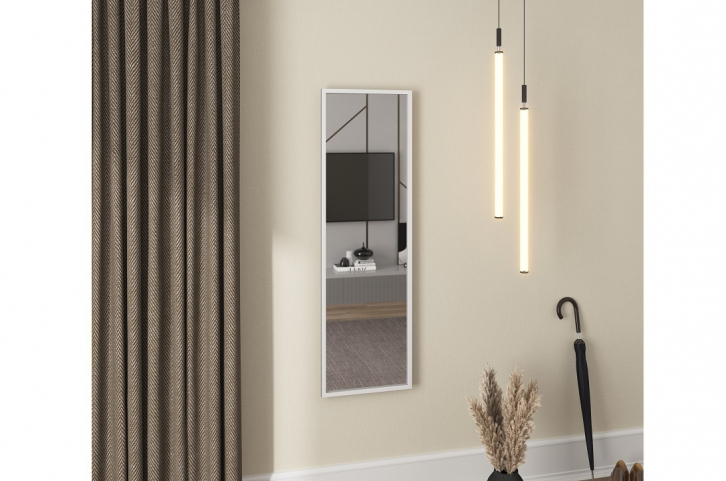 Arizona Mirror - great for any interior
The Arizona rectangular mirror is the perfect mirror for a home interior because it is elegant and very durable. It works great in all living spaces, including the living room, dressing room, bathroom, hall and bedroom. Its minimalist appearance makes it fit perfectly into any arrangement. In addition, it gives a modern look to the interior. The Arizona decorative mirror helps transform any space in your home. Introducing this component to the room gives a classic style, and its size: 40 x 130 centimetres is perfect for most contemporary spaces. The mirror is available in a white and black frame made of wood. This can be used to create a great contrast, for example, by combining them with a white wall. In addition, Arizona perfectly fits into the existing decor, adding character to it.

Arizona Rectangular Mirror - details refined to perfection
The corners of the Arizona mirror are glued, which ensures their better durability and guarantees the absence of gaps that often appear in this place. Everything for the sake of the highest comfort of using our product. We also include pegs for hanging the mirror to make its installation quick, easy and pleasant.
It turns out that a mirror is not only needed when checking the appearance or looking for decorations for the living room or bathroom. The mirror image optically enlarges the room in which it is located. This means that it will be perfect for small interiors where we want to get the effect of magnification. The rectangular shape and over a meter height of the product allow you to see the whole silhouette in the reflection of the mirror. Therefore, it will be perfect in the apartment of sports fans or supporters of fashionable styling.

Arizona Decorative Mirror - we make sure that it arrives flawless
We also take care of the best packaging of our mirrors so that they reach you in perfect condition. The polystyrene corners and C-pieces in which the Arizona mirror has been packed protect and isolate all kinds of components sensitive to shocks and impacts. Another advantage of the Arizona hanging mirror is that it does not stand in the way of cleaning the house, because it does not take up space on the floor.
Minimalist look
Rectangular shape
Glued mirror corners
Great interior decoration
Special foil and HDF board - in case of breakage, the pieces do not fall apart
Appropriate protection against damage
Suspension pegs included
Mirror width: 130 cm
Mirror height: 40 cm
Mirror weight 30 kg
Frame color: white/black
similar products - Mirrors