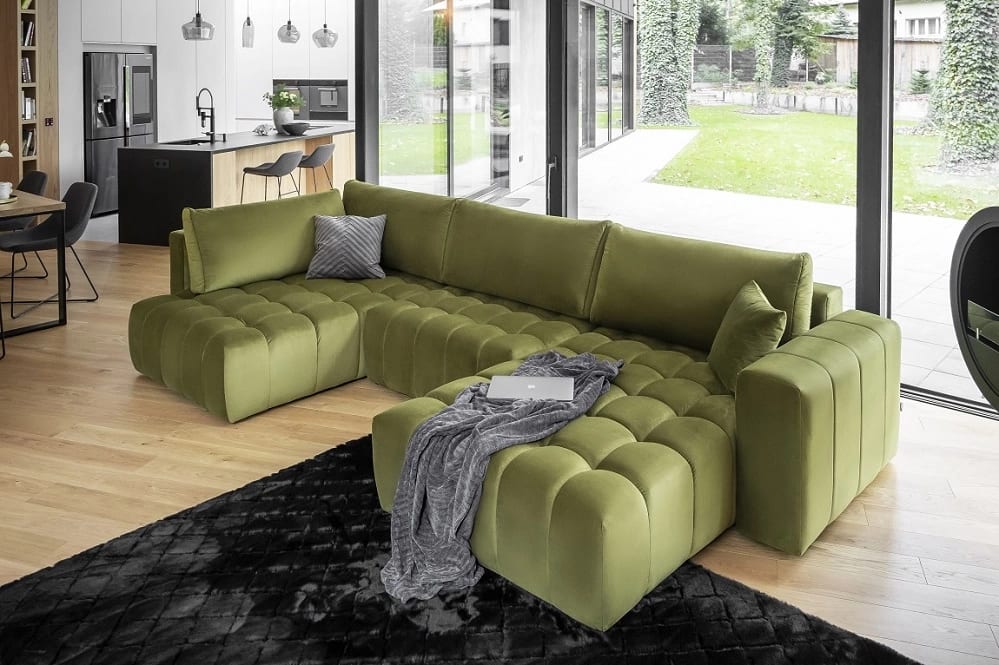 Are you considering buying a corner sofa with the sleeping function, but you are not sure how to go about it? SO read on! We have prepared a guide to the corner sofas with the sleeping function so that you can choose the perfect one.
Why is it worth choosing a fold-out corner sofa with the sleeping function?
People love corner sofas for several reasons. First, they are a really efficient way to use space. This is partly because they provide plenty of seating space without the need for other chairs and partly because they work well when pushed into a corner. Another feature of corner sofas is how comfortable they are. I think everyone likes to sit in the corner and be able to straighten their legs while watching TV or reading books. Another thing we all love about the fold-out corner sofas is their sociability. Whether it's a family or a group of friends, the corner sofa connects everyone.
In addition to the values ​​mentioned above, it is also worth thinking about the functionality of the furniture, which is to be the central figure of the living room or bedroom. There is no reason why a corner sofa cannot be a sleeping sofa at the same time. A large part of our offer includes comfortable, fold-out corner sofas with the sleeping function.
What to look for when choosing a corner?
1. DIMENSIONS OF THE ROOM AND THE CORNER SOFA
Before you buy any piece of furniture, carefully check the available space in the room where you will place it. Remember, a sofa bed or a corner sofa always takes up more space than it seems at first glance. The corner sofa bed will become bigger when you want it to turn into a bed.
We offer a very simple way to check how much space a piece of furniture will take. You need a few meters of string or masking tape (which we use to protect the floor or ceiling from getting dirty while painting). Lay the string on the floor or attach the tape according to the dimensions of the furniture after unfolding. Check if you can move freely around the room. If you want to put accessories next to the corner - check if there is room for them after unfolding the sleeping function.
There is no standard size of the sleeping area in lounge furniture. Therefore, it is worth carefully analyzing this parameter. Remember, the more centimetres in width and length, the better and more comfortable the furniture will be.
Eltap, taking into account the comfort of buyers of our furniture, offers corner sofas with a large sleeping area.
We are pleased to present the Bonito fold-out corner sofa, which has been created for those who appreciate a comfortable, healthy and pleasant sleep. The area for day rest on our modern corner sofa is 350 x 170 x 85 centimetres, and for the night one it is 300 x 120 centimetres. In addition, both the seat and the backrest of the Bonito corner sofa with the sleeping function are made of highly elastic HR and T25 foam, which adjust to our body while sleeping or sitting. We have also not forgotten about the appearance, because the living room-type Bonito corner sofa looks great in any situation. All thanks to the modern design achieved with stylish quilting and wide armrests.
Dolphin mechanism
Models of fold-out corner sofas and sofa beds have been conquering the market for a long time. Such furniture turns out to be not only very comfortable, but also multifunctional. Furniture with unfolding mechanisms becomes a harmonious complement to the interior design.
Nowadays, the assortment of various fold-out corners is huge. Each buyer has the opportunity to choose a product that meets all his requirements and wishes. Many people choose models with the dolphin mechanism. From the very beginning of production, this mechanism has been used exclusively in the construction of corner furniture. As a result, this sort of furniture turned out to be very practical as well as comfortable, and therefore quickly became very popular. Thanks to the dolphin mechanism, corner sofas easily turned into spacious and comfortable sleeping places. Over time, similar systems began to be installed in standard products of simple design. The "Dolphin" has also found its place in fold-out sofas.
The dolphin mechanism itself belongs to the roll-out category. If we are talking about a corner, you do not need a lot of free space to assemble it. The structure of the dolphin mechanism consists of 2 main parts: one is located in the retractable part, the other in the seat of the furniture. The converting mechanism is of a very solid and reliable construction, and is also simple and straightforward to use. Thanks to the work of springs and levers during the conversion, one of the sections rises and remains on the level of the other, where it is securely fastened. Such designs are presented in several variants, but the principle of operation is the same for all types. The whole "operation" consists only in extending the lower part of the corner sofa, i.e. the trolley, and lifting it up so that it is level with the seat of the furniture.
Modern designs of fold-out corner sofas with the dolphin mechanism have many advantages that make them in demand. The main advantage of upholstered furniture with the dolphin mechanism is its reliability and durability. Structures of this type usually serve for a long time, do not require repair. The mechanism itself is surprisingly simple and flexible. Folding out such a sofa is easy and convenient. It does not require any extra effort. Even a child can easily cope with the unfolding of such a corner sofa. The furniture, when properly unfolded, easily turns into a spacious and very comfortable place to sleep. The household sleeping area is usually wide; there is no shortage of free space. An example of such a corner sofa from ELTAP is our very popular Anton model. It looks great in bottle green colour, and in addition to the unfolding system, the corner sofa is also equipped with a bedding container, as shown in the graphic below.
When folded out, a corner sofa with the dolphin mechanism is compact and does not require a lot of free space in the room. This advantage is especially evident among owners of apartments in blocks, where there is often a shortage of free square meters. The dolphin mechanism is also good as it is designed to be folded and unfolded regularly. You can freely receive guests and offer them accommodation on an unfolded corner sofa. The huge assortment is another significant plus of the products in question. Eltap regularly sells models of various shapes and colours. You will surely find something for yourself.
DL Mechanism
DL unfolding system - what does it look like? Here there is no distinction between sofa beds and corner sofas. The DL unfolding system is used here and here. It is safe to say that it is also a practical and very convenient way to unfold a corner sofa. First, the seat is pulled out and then the backrest is folded down. In this way, the backrest fills the gap in the sleeping area and we get an even and comfortable place to rest at night. We can quickly and efficiently obtain an even and comfortable sleeping surface. This system is increasingly used in modern modular corner sofas and not only there. An example of such a corner sofa is the modern Silla model. It is a comfortable and stylish piece of furniture that will work well in many arrangements. Filling the backrest cushions with silicone down is a great and innovative solution that improves the comfort of using the Silla corner sofa.
The Vertizo fold-out corner sofa bed can successfully replace a double bed and serve as a comfortable bed in a modern living room. The U-shaped corner sofa is equipped with the dolphin folding system - this simple mechanism does not cause any problems - just a few moves to unfold the corner sofa. Pull the trolley on wheels from under the seat, and then pull up the lying component that completes the sleeping surface. And voilà! You can fall asleep or even hibernate! The advantage of this model are also metal legs which are of an original form. The innovative design provides a contemporary look, while the cushion filling guarantees unparalleled comfort and extra durability.
3. CONTAINER FOR BEDDING
A bedding container in your sofa or corner sofa is a practical proposition for a guest bedroom or for those who do not like to spend too much time making the bed. You can easily put an additional pillow or blanket into this type of storage space. Unfolding mechanisms make it impossible to integrate the bedding container. Therefore, if such an option is needed, you should check out if the corner sofa of your dreams has a storage space for bedding.
The fold-out corner Larde is an elegant and comfortable piece of furniture, which apart from aesthetic values ​​is also very functional. Not only does it have a sleeping function, but it is also equipped with a large bedding container, and in it you can store not only bedding, but also other textiles or even winter clothing, taking up a lot of space. This solution helps to save space and keep order in the living room or in the bedroom. You do not have to worry about the bedding being dirty during the day or being dusty. Such a piece of furniture is also an ideal option for a child's room, because it has a large play area, and the bedding container allows you to quickly arrange blankets or pillows unnecessary during the day. Larde is the perfect option for many rooms because it is also stylish and comes with two pillows.
4. CORNER FILLING
You are probably also wondering how to choose the filling for your couch? Remember that what is inside the corner sofa is as important as what is outside. Different fillings require different levels of maintenance, and they also differ in terms of comfort and flexibility when sitting and sleeping. When choosing a filling, consider how often you use the furniture. Will it be an everyday bed or just an occasional emergency solution for guests visiting? The foam-filled corner sofas have a firmer seat and look more tidy.
Eltap proposes to choose the modern Lorelle corner sofa, which provides a high level of comfort during rest and sleep. The HR foam in the furniture seat and the T25 foam in the backrest are responsible for everything. T25 provides high comfort of use, because it has a high degree of density, and thus - it is difficult to deform. HR foam is an innovative and high-quality solution, because it is very resilient. This means it quickly recovers when pressure is applied and released, making it suitable for any application. It is an ideal solution in corner sofas that are used for rest during the day and for sleeping at night.
Buying a new corner is often a difficult and exciting decision. A fold-out corner sofa can be a great option, freeing up space in the room and providing a comfortable piece of furniture to relax in front of the TV or to host a group of friends or family. All you need to do is take some time before purchasing a piece of furniture to think about how you will arrange your room and how you are going to use your sofa. So - do you already know what kind of corner sofa you need?